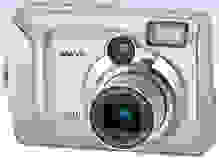 February 9, 2005– Sanyo announced an addition to its S-series today, the Xacti DSC-S5. This digital camera succeeds the S3 and S4, which were both announced in May 2004. The new S5 has an interpolated 1/2.5-inch CCD with 5.36 total and 5.1 effective megapixels. Hitting store shelves on Feb. 15, the Sanyo S5 will cost ¥35,000 or about $330 (USD).
With the interpolated CCD, the S5 can create image sizes up to 3680 x 2760 in JPEG format. Sanyo is marketing this Xacti for its high picture quality and convenience with its compact form. At 6.5 ounces, the S5 measures 3.6 x 2.4 x 1.2 inches. It has a 2.8x optical zoom lens that is equivalent to a 37-105mm lens in 35mm format. A 4x digital zoom contributes to the zooming capabilities, but also compromises the picture quality. The lens automatically focuses as close as 50cm in normal mode and 2cm in macro mode.
The Xacti DSC-S5 has several scene modes and a Programmed AE mode. Shutter speeds range from 2-1/2000th of a second and apertures range from f/3-f/5. The ISO ranges from 50-200 in all modes except the movie mode, where it expands to ISO 400. The offered movie mode has two resolutions to select from, recording video at 15 frames per second in Motion JPEG format. Unfortunately, the Xacti S5 does not record sound with its video clips.
Images and movies can be saved either to the 16MB internal memory or the optional SD/MMC card. The Sanyo S5 has a 1.8-inch LCD screen with 85,000 pixels and seven brightness adjustment settings. The PictBridge-compatible digital camera also has a real image optical viewfinder, which is a nice option when battery power runs low. However, Sanyo is hoping that won't be a problem. The camera aims for efficiency, stocking a rechargeable lithium-ion battery that records up to 600 pictures per charge.