Cameras
SeaLife Launches Sophisticated DC800 Underwater Camera
May 6, 2008 – SeaLife, a manufacturer of underwater cameras and accessories, has released the DC800 underwater digital camera, an 8-megapixel model that can capture images in up to 200 feet (60 meters) of water. Designed for the adventurous photographer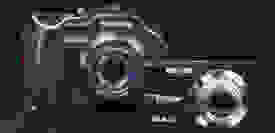 May 6, 2008 – SeaLife, a manufacturer of underwater cameras and accessories, has released the DC800 underwater digital camera, an 8-megapixel model that can capture images in up to 200 feet (60 meters) of water. Designed for the adventurous photographer specializing in underwater photography, the DC800 has a number of specific modes and features to optimize underwater shooting. The camera is currently available and retails for $549.95.
The SeaLife DC800's outer shell is designed like a compact digital camera – larger than a point-and-shoot, but easier to handle than an SLR. The large shutter button and well spaced mode buttons are designed for ease of use when underwater. When out of water, the camera can be removed from its underwater housing, revealing a slim point-and-shoot that measures 2.3 x 3.6 x 1.1 inches.
The DC800 has a 5x optical zoom lens and a 2.7-inch LCD screen. It features a Sea mode with three underwater white balance settings: Oceans Blue, Oceans Green, and Rivers/Lakes. It's compatible with SeaLife's external flashes, and can be set to Auto or Manual mode when using the external accessories. In addition, a Spy mode automatically shoots continuous pictures at set time intervals.
The DC800 also has several "Land modes" for above ground shooting. Options include Sports, Digiscoping, Anti-shake, Sunset, Sunrise, Splash-water, Flow-water, Night Scene, Portrait, Landscape, Panorama, Candlelight, Text, Fireworks, and Backlight. It also features face detection autofocus.
The camera has an ISO range of 64-1600 and captures movies at 640 x 480 or 320 x 240 at 25 frames per second (fps). It's PictBridge compatible and accepts SD and SDHC media. It runs on a rechargeable lithium-ion battery that lasts a reported 200 shots per charge.