Cameras
See the World in Photos with Geophoto
Geophoto is a photo sharing software that allows users to place their photos on a map or see others' photos using photo sharing programs such as Flickr and Photocasts.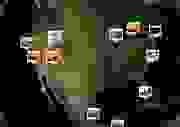 March 29, 2007 - OvoLab has released the latest version of Geophoto, a software that enables users to place their photos on a map of the world. It can plot a photo using the embedded GPS data, or the user can manually place it by searching a database of cities and landmarks. The new version features improved performance and a user's guide.
For the less-traveled photographer, Geophoto also allows users to peruse the photos of participating Photocasts and Flickr members.
"Geophoto can be a wonderful tool even if you don't travel at all. You can view places that are familiar to you, as seen through other people's eyes. You can explore faraway places, through shared photos on Flickr. Geophoto is also a great educational tool: learn about a geographical area through pictures; put a place in relationship with its photos, and better understand the context in which people live there," states the company website.
Geophoto works with popular photo managers such as iPhoto and Aperture. It retails for $19.95 and is available for purchase from the company's website.