*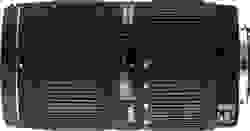 August 11, 2006 – *Sigma Corp. announced today its newest large aperture telephoto lens, the APO 50-150mm f2.8 EX DC HSM.
The Sigma 50-150mm lens, designed to match APS-C sized sensor DSLRs, is compatible with Sigma, Canon and Nikon bodies. Weighing approximately 1.72 pounds, the new lens is described as compact and lightweight in Sigma's press release.
The lens has a minimum aperture of f22 and is composed of special low dispersion (SLD) glass to prevent chromatic aberration.
The Sigma 50-150mm is compatible with Sigma's 1.4x and 2x EX tele-converters.
Sigma has not released pricing or availability information.