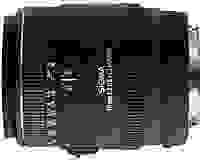 July 10, 2006 – Sigma Co. announced today the launch of their latest macro lens, the Macro 70mm f2.8 EX DG lens. Retailed at $570, the lens will be available in August.
The Macro 70mm EX DG lens has a maximum magnification of 1:1. The Special Low Dispersion (SLD) lens corrects "all types of aberrations," states the Sigma website. The lens also has an anti-flare coating.
This medium telephoto macro follows the 50mm f2.8 macro, retailed at $380, and 105mm f2.8 macro lens, priced at $530, forty dollars cheaper than the new 70mm macro.
The 70mm macro is compatible with Digital single lens reflex cameras and 35mm SLR bodies by Sigma AF, Canon EOS, and some Nikon AF cameras. Sony and Pentax mounts will be announced at a later date, according to the website.
Last week, Sigma also released their APO 70-200mm f2.8 EX DG Macro for the Nikon F-mount. The large aperture telephoto lens was released for Canon's EF mount in June at the retail price of $1200. For more information on the 70-200mm lens, refer to our June 23rd article here:

https://www.reviewed.com/cameras/content/Sigma-Presents-70-200mm-EX-DG-Macro-Lens-.htm