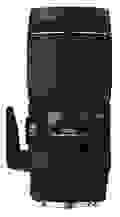 May 18, 2005 - Sigma announced the release of a new 180mm f/3.5 APO EX DG HSM telephoto lens today. The new fixed focal length lens is not digital specific, but has been crafted for optimal performance with digital SLRs. The lens will be compatible with Canon, Nikon-D, Pentax, Konica Minolta and Sigma single lens reflex cameras. 
The Sigma 180mm f/3.5 APO EX DG HSM lens is constructed of 13 elements in 10 groups and offers a minimum aperture rating of f/32 – using a 9 piece diaphragm to create the iris opening. Sigma approximates the angle of view at 13.7° with a minimum focusing distance of 18.1 inches.
The telephoto macro lens is said to offer high-quality life-sized reproduction with digital SLRs. The lens is finished with a multi-layer coating and two special low dispersion glass elements to reduce the potential for flare and ghost effects and enhance overall image quality.
The new 180mm Sigma lens is designed with two moving lens groups. The floating elements create a fluid inner-focus system that maintains a consistent internal length. The moving system should also help maintain performance throughout the focus range as well as aiding in the correction of spherical aberration.
When using the 180mm lens with HSM models, the lens will provide rapid, quiet automatic focusing alterations with a manual focus override always available. Among these HSM models are Canon, Nikon-D, and Sigma DSLRs.
In macro shots, the lens is designed to switch automatically to MF mode when the distance from the front element to the subject dips below 1.2mm.
For those about to embark on their African Safari or just looking for that National Geographic aesthetic, the 180mm f/3.5 APO EX DG HSM telephoto lens is compliant with both 1.4x and 2x APO EX Tele-converters and will accept 72mm filters. The 1.4x conversion will magnify the perspective to 252mm (f/5), while the 2x teleconverter will bring the focal length up to 360mm (f/7). 
In its entirety, the lens barrel spans 182mm (7.1 inches) in length and is 80mm (3.1 inches) around. When applied to a camera, the 180mm lens will add an additional 34 ounces to the camera weight.
The Sigma f/3.5 APO EX DG HSM telephoto lens is compatible with Canon, Nikon-D, Pentax, Konica-Minolta, and Sigma cameras and is expected to retail for just under $700 (USD).