*November 10, 2005 - *Sigma's APO 170-500mm F5-6.3 Telephoto Zoom lens, released over ten years ago in 1993, is getting a new twin sister, the APO 170-500mm F5-6.3 DG. The construction of the two lenses is almost identical, except for the addition of new multi-layer coatings on the DG version to reduce ghosting and flare and create better color balance. The old lens was compatible with both analog and digital cameras, as is the new lens; the new lens is merely optimized for DSLRs.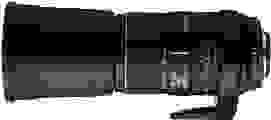 Both lenses are constructed of 13 elements in 11 groups, with a diameter of 86 mm and a minimum aperture of f/32. Both have a 14.5-5 degree angle of view, a maximum magnification of 1:6.6, and a weight of 2.96 pounds.
The APO 170-500mm F5-6.3 DG will be available next week to Canon owners first; then models compatible with Nikon will be released; then Sigma, Minolta, and Pentax. Olympus owners will also be able to use one, though no availability information has currently been determined.