Cameras
Sony Announces Cyber-shot DSC-M1; A Bid For First Truly Hybrid Point and Shot Digital Camera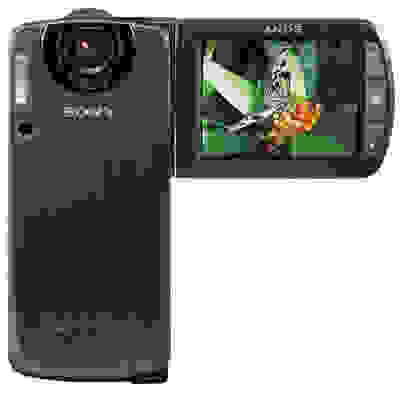 On Sept 8
th
2004, Sony announced a new component to their Cyber-shot series; the Cyber-shot DSC-M1 [(spec sheet)](../specs/Sony/Cyber-shot%20DSC-M1.htm) is an attempt to alter the compact digital camera market entirely with a unique, fully hybrid point and shoot digital camera. While most digital cameras include some form of video or movie mode, the motion picture is secondary to the still image and often falls into more of a novelty feature than a reliable video mode. At this point, there are no digital cameras on the market that can be deemed truly "hybrid," meaning their video quality and efficiency can parallel the performance of a camcorder. However, the Cyber-shot DSC-M1 strives to change this truism, producing a point and shoot digital camera with "extraordinary video features." "Capturing that one moment in time is, of course, the reason why cameras exist…but what led up to that moment, and what happened just after is an important story to tell too," explained Steve Haber, senior vice president for Sony Electronics' Personal Mobile and Imaging Division. The 5.1 megapixel DSC-M1 is devised to capture a more complete impression of the situation as it occurs. The extended coverage is automatically captured by the camera, recording five seconds of QVGA video before and three seconds after the shutter release is pressed. While this may detract somewhat from the romantic notion of a single moment frozen in time, it will surely create a more expansive "memory" to return to, covering the progression of events as it unfolds and augmenting this form of media altogether. The full media scene is played together on the camera, however, the audio, video and still images are stored as two separate files.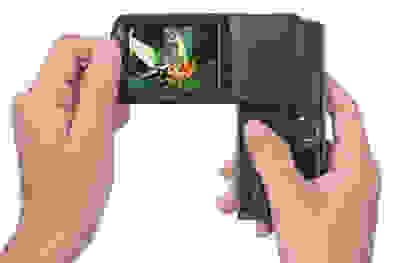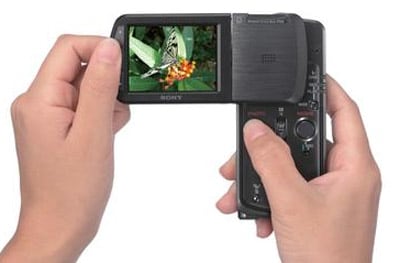 The hybrid imager also takes a bit of a stylistic leap with a vertical layout that is designed to "provide more surface area to access both the menu navigation buttons and two "hot" buttons for direct access to recording stills and video." The compact, matte-black frame is 4.5" x 2.5" x 1.1" with a 2.5," 123K pixel LCD monitor. The LCD screen is sculpted for flexibility, rotating 270 degrees on a swivel hinge.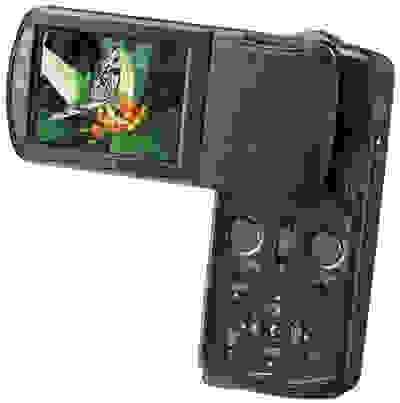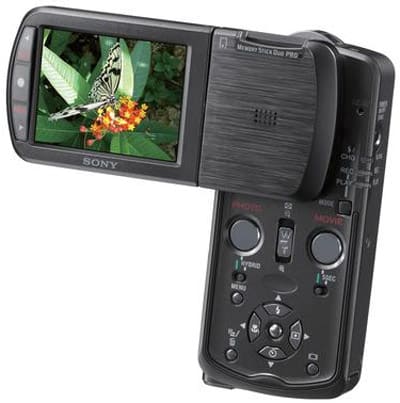 There are buttons along the perimeter of the LCD screen that are also dualistic in nature, shifting their function depending on the positioning of the monitor; when the LCD is extended, the buttons will control recording as well as toggle between video and still modes. Conversely, when the screen is locked into the back of the camera frame facing outwards, the unit becomes a viewing station, with the LCD buttons navigating through playback functions.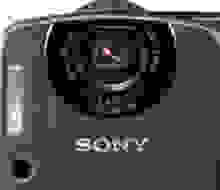 The Sony Cyber-shot DSC-M1 is equipped with a Carl Zeiss Vario-Tessar 3x optical zoom lens that will operate the zoom in video mode. This is a crucial feature, functioning much more like a camcorder then a digital camera and working to distinguish the DSC-M1 from other video-focused digital cameras.
The Cyber-shot DSC-M1 improves video performance by employing a new MPEGMovie 4TV (MPEG-4) compression format, designed to enhance video quality while reducing image size. The size reduction results from a condensed bit rate of 2.5Mpbs (from 11Mpbs) that will allow the DSC-M1 to capture 27 minutes of VGA video at 30 frames per second with stereo sound onto a 512 MB Memory Stick PRO Duo media card or 54 minutes at the same resolution to a 1 GB Memory Stick PRO Duo card that is set for availability shortly.
Speed is a particular emphasis on the DSC-M1, utilizing Sony's Real Imaging Processor circuit to increase start-up and shooting times. With instantaneous automatic focus, exposure and white balance settings, this hybrid imager is set for spontaneous usage, recording fleeting moments as they arise.
The DSC-M1 is packaged with a customized Cyber-shot station USB cradle for recharging ease and effortless downloading. There is software included that will convert MPEG-4 clips into AVI format for simple editing and transferal.
The Sony Cyber-shot DSC-M1 is set to hit the holiday craze with a December release, retailing for roughly US$600.