March 3, 2005 — Sony announced a portable music player with a built-in digital camera on Tuesday. The Sony MZ-DH10P MiniDisc Walkman will provide some competition for the Olympus m:robe, which also fuses music and photos together in one digital device. Sony's device can shoot pictures at 1280 x 960-pixel resolution and has a 1.5-inch LCD screen for viewing.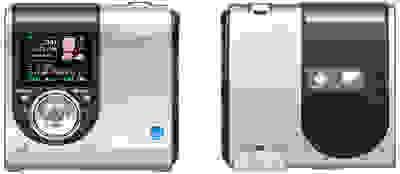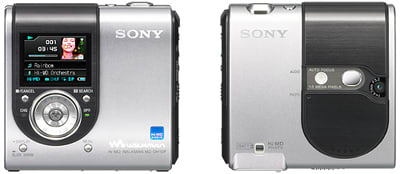 The digital music player records photographs on Sony MiniDisc media, which can record thousands of photographs or 45 hours of music on a 1 GB disc. That size of disc retails for $7, while the 177 MB version sells for $2. All Sony MiniDiscs are rewritable, so recording and deleting photos and music is not a problem.
On the LCD screen, images can be viewed, moved, or deleted. Users can also view album cover art with their music selections if they upload it. Slide shows can be created and set to music with the Sony MZ-DH10P digital music player.
The Sony MZ-DH10P music player is the first Sony Walkman to include a digital camera. The 1.3-megapixel resolution is the same as the imager on the Olympus m:robe, which retails for $499.99. The m:robe 500i has 20 GB of internal memory, while the Sony model relies on the MiniDisc media. However, the Sony player offers 4x digital zoom, while no zoom is available on the m:robe.
The Sony MZ-DH10P is compatible with Sony's Connect online music store and comes with a charging cradle, SonicStage software, and the MD Simple Burner application. The new digital music player with 1.3-megapixel camera will be available in May for $500.