Cameras
Sony Announces Flagship 24.6MP SLR
Sony rounded out its digital SLR lineup today with the Alpha 900, a high-end, full-frame 24.6-megapixel model priced at $2999 for the body alone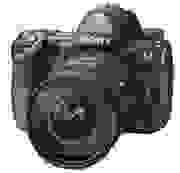 September 9, 2008 - Sony rounded out its digital SLR lineup today with the Alpha DSLR-A900, a high-end, full-frame 24.6-megapixel model priced at $3000 for the body alone. As with other full-frame cameras, the A900 sensor is the same size as a 35mm film frame, meaning wide-angle lenses deliver their full panoramic potential, and telephotos reflect the same range as they would on a film camera, without the typical 1.5x apparent magnificent that occurs with standard-sensor-size cameras. The A900 is compatible with current Sony lenses along with classic Minolta and Konica-Minolta auto focus lenses. Sensor-shift Image stabilization is built into the camera body, so any lens mounted on the A900 benefits from the technology.
The A900 has dual slots to accept both MemoryStick and CompactFlash cards simultaneously, and plenty of storage is certainly recommended: the top image size is 6048 x 4032, a 24-megapixel image. Uncompressed RAW files are supported, along with lossy and lossless RAW compression and four levels of JPEG file quality. Our tests shots in extra fine JPEG mode each took up 14 to 22 megabytes.
The 3-inch LCD boasts a very high 921,600-dot resolution and full 100% coverage, Unlike most digital SLRS, the optical viewfinder also boasts 100% coverage (with 0.74% magnification), though the Live View feature found in three out of four previous Sony SLRs was sacrificed to make this possible. HDMI output for display on high-def TVs is available with the purchase of an optional cable.
A unique feature premiering in this camera is Intelligent Preview. When the depth-of-field preview button is depressed, a photo is saved to temporary storage and displayed on-screen. The user can then tweak the image by varying exposure compensation, white balance and other settings, seeing the results reflected in the preview image. After getting the adjustments to your liking, it's time to press the shutter and take the final photo, deleting the preview image in the process.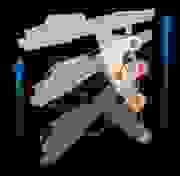 Continuous shooting speed tops out at approximately 5 frames per second, especially impressive considering the sheer volume of data required in each 24-megapixel photo. To speed shot-to-shot performance, Sony developed an unusual mirror design that doesn't simply flip up on a rear pivot point, but lifts up, a bit like a motorized garage door, at the same time. Also critical to this high burst rate performance is the use of two BIONZ image processing chips.
"Official" ISOs range from 200-3200, with ISO 100 and 6400 available as extended settings. Shutter speeds span from 1/8000 sec. to 30 seconds plus Bulb for extended exposures. D-Range optimization is available while shooting, with user-selectable levels and automatic bracketing available.
The auto focus system relies on nine sensors plus 10 'assist points,' not visible on the viewfinder but designed to help track moving objects smoothly.
The camera is a substantial but manageable 1 lb. 14 oz. (850 g) without battery, memory card or lens, and measures 6.13 x .63 x 3.25 inches (156.3 x 116.9 x 81.9mm). It is scheduled for shipment in November.