Cameras
Sony Announces Flagship Flash Unit
June 19, 2008 - Sony today announced a new flagship flash unit, the HVL-F58AM, compatible with all Sony DSLRs past, present, and future. Replacing the earlier HVL-F56AM, it features a \"Quick Shift Bounce System\" that allows the flash to pivot 90 degrees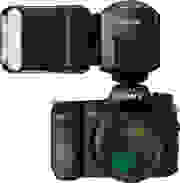 June 19, 2008 - Sony today announced a new flagship flash unit, the HVL-F58AM, compatible with all Sony DSLRs past, present, and future. Replacing the earlier HVL-F56AM, it features a 'Quick Shift Bounce System' that allows the flash to pivot 90 degrees to the left and right for more flexibility when shooting. The HVL-F58AM will retail for about $500 when it ships in September.
The Quick Shift Bounce allows the camera and flash to have the same orientation, regardless of whether portrait or landscape images are being shot, enhancing creative lighting flexibility.
The HVL-F58M reportedly recharges in as little as 5 seconds, which is 53 percent faster than the earlier model. In addition, a quieter recycle time means less distraction from the annnoying whine of the flash recharging. A larger LCD screen displays flash functions and control settings.
The flash can be removed from the camera and wirelessly controlled with up to two other flash units, making it simple to set up multiple lights coming from different angles (it comes with a mini-stand for use when using the unit wirelessly), In addition, an automatic zoom control reduces light 'fall-off' at the edges of images by optimizing illumination angles based on the size of the camera sensor (APS-C or 35mm full-frame). It also features a white balance compensation system that reads color temperature information within the flash itself, providing greater accuracy when shooting in auto white balance mode.