*Las Vegas, Nevada, March 8, 2007 *– After launching its first DSLR last July, Sony today announced its intentions to add two new models to its Alpha line later this year. While Sony remained tight-lipped on details, representatives did state today at a PMA press conference that the manufacturer will see a new flagship DSLR model and an additional amateur model, accompanied by a new line of five lenses. Called the "Second Wave" of products, the new Sony line should be available within the next 12 months.
The current line up of Sony DSLRs is made up of the lone Sony Alpha A100, which stands as a competitor to other sub-$1000 consumer DSLRs such as the Canon Digital Rebel XTi and the Nikon D80 in that category.
The upcoming DSLRs that were introduced today, a high-end model and a consumer model, will feature higher levels of performance than the current Alpha, according to representatives. The new Sony DSLRs will include a new image sensor and new Bionz processor. The cameras will also be equipped with Sony's SteadyShot technology, a borrowed feature from the A100.
Supplementing the expanded DSLR round up will be five new lenses, including a 24-70mm f/2.8, a telephoto 70-300mm f/4.5-5.6, and a DT 18-250mm f/3.5-6.3 lens.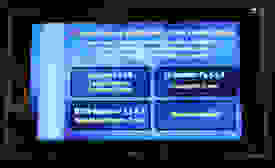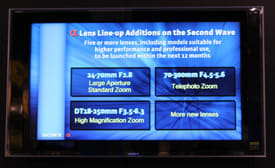 Sony anticipates that the expanded Alpha line will lead to increased productivity, said Senior General Manager Toru Katsumoto at the Sony press conference.