Cameras
Sony Announces New 20mm Pancake Lens for NEX System
Sony adds more depth to the E-mount lens roster with a new pancake and a powered zoom.

Credit:
News
Sony has finally started adding some depth to its E-mount lens system over the last few months, and it's padding the roster even more today.
Joining the wider and more-affordable end of the lineup is a new 20mm f/2.8 pancake lens. It's a little guy, weighing in at just 2.4oz and with a depth of just 0.8 inches. Getting into the nitty gritty, it's built from 6 elements (3 aspherical) in 6 groups, with a 7-blade aperture. Minimum focusing distance is 7.8 inches for a maximum magnification of 0.12x. It has an internal stepping autofocus motor, a 49mm filter diameter, and a metal finish. It'll be available in April for about $350.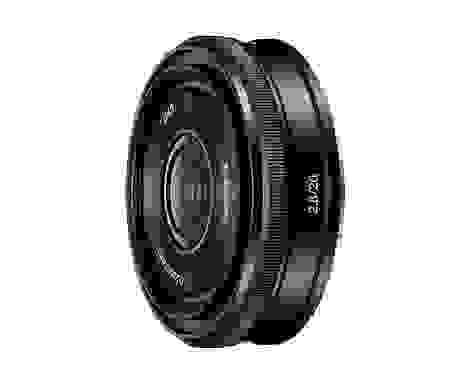 With a 30mm-equivalent focal length, this new pancake sits in a bit of an odd spot between the system's wide and normal lenses. It's quite close to the 16mm f/2.8 pancake and the Zeiss 24mm f/1.8 prime. The 24mm is out of most casual photographers' price range ($1,098), and while the 16mm is a decent lens for the money ($248), performance tests show plenty of room for improvement.
The new 20mm could find a comfy spot in the middle, though it'll have a hard time beating Sigma's excellent 19mm f/2.8 E-mount lens, with a similar focal length, incredible sharpness and a price as low as $139. Granted, it is a good deal smaller, which may factor into some users' buying preferences.
Sony also announced that its 18-200mm f/3.5-6.3 powered zoom lens, previously available only as the kit lens for the VG-30 E-mount camcorder, will now be available on its own. It's built for shooting video, with smooth and quiet operation. Its key features include a built-in stepping motor for autofocus, as well as Optical SteadyShot image stabilization. It'll be available in March for about $1,200.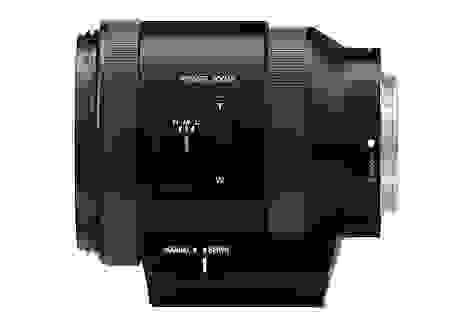 It's been a productive few months for the Sony E-mount, and most of its obvious holes are now covered. According to Sony, 13 native lenses are now available, with at least three more scheduled to arrive in 2013.
Check out the official press release below, and head to SonyStyle.com for more info.
---
Official Press Release
Sony Expands Lens Lineup for α E-Mount Camera System with New Wide-Angle and Telephoto Models
New 20mm f/2.8 "pancake" lens and Video-friendly 18-200mm f/3.5 – f/6.3 "Power Zoom" lens extend creative possibilities
SAN DIEGO, Jan. 22, 2013 – Sony is expanding its popular E-mount camera system with the addition of two new lenses compatible with all α E-Mount cameras and semi-professional camcorders.
New 20mm F2.8 'pancake' wide angle lens (model SEL20F28)
When mounted on any Sony α E-Mount camera, the sharp new SEL20F28 "pancake" lens creates an exceptionally versatile, portable package ideal for a broad range of everyday shooting opportunities ranging from interiors to landscapes, street photography, casual snapshots and more.
The new lens features an ultra-slim design approximately 20mm from lens front to back, and with its wide angle of view (30mm on 35mm equivalent) and bright F2.8 aperture, it produces excellent contrast, resolution and clarity across the frame for both still image and full HD video shooting.
New 18-200mm F3.5-6.3 OSS Powered Telephoto Zoom Lens (model SELP18200)
Originally offered only as a kit lens for the new NEX-VG30 camcorder introduced this past fall, the new SELP18200 powered telephoto zoom lens will now be available for purchase as a stand-alone lens.
Designed for serious videographers, the high-quality lens offers a generous 11x magnification range and whisper-quiet power zoom mechanics, focusing and aperture operation. This allows for smooth cinematic transitions when adjusting zoom level or manual settings during shooting. It features a comfortably positioned zoom lever that works with a switch on the lens barrel, allowing zoom speed to be selected in three different steps – from slow, beautiful shifts in perspective to dramatic crash-zoom effects. Zoom can also be controlled directly from compatible NEX-VG900, NEX-VG30 and NEX-FS700 (requires firmware update) video cameras.
The new lens also has built-in Optical SteadyShot™, which cuts the effects of camera shake and minimizes camera blur while shooting handheld at slower shutter speeds. Additionally, Active Mode further enhances stabilization at the wide end of the 11x zoom range ensuring smooth, stable footage even if the shooter is in motion.
While the new SELP18200 lens is optimized for video, it's also a flexible choice for shooting still photography – from expansive landscapes to high impact close-ups of wildlife or athletes – with Sony's α E-Mount range of interchangeable lens still cameras.
Sony α E-mount lens family expansion
These new models expand the Sony E-mount family to 13 native E-mount lenses plus two converters, covering virtually any shooting situation for photographers and videographers alike. Spanning ultra-wide angle, powerful telezoom, macro and fast, bright primes, the range includes premium optics by Sony and Carl Zeiss, and offers refined performance and easy handling throughout the line.
Pricing and Availability
The new E 20mm F2.8 (SEL20F28) wide-angle prime lens will be available this April for about $350.
The new E PZ18-200mm F3.5-6.3 OSS (SELP18200) motorized telezoom lens will be available this March for about $1200.
*The Sony α family of cameras, camcorders, lenses and accessories can be purchased at Sony retail stores, online at www.store.sony.com and at all other authorized retailers throughout the Sony dealer network. *