Cameras
Sony announces three new Cyber-shot cameras: DSC-V3, DSC-T3, DSC-L1, all follow in the sleek, stylish Cyber-shot trend
August 29th - Sony announced the release of three new digital cameras today. In line with their flashy hook for sleek appeal and pocket-sized dimensions, the Cyber-shot DSC-T3, Cyber-shot DSC-V3, and Cyber-shot DSC-L1 continue the trend toward fast, compact point-and-shoot cameras with advanced quality and options.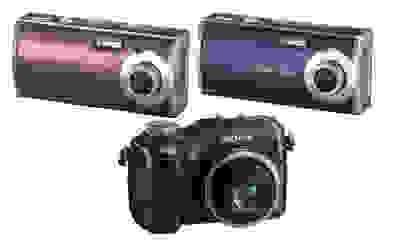 The DSC T3, DSC-L1, and DSC-V3 each contain Sony's Real Imaging Processor Circuit, which has been designed for speed and performance. These cameras are equipped with strong lenses, advanced shooting modes, large LCD monitors, and superior video in a slight, stylish design.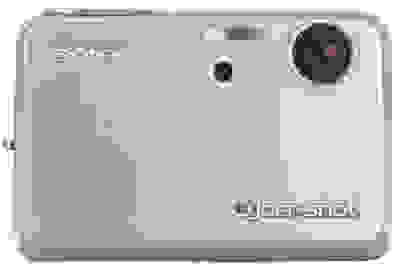 The new 5.1 megapixel DSC-T3 (spec sheet) is described by Sony as "thin, fast, and good-looking." While that may sound like a personal ad, Sony is trying to appeal to the hip, modern seeker of quality who is looking for excellent imagery within stylish looks -- a camera that can be flashed around on a night out while retaining high-quality images.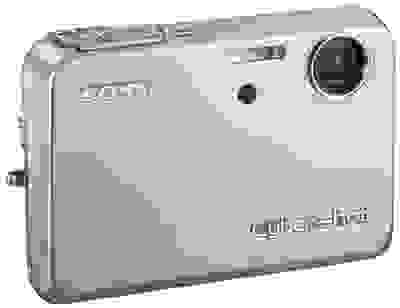 Sony's "thinnest digital camera to date," the DSC-T3 is sculpted for travel. The camera is light and compact, striving for thinness to accommodate comfortable and fashionable pocket portability without protrusion. To maintain its flush, flat, front face, the DSC-T3 contains a 3x optical zoom Carl Zeiss lens that does not extend past the camera's ¾ inch width when activated. The lens is concealed behind an electronic lens cap that opens like a set of mechanical doors. There is also a 0-4X SmartZoom at VGA resolution that enables the camera to zoom in and crop the composition without any degradation of quality. This complements the DSC-T3's Magnifying Glass mode. As one of the T3's nine shooting modes, the Magnifying Glass mode enlarges subjects up to 3.3 times their original dimensions, portraying intricate details that would otherwise get lost within a larger composition. The DSC-T3 also strives for speed. Containing Sony's Real Imaging Processor Circuit, the camera has burst capabilities of up to four continuous full-resolution frames at a rate of three frames per second. As long as storage is available, the T3 will continue on its InfoLithium battery for up to 180 exposures.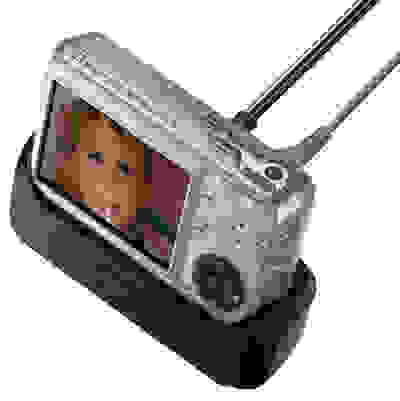 The Sony DSC-T3 is also characterized by its stand-out LCD screen. Made with particular care, the 2.5" Transflective Clear Photo LCD screen is designed to maximize image quality by inhibiting glare from reflected light as well as solarization. The LCD is designed to provide higher resolution and brightness and greater contrast for a superior image. This massive LCD takes up about 2/3 of the entire back of the camera. The portable DSC-T3 does not overlook the importance of hybrid capabilities for the traveling shooter. On those occasions when video capture is preferred and all that is available is the digital camera in your pocket, the T3 should serve. When set in MPEG-VX Fine mode, the T3 will record video with 640x480 pixels of resolution at 30 frames per second. While the T3 can not rival many devoted camcorders, the frame rate and resolution available make the DSC-T3 as good a video recorder as can be expected from a digital camera and more than sufficient for the impulse videographer. The Sony Cyber-shot DSC-T3 is set to hit the retail world in October at US$500.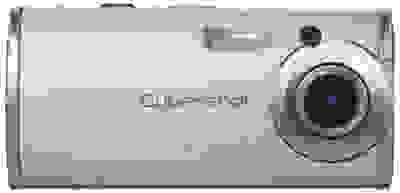 Another camera new to Sony's repertoire is the Cyber-shot DSC-L1 (spec sheet). Unlike the DSC-T3 or DSC-V3, the DSC-L1 marks the debut of this "ultra-compact" styling for Sony. With 4.1 megapixels of resolution, a Carl Zeiss Vario-Tessar 3x optical zoom lens and a multitude of exterior color options, the DSC-L1 is armed for performance and flash, with a hint of grace.
According to Greg Young, Sony's general manager for digital still camera marketing, "decades of expertise in miniaturization have enabled us to achieve a balance between fashionable design and such advanced features as the world's smallest zoom lens." This priority for design holds true with the L1, offering four color selections to choose from. There is the standard brushed silver model, a dark-blue matte, a dark-red piano gloss, as well as a more formal black frame. Like a sports car of the point-and-shoot digital camera industry, performance and appeal are the shared principles behind the L1, tailoring the camera to the stylish and quality-driven consumer. The compact 3 ¾" x 1 ¾" x 1" frame around it also contains a 1.5" transflective LCD, designed to combat difficult viewing conditions and glare from sunlight.
The L1 contains new forms of focusing technology that help maintain focus while moving across spatial planes. The linear focus drive and compact high-resolution optical system enable the user to zoom in and out while maintaining focus. This should cut the delay when moving in for a close-up shot and give the L1 user the advantage of actual continuous focus. Sony also offers a few accessory packages for the L1. There is an accessory kit (ACC-CFT) that comes with a leather carrying case and a spare battery. For those who are interested in the accessory case without the battery, there is the leather case package (LCS-UP), designed to protect and pad the L1. A grey polyurethane carrying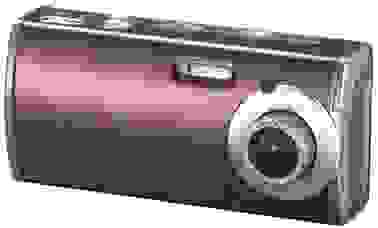 case is also available for the L1 (LCS-UQ/H), made to convey a more personal style while transporting your camera. Lastly, there is a durable sportspack housing (LCS-UQ/H) that will protect the L1 in up to three meters of water. The standard silver DSC-L1 is set for stores in mid-October, while style-seekers will have to wait until January for the black, blue and red models. They will all retail for around US$300. The highest level camera of the three newest Sony releases is the 7.2 megapixel Cyber-shot DSC-V3. Equipped with the rare rangefinder styling and a 4x optical zoom Carl Zeiss Vario-Sonnar lens, the DSC-V3 is encased in a sharp, all-black shell.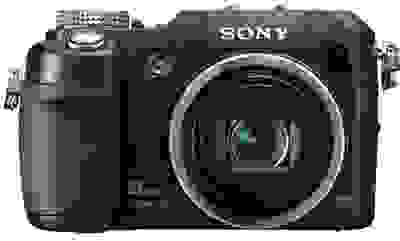 Sony's general manager of digital camera marketing, Greg Young, touted the DSC-V3 (spec sheet) as being for "a special class of photographer that wants creative control over the picture-taking process in an ultra-portable package."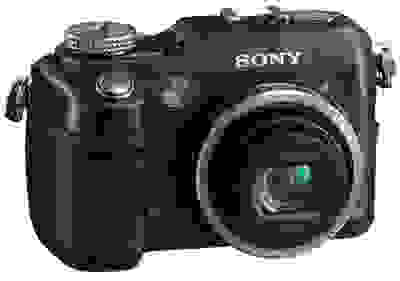 Speed is critical to the DSC-V3. Backed by Sony's Real Imaging Processor Circuitry, the V3 is designed for quick start-up time and rapid shot-to-shot exposures to go along with smooth, rapid automatic focusing and exposure control. There is also a high-speed burst mode offered on the DSC-V3; the SDRAM mode will record up to eight full-resolution frames at more than two frames per second. With the V3, these images can be captured on either Memory Stick or Compact Flash I media. Additionally, the V3 can record in RAW mode, a prosumer feature that is designed to preserve the information on the entire CCD. This is ideal for printing if professional quality is essential. To gain more control when shooting, the DSC-V3 contains aperture priority and shutter priority modes in addition to manual exposure. There is also a multi-pattern metering system that takes readings from 49 points within the frame. The 49 points are spread throughout the composition to get an even exposure.
In addition, the DSC-V3 comes with some additional settings and features to help in low-light situations. There is a NightShot infrared System, which is limited to a specific type of shoot but can still capture images up to 15ft away in utter darkness. To help focus in dimly-lit scenes, there is a NightFraming System that has been designed to brighten the scene with a hologram AF illuminator, and then provide the necessary light assistance with the flash. For those who prefer softer, diffused, or reflected light, the DSC-V3 comes with an accessory hot shoe to attach an additional flash and communicate with the camera.
The prosumer Cyber-shot DSC-V3 will retail for roughly US$700 and should be available in late October, along with the Cyber-shot DSC-T3 and Cyber-shot DSC-L1 (except for the additional color models, which will be out in January).