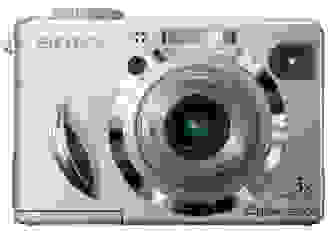 February 19, 2005 – Sony announced another addition to their recently labeled "Wide LCD" series of Cyber-shot digital cameras with the release of the DSC-W7. Packing a 1/1.8-inch, 7.2 megapixel Super HAD CCD, Real Image Processor, Carl Zeiss Vario-Tessar lens and 2.5-inch LCD display, the DSC-W7 builds on the strengths of the DSC-W1.
Mark Weir, Product Manager of Digital Cameras and Digital Photo Printers for Sony explains the motivation behind the "Wide LCD" Cyber-shot line: "the DSC-W1 was very successful…we've decided to expand this model concept to become a series." In a press announcement, Weir outlined Sony's marketing strategy and engineering emphasis for the year, stressing higher resolution CCDs, superior lens quality, Real Imaging Processors (more stamina), and large LCD screens.
The DSC-W7 seems to fall within advanced point-and-shoot classification of digital cameras, offering an expansive array of both manual and automatic control. While the DSC-W7 contains "a feature set very similar to that of the DSC-W1," some settings have been reconfigured, offering increased shooting opportunity to engaged users and automatic reliability for point-and-shooters.
Heading the Wide LCD Cyber-shot series, the DSC-W7 is cased in a durable metal alloy body, retaining the stark, boxy shape of the DSC-W1 with a "couple of different cosmetic details in the design." The DSC-W7 offers a similar 2.5-inch 115,000 pixel LCD display, while adding resolution, 32MB of internal memory, and a Real Image Processor to the package. The versatile DSC-W7 contains Manual, Auto, and Program Auto exposure modes as well as 7 preset scene modes for automatically inclined users.
Much of the success and performance prowess of the Cyber-shot series can be attributed to the use of Carl Zeiss lenses. The DSC-W7 continues this trend, stocking a 3x optical Carl Zeiss Vario-Tessar 38-114 (equivalent) zoom lens. The lens iris opens from f/2.8-f/5.2 and offers an additional 2x precision digital zoom. The key distinction between the DSC-W7 and DSC-W1 is the pop-out characteristic of the W7's lens, rather then the internal configuration on the DSC-W1.
The DSC-W7 enables users to automatically focus within a 5-area multi point AF system. An Auto Macro mode is included as well as an AF illuminator, for extended visibility when focusing in low light situations. Like the DSC-W1, the W7 is conversion lens compatible, offering additional perspectives to both the wide and telephoto ends of the spectrum.
Offered in both black and silver casings, intrigued consumers should expect to see the DSC-W7 on store shelves in mid-March, retailing for $449.95 (USD).