*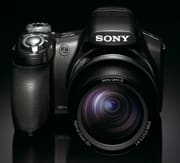 March 2, 2009 - *At a press conference at PMA today, Sony introduced the Cyber-shot HX1, the company's first point-and-shoot with a CMOS sensor, featuring 20x optical zoom, 1080p video recording and a 10-frame-per-second burst mode at full 9.1-megapixel resolution. The camera is slated to ship in April, priced at $499.
Speed is very much the prime selling point here. Sony claims the Exmor sensor delivers 10x higher reading speed compared with a CCD sensor.  There are three burst rates: 5 or 10 frames per second for a maximum of 10 pictures, or 2 frames per second for up to 100 pictures. They also promise that the use of a mechanical versus an electronic shutter will avoid distortion that sometimes occurs when shooting fast-moving objects using an electronic shutter.
In-camera panorama stitching offers an exceptional degree of automation, with no need to take separate shots or line anything up. Instead, the user chooses the desired panorama mode and pans horizontally or vertically. An on-screen indicator shows when you've moved as far as you can go (up to a 224-degree sweep). The camera then stitches together the images it's snapped and presents the completed panoramic image a few seconds later.
Sony also uses rapid-fire multiple exposures for two noise-reduction settings, Hand-held Twilight and Anti Motion Blur. In both cases, the camera takes six photos in rapid succession and analyzes the results, taking the least blurry pixels from each image to create a sharpened composite image.
The 20x lens is equivalent to a 28-560mm lens on a 35mm camera, with a maximum f/2.8 aperture at the widest angle setting and f/5.2 at maximum telephoto. The 3-inch LCD offers 230,000-dot resolution. Full auto, aperture-priority, shutter-priority and manual exposure controls are available, along with 10 preset scene modes. ISO settings range from 125 to 3200.
Video recording, with stereo sound and the option to use optical zoom while shooting, is available in three formats: 1080p, 720p and 640x480, all at 30 frames per second. Files are stored in MPEG4 AVC/H.264 format. HDMI output is available to high-definition TV sets. When connected to a compatible Sony HDTV, Bravia Sync allows users to control playback from the camera using the TV remote control.