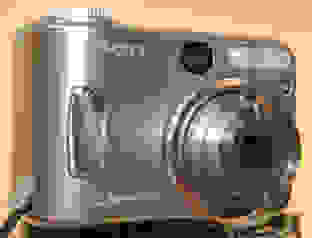 February 19, 2005 — Sony launched a new line of energy-efficient digital cameras from Jimmy Buffet's Margaritaville in Orlando, Florida.The Sony Cyber-shot S40, S60, and S90 begin the new product line with Real Imaging Processors that consume less battery power, thus Sony has dubbed the products its "Stamina series."
"The naming of the series is coming from the extraordinary battery life," said Mark Weir, product manager of digital cameras and digital photo printers for Sony. "Battery life is one of the areas we've put a lot of development effort into, not only with battery technology but also with power management from the Real Imaging Processor."
All of the cameras use AA alkaline or nickel metal hydride batteries, although the rechargeable nickel batteries are preferred. Those batteries can record up to 600 shots per charge, while the standard alkaline batteries typically take about 100 shots. Along with the signature stamina, all three cameras have 32 MB of built-in memory as well as a slot for an optional Memory Stick.
The Sony DSC-S40 will be the entry-level model of the series, with 4.1 megapixels and a Carl Zeiss 3x optical zoom lens. This simplified point-and-shoot model has all of the basic features: PictBridge compatibility, an optical viewfinder, 6 scene modes, and a 1.5-inch LCD screen. This model supersedes the Cyber-shot P41 and will retail for $199 when it hits shelves in the middle of March.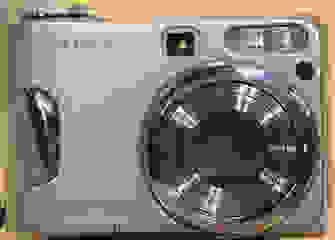 The Sony Cyber-shot DSC-S60 and the S90 are both compatible with the included Cyber-shot accessory cradle, which charges NPH-25 nickel hydride AA batteries while streamlining the downloading and printing processes.
The 4.1-megapixel S60 adopts a different body style than the S40 with a "more upright design," as Weir called it. It must adopt this style to accommodate the larger 2-inch LCD screen with 115,000 pixels. The Sony Cyber-shot DSC-S60 makes an upgrade from the S40 with 7 scene modes and manual exposure control. This model has the same 3x optical zoom lens and is compatible with conversion lenses. Meant as a successor to the popular P73, the S60 will retail for $249.95 in mid-March.
Most digital camera manufacturers build their product lines based around the megapixel count. Sony decided to take a different approach by keeping the same 4.1 megapixels in the S series, while increasing the size of the LCD screen. The Sony Cyber-shot DSC-S90 is the top-of-the-line model in the Stamina Series with its large 2.5-inch LCD screen. Although it has the same automatic and manual controls as the S60, it adds a separate battery charger that plugs into the side of the Cyber-shot Station. The rechargeable batteries allow the S90 to take about 580 shots per charge. The Sony Cyber-shot DSC-S90 will sell in mid-March for $299.95.