Cameras
Sony Introduces Sleek Digital Photo Frames
Just when you didn't think there could be any more digital photo frames, Sony tossed its hat in the digital photo frame ring here at PMA with its S-Frames: the $250 DPF-V900, $190 V700, and $140 V70. All three have 800 x 480 WVGA resolution and 15:9 asp
*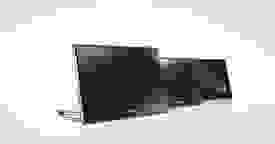 Feb. 1, 2008 - *Just when you didn't think there could be any more digital photo frames, Sony tossed its hat in the digital photo frame ring here at PMA with its S-Frames: the $250 DPF-V900, $190 V700, and $140 V70. All three have 800 x 480 WVGA resolution and 15:9 aspect-ratio LCD screens.
The frames are thin and super-sleek, and can display images of up to 48 megapixels – so even the pros will be satisfied with the crisp displays. Like its point-and-shoot digital cameras, Sony includes its BIONZ processor with face detection technology for in-frame editing options and faster processing times.
"Digital photo frames are a natural addition to our line of digital imaging products," said Ted Okada, senior vice president of digital imaging for Sony Electronics.
All three have 10 slide show modes, clock and calendar options, and two modes to allow previews of several images at once. A timer in the frame helps save energy by allowing the user to set automatic on and off times for the frame.
The V700 and D70 are 7 inches, while the V900 is a larger 9 inches. The V700 and V900 offer 512 MB of internal memory, and the D70 has 256 MB. They are compatible with Memory Stick PRO and PRO Duo, SD, MMC, CompactFlash, Microdrive, and xD memory cards, and can be used with a USB cord.
The V900 and V700 are Bluetooth-compatible, but require the purchase of a sold-separately Bluetooth adaptor. Bluetooth compatibility allows images to be import wirelessly from other suitable equipped devices, such as most cell phones. The V900 and V700 are also compatible with HDTVs, and can connect via an (also sold separately) HDMI cable.
All three support JPEG and RAW formats, and the V900 and V700 additionally support TIFF and BMP formats. In-frame editing options include focus enhancement, red-eye correction, and exposure adjustment.  All three frames will ship in March.