Cameras
Sony Intros Cybershot TX1 and WX1 with 10fps Burst, Sweep Panorama
Sony Intros Cybershot TX1 and WX1 with 10fps Burst, Sweep Panorama
August 5, 2009 – Sony has incorporated the back-illuminated CMOS sensor technology introduced earlier this year with the ultra-zoom HX1 into two pocket-sized Cyber-shot cameras, the touch-screen DSC-TX1 and the DSC-WX1.
The two new cameras are more similar than different when it comes to key features. The Exmor R sensor allows for 10 shot per second burst mode at full resolution, panorama shooting in a single sweeping pass, and multiple-exposure composites to reduce noise and blur. Both cameras shoot 10.2-megapixel stills and 720p video in Motion JPEG format. Video sound is mono only, but the optical zoom can be used while shooting.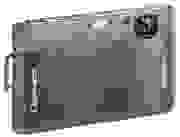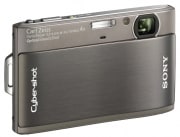 The TX1 is the latest in Sony's sleek touch-screen T series, featuring a distinctive sliding front lens cover and slender depth. The 4x Carl Zeiss lens (35-140mm equivalent, maximum aperture range of f/3.5-4.6) is an internal zoom, with nothing protruding from the front of the camera.. The 3-inch touch-screen panel (230,000-dot resolution) features an improved interface, with new icon design and the option to customize the display. As with previous T-series cameras, the TX1 is unusually slim at 3.75 x 2.38 x 0.66 inches (93.8mm x 58.2mm x 16.5mm) and 4.2 oz. (119g). It will be available in silver, priced at $379.99 when it ships in September.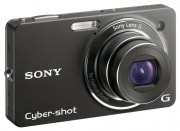 The WX1 is the less flashy of the two new cameras, though it does have a Sony G lens with a wider zoom (24-120mm equivalent) and a faster maximum aperture (f/2.4-5.9). The screen is a 2.7-inch LCD with 230,000-dot resolution. And while not quite as slender as the TX1, the WX1 is still pocket-friendly at 3.56 x 2.06 x 0.78 inches (90.35mm x 51.8mm x 19.8mm) and 5.3 oz. (149g). The WX1 will be available in black this October, selling for $349.99.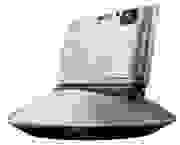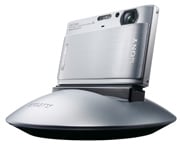 Also introduced today was a unique accessory called Party-shot, which will be compatible with the TX1 and the WX1. This motorized cradle sweeps the environment, panning in a full circle and tilting up to 24 degrees, and uses the camera's facial recogntion and smile detection software to focus and snap photos automatically. The device, which runs up to 11 hours on a set of AA batteries, can be placed on a tabletop or the floor, or mounted on a tripod. It will ship in September, priced at about $150.