Cameras
Sony Launches Cyber-shot S700 and S650
Sony Launches Cyber-shot S700 and S650, function guide, resolution guide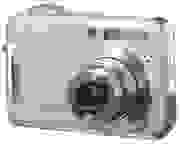 January 17, 2007 – Along with two W-series cameras, Sony launched the Sony Cyber-shot DSC-S700 and S650 today. At 7.2 megapixels, the S700 will retail for $180 when it becomes available in March, and the S650 will retail for $150 in February.
These new entry-level models improve upon the older DSC-S600, toting a higher 7.2 megapixel count over its 6-megapixel predecessor. The S700 has a 2.4-inch LCD screen, and the S650 possesses a 2-inch monitor like the S600. Both new cameras come equipped with a 3x optical zoom lens and a sensitivity of ISO 1000.
"With settings up to ISO 1000, you can shoot at higher shutter speeds to capture the candles on a birthday cake or the city lights without using a flash," stated a Sony press release today.
The Cyber-shot S700 and S650 pack Sony's anti-blur technology and Clear RAW noise reduction. The new cameras incorporate Sony's function and resolution guides in the menu system. A user can access the function guide though the mode dial and pull up a simple text explanation for each menu item. A user also can access the resolution guide to help decide what resolution to use for printing. Each resolution selection has an accompanying print size to help the user along in the shooting process.
The Sony S700 and S650 are DPOF compatible. While there are no in-camera cropping functions, the cameras do have a resizing option. Both point-and-shoots have video capabilities and can record at 320 x 240 at 30 fps. The cameras have 24MB of internal memory and accept additional media of the Memory Stick Pro and Duo of up to 4GB storage capacity.
Both the Sony S700 and S650 will be available for pre-order online on Jan. 23 at www.sonystyle.com/cameras2007.