January 27, 2005– Perhaps Sony accidentally posted the Sony Cyber-Shot W5 or perhaps they wanted consumers to get a sneak peek of the latest compact digital camera. The page in question appeared on SonyStyle last night, but was removed shortly thereafter. The 5-megapixel camera it displayed, which appears to be strikingly similar to the Cyber-shot W1, will sell for the same price as the W1: $349.95 (USD).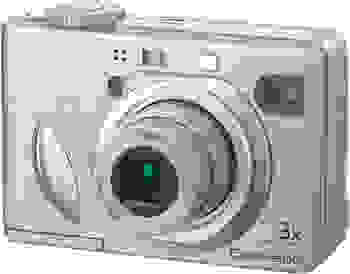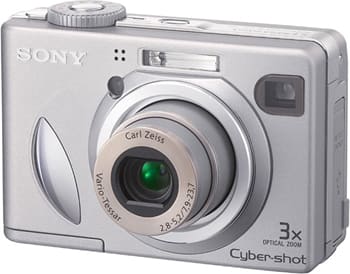 The Sony Cyber-Shot DSC-W5 does have impressive manual and automatic features, judging from the briefly posted specifications. The shutter speed, which ranges from 30-1/1000th of a second, can be manually adjusted with 46 steps. The aperture is slightly less impressive, offering only two steps of manual control. The ISO speed can be set in the standard range of 100-400. If users prefer the automatic scene modes, the Sony W5 answers with six modes: Twilight, Twilight Portrait, Landscape, Soft Snap, Candle, and Beach.
With 32 MB of internal memory, users can choose to save still images and video clips to the camera or to a Memory Stick. It can accept cards up to 1 GB. Getting a card will be especially important for consumers who record video clips. The W5 can record movies at 30 or 16 frames per second in 640 x 480 resolution. There is also a Video Mail option that records 8 frames per second at 160 x 112 resolution, designed for e-mail.
Sony cameras are known for their incorporation of Carl Zeiss lenses. The W5 contains the same 3x optical Carl Zeiss Vario-Tessar zoom lens found on the W1. The lens reaches from 7.9-23.7mm, which is equivalent to a 38-114mm zoom in 35mm format. The W1 also has a large LCD, which is identical to the one on the Cyber-shot DSC-W5. The 2.5-inch LCD screen takes up nearly the entire back of the camera and has fair resolution with 115,000 pixels. The screen shows a live histogram display, which is helpful in difficult lighting situations.
Overall, the Sony Cyber-Shot DSC-W5's look, features and measurements appear (at least preliminary) nearly identical to the previous W1. This accidental posting only increases the curiosity surrounding the compact W cameras -- stay tuned for a formal announcement.