February 17, 2010 – Sony jumped into the increasingly crowded pool of waterproof digital cameras today with the DSC-TX5, its first entry in the category, which will survive 10-foot depths, 14 degree cold and a drop of 5 feet. The DSC-HX55 was also introduced, offering a 10x zoom lens and 14.1 megapixel resolution.
The waterproof Sony TX
Measuring 3.75" x 2.25 x 0.72 inches (94.0 x 56.9 x 17.7mm) and weighing in at 4.5 oz. (128g), Sony claims this is the thinnest and samllest waterpoof camera available. Relying on the company's Exmor R CMOS sensor, the 10.2-megapixel TX5 offers several useful features we've come to associate with this technology, including a fast 10 shot per second burst rate, handheld in-camera high dynamic range photography and intelligent sweep panorama. The camera also features a 3-inch touch-screen, an unusual feature in a weatherproof camera.
The 4x zoom lens starting at a 25mm- equivalent wide angle, with a maximum f/3.5 aperture. The TX5 supports 720p video recording, with high-def output via component rather than HDMI connection. It will be available in April, in silver, black, pink, green and red, priced at $350.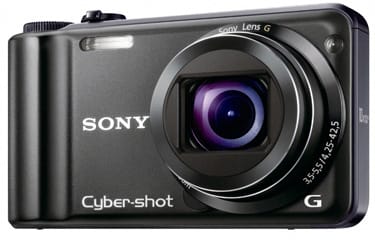 The HX55, priced at $250
Also coming in April, the $250 HX5 is a 14.1-megapixel model with 10x zoom (starting at 25mm equivalent) and a 3-inch, 230,000-dot LCD. This camera supports sweep panorama shooting and 720p video recording, though here again high-def output is via component cable. It will sell for $250, available in black and silver.