Cameras
Sony Pulls Back the Curtain on the Alpha 7, Alpha 7R, and RX10
Sony swings for the fences with two new full-frame cameras and a premium point-and-shoot.
Credit:
Sony announced three of the most anticipated cameras in recent memory today, finally unveiling the Cyber-shot RX10 and the first full-frame E-mount cameras, the Alpha 7 and Alpha 7R. The company has also announced a host of full-frame E-mount lenses and accessories to accompany the two new full-frame bodies.
Leading the announcements today is the Alpha 7, with a 14-bit 24.3MP full-frame sensor, an impressive 2.4 million-dot articulating OLED EVF, dual control dials, and a tilting 3-inch 1,299K-dot rear LCD. The A7's sensor is brand new, with integrated phase-detection autofocus. The A7 also features Sony's new BIONZ X processor, with the camera capable of 5fps burst shooting.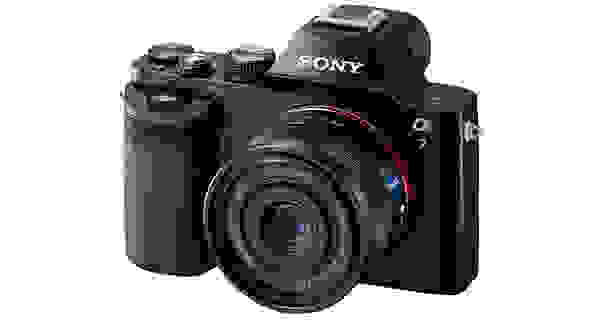 Sony is very proud of the lightweight and weather-sealed A7, which it claims is half the mass of a typical full-frame DSLR. According to Sony the Alpha 7 weighs in as the lightest full-frame interchangeable lens camera on the market, which isn't hard to believe compared to cameras like the Nikon D800 or Canon 5D Mark III.
While the A7 is certainly appealing, the main event is the Alpha 7R: an enthusiast-geared variant with a 36.4MP full-frame sensor. While the A7R's sensor doesn't offer the integrated phase-detection AF that the A7 has, the only other full-frame camera on the market with that kind of resolution is the Nikon D800—which is more expensive and quite a bit larger.
The main event is the Alpha 7R: an enthusiast-geared variant a 36.4MP full-frame sensor.
Other than the image sensor, there's not much that separates these two bodies. Remote shooting, WiFi, NFC, a 2.4 million-dot OLED EVF, tilting rear screen, and a multi-interface hot shoe are all present on both Alpha 7-series cameras. For video shooters, both the A7 and A7R offer 3.5mm mic and headphone jacks, as well as full 1080/60p video recording.
The two new Alpha cameras represent a new tack for Sony's mirrorless ambitions, which to date has only featured NEX cameras with smaller APS-C image sensors. Current E-mount lenses will be fully compatible with the new cameras, though they will not be able to cover the entire sensor.
The two new Alpha cameras represent a new tack for Sony's mirrorless ambitions.
To get around this, Sony has revealed a new full-frame E-mount lens roadmap, including five full-frame E-mount lenses that will be available soon. Among these lenses is a G-branded 70-200mm f/4 telephoto lens, a 24-70mm f/4 constant Vario Tessar T lens, a 55mm f/1.8 Zeiss prime lens, a 35mm f/2.8 Zeiss prime lens, and a 28-70mm f/3.5-5.6 lens. Of these, all have on-board stabilization except the primes. Sony claims that 10 more full-frame E-mount lenses will be brought to market by 2015 as well, though no further details were available.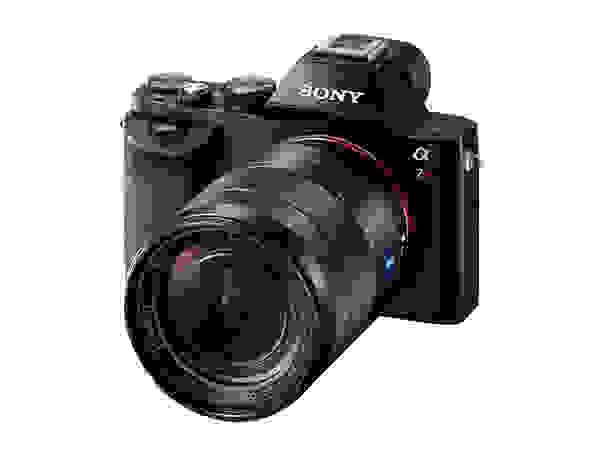 In the meantime, A7/A7R shooters may want to invest in full-frame lenses from other systems. To facilitate this, Sony also announced two new lens mount adapters—the LA-EA3 and LA-EA4—letting you use Sony Alpha lenses with E-mount bodies, with aperture control. Both are designed to accommodate full-frame and APS-C sensors, with the $350 LA-EA4 using a translucent mirror and phase-detect AF unit to provide autofocus. The LA-EA3 is manual focus only, but comes in at just $200.
Also on the docket today, Sony revealed the Cyber-shot RX10. Sporting the same 1-inch 20.2MP Exmor R sensor found on the Sony RX100 II, the RX10 makes use of a rather impressive 28-200mm equivalent fixed lens. It may not be a superzoom, but the RX10's roughly 7x zoom ratio with a constant f/2.8 aperture provides great flexibility for those who want to capture low light action.
While it's not the APS-C compact camera that many were hoping it would be, the RX10 provides an interesting option for those who want SLR-quality shots and a fast telephoto lens. At $1299.99, however, the RX10 certainly has some stiff competition in an increasingly competitive fixed-lens camera market.
The RX10's design seemingly echoes other fixed-lens bridge cameras, but with a more premium feel. The camera has a durable magnesium alloy body, as well as a top-mounted LCD. Framing is accomplished either by a tilting 3-inch LCD or through the included OLED electronic viewfinder.
The RX10 also benefits from the same BIONZ X processor as found in the A7/A7R, with Sony claiming a 3x improvement in processing speed over previous BIONZ processors. The combination allows the RX10 to capture up to 10 frames per second, with continuous (contrast-detect) autofocus.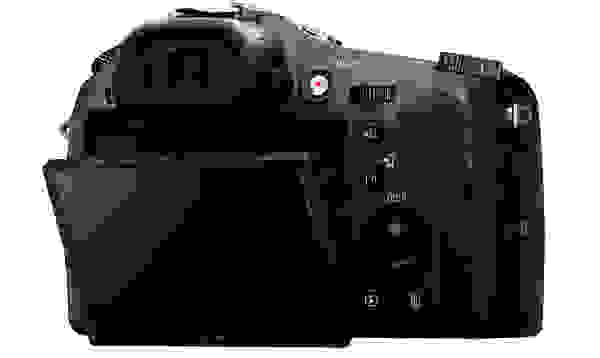 Surprisingly, Sony has given the RX10 some pretty serious video functionality. In addition to 1080/60p (AVCHD) recording capability, the RX10 has 24p shooting, full PASM exposure control, and clean HDMI output. The RX10 will also work with Sony's XLR-K!M adapter, letting shooters utilize higher-end XLR microphones.
All the announcements today are expected to be available beginning in December. The A7 will be offered body-only for $1700 or with the new 28-70mm f/3.5-5.6 for $2000. The A7R will be available body-only for $2300, with no kit option currently announced.
As previously mentioned the LA-EA4 AF-capable mount adapter will come in at $350, with the manual focus-only LA-EA3 costing $200. A vertical battery grip for the A7/A7R has also been announced, with space for two batteries for just $300. A premium case will also hit stores in December for $140.
We'll have full first impressions reviews of all the cameras announced today when we visit Photo Plus East next week in New York City. In the meantime for more on today's announcements you can head on over to Sony's official blog.