*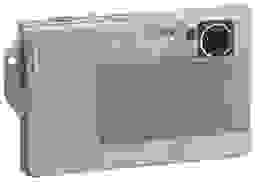 March 8, 2005 *– Sony announced another addition to the Cyber-shot T-series line this morning. The Sony Cyber-shot DSC-T7 is the prettier twin sister of the T33. The brushed aluminum T7 has the same genetics as the older T33: a 1/2.4-inch 5.1-megapixel Super HAD CCD with Real Imaging Processor, a Carl Zeiss 3x optical zoom lens, and a 2.5-inch LCD screen with the same 230,000 pixels of resolution. The differences between these compact cameras are purely cosmetic.
The T7 has a sliding lens cover to protect the lens, which the T33 does not have, though the original T1 did. Even with the added cover, the new Sony T7's body is only 0.6 inches thick – thinner than the T33's 0.8-inch measurement. The cleaner lines and flatter edges of the skinny T7 make the older

model look awkward and even chubby.
"This ultra-compact camera represents a milestone in ingenious design," said Hiro Takahashi, vice president for digital imaging products at Sony Electronics. "Thin is the theme, but this camera is absolutely bursting with great picture quality and style."
However, this camera does not "burst" with any greater picture quality than the Sony T33 does. With the same imaging processor, they both shoot at about one frame per second at full resolution. The Sony T7 can shoot about 180 images before needing a recharge, even with the large 2.5-inch LCD screen on constantly.
The camera accepts Memory Stick Duo and Pro Duo media cards. The T7 comes with a 32 MB Memory Stick Duo card, however, the Pro card is needed to shoot MPEG video at its highest 30-frame-per-second rate. Without the card, the T7 can still record movies with 640 x 480-pixel resolution, but only at 16.6 frames per second.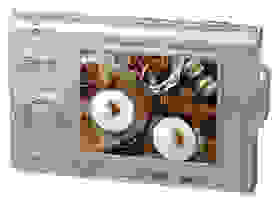 In addition to the 32 MB Memory Stick Duo card, the Sony Cyber-shot DSC-T7 comes with a rechargeable NP-FE1 InfoLithium battery, a connector block, and an external battery charger. The slim T7 will be available in May for fifty bucks more than the T33 at about $500.