August 1, 2006 – Today, Sony introduced the Cyber-shot DSC-T10, a 7-megapixel, high ISO addition to the increasingly dense T-series. The camera will come in four stylish shades - black, silver, pink, and white - and will be available in August for approximately $400.
"Our new model is so stylish that it can be viewed as a fashion accessory," said Sony Director of Marketing, Phil Lubell, in today's press release. Available in black, white, silver, and pink, the Cyber-shot T10 is "not just another pretty face," according to the release.
The Sony Cyber-shot DSC-T10 comes equipped with a max sensitivity of ISO 1000 and a 2.5-inch Clear Photo Plus LCD. Fitted with a 3x optical zoom Carl Zeiss Vario-Tessar lens, the camera also possesses Sony's Super Steady Shot optical image stabilization. As with Sony's other T-models, the T10 includes a protective cover for the lens.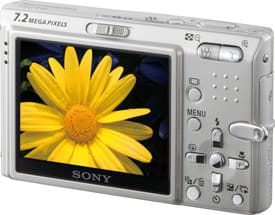 The Sony T10 comes with a Real Imaging Processor for quick start-up time, double anti-blur protection for low-light situations, and 56 MB of internal memory. For additional memory, the camera accepts Memory Stick Duo or Memory Stick PRO Duo cards. The camera has six white balance settings and ten scene modes, including super macro and soft snap for portraits with soft backgrounds.
Priced as a middle-tier model in Sony's T-series, the 3.6 x 2.18 x .81-inch DSC-T10 incorporates elements of the T9 and the T30. The T10 and the T9 are now similarly priced at around $400. The preceding T9 is equipped with a comparable 58MB of internal memory, the same optical zoom, and an equally-sized LCD display. The T9, however, has a more limited max sensitivity at ISO 640 and a lower megapixel count of 6 MP. The next model up, the T30, has a slightly higher megapixel count of 7.2 MP and an equal maximum sensitivity, but comes at a steeper $500 price tag.
Using NiMH batteries, Sony quotes the T10 at up to 250 shots per charge. For extended battery life, the Sony Cyber-shot T10 is also compatible with a NP-FT1 InfoLithium battery, which is priced at $60.
The camera is compatible with Sony's $100 SPK-THC sports pack for underwater protection of up to 10 feet. The camera can also be used with the MPK-THC marine pack for up to 132 feet of submergence for an additional $200.