June 6, 2006 – True to its plans, Sony announced its first digital single lens reflex camera today. The new Sony α (alpha) DSLR-A100 has a 10.2-megapixel APS CCD image sensor with a Bionz image processor. The new DSLR comes nearly a year after Sony formed a partnership with now defunct Konica-Minolta to co-develop DSLR technology. The Sony α DSLR-A100 will retail for $899 for the body only or for a hundred dollars more will come with a Carl Zeiss 18-70 mm kit lens. Preorders begin today on the Sony web site; shipping will begin on July 17.
"Our system will be attractive to people who are ready for something beyond what's available in DSLR cameras today," said James Neal, director of marketing for digital imaging products at Sony Electronics, in today's press release. "Sony enthusiasts who want to upgrade from point-and-shoot cameras, as well as former Konica-Minolta digital and film SLR camera users who have already made substantial investments in lenses, will welcome this initiative."
Sony plans to build on Konica-Minolta's legacy by offering many of the same features that were on their cameras, but adding unique features as well. Like the Konica-Minolta cameras, the A100 will have a dust reduction system. The CCD will be coated in indium tin oxide to repel dust and avoid static. The sensor will also vibrate when the camera is turned on and off to keep dust from settling on it. "For DSLR camera users, dust is the enemy," Neal said. Dust is hard to avoid though because of the exposed sensor and insides when switching lenses.
Sony decided to include a 10.2-megapixel APS CCD image sensor rather than a CMOS version like the one included on the high-end Cyber-shot DSC-R1. The R1 had a live preview on its LCD that consumed much more power than is needed on the new DSLR-A100. Thus, the CCD was used.
The Bionz image processor has a dynamic range optimization system that is included in the camera's hardware. It analyzes the RAW data for details in highlights and shadows before writing to the card. This is the first DSLR system to use dynamic range optimization technology in the recording process. Still, the camera retains its speed. The Sony DSLR-A100 keeps a 3 frames-per-second pace for an unlimited number of shots. Besides the dynamic range hardware, the image processor includes a noise reduction system.
Another unique technology on the A100 is Sony's Super SteadyShot image stabilization system. The concept includes a mechanism that shifts the entire CCD unit as the camera is tilted. This ensures that all attached lenses can benefit from the image stabilization system, which is effective up to an equivalent 3.5 shutter speed stops.
The Sony DSLR-A100 has a unique Eye Start auto focus system that utilizes a proximity sensor on the viewfinder to detect when it is in use. Once the sensor identifies a close object – preferably the eye – the auto focus system will focus on the subject; this happens even before photographers push the shutter release button halfway. This keeps the time it takes to snap a shot minimal.
The Sony α DSLR-A100 has several performance features including 9-point auto focus and 40-segment honeycomb metering systems. The camera can record in JPEG or RAW formats and write to CompactFlash, Microdrive, or Memory Stick Pro Duo cards. The Sony A100's shutter speeds range from 30-1/4000th of a second and the ISO sensitivities top off at 1600.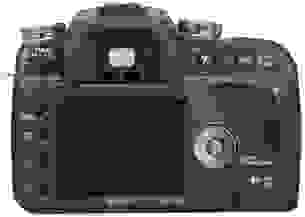 The 5.24 x 3.7 x 2.72-inch camera body has a large hand grip and plenty of room to support its 19.4-ounce weight. The A100 comes in a black color only in the United States. The back of the camera has an optical viewfinder and a 2.5-inch LCD screen with Clear Photo Plus technology and 230,000 pixels of resolution. The Sony α DSLR-A100 has a Minolta A-type bayonet mount, so almost every Konica-Minolta lens fits onto the α system.
Today Sony announced 19 lenses to accompany its DSLR system. The A100K kit lens will be a Carl Zeiss SAL 18-70 mm, f/3.5-4.5 lens. The 3.9x optical zoom lens is equivalent to a 27-105 mm lens in the 35 mm format. When included in the kit, it will only cost a hundred dollars extra. Sold alone, it will retail for $199.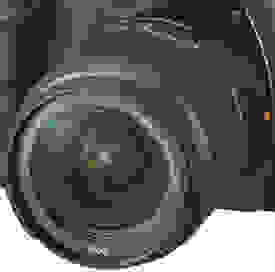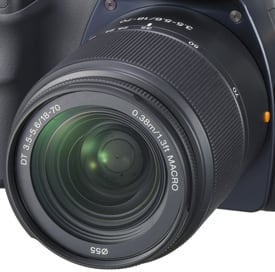 Along with the body and lenses, Sony will release all sorts of accessories. Cable releases, angled viewfinders, flash units, and carrying cases will be offered through Sony soon. The A100 comes with a lithium-ion battery that can take 750 shots per charge. Also in the packaging will be a CD-ROM with Picture Motion Browser software version 1.1 for DSLR-A100 for Windows and Image Data Converter SR software version 1.1 for Windows and Macintosh.
The Sony α DSLR-A100 will compete with entry-level DSLR models such as the Canon Rebel XT, the Nikon D70s, and the Olympus EVOLT E-330. As beginners grow out of their compact digital cameras, they are purchasing single lens reflex models for more versatility. Sony hopes that by offering the α DSLR system, its Cyber-shot customers will remain loyal to the brand. The company also banks on its compatibility with Konica-Minolta products to bring in customers who have already invested in their lenses.
In a May 11 interview on the Sony web site, the company disclosed their reasoning for titling the DSLR system with a Greek letter. Toru Katsumoto, the Senior General Manager for Sony's AMC Division of their Digital Imaging Group, said the alpha symbol is the first letter in the Greek alphabet and Sony wants its DSLR system to be first in quality.