*May 10, 2010 *– Today Sony launched its NEX line of mirrorless interchangeable lens cameras with two models, the NEX-5 and NEX-3. The significant differences between the 14-megapixel models, which both feature APS-C format sensors, are video mode (the NEX-5 shoots full 1080 high-def) and price ($699.99 and $599.99 respectively, with zoom lens). The cameras are set to ship in July.
The two NEX cameras carry over several distinctive Sony features, including sweep panorama shooting, multi-shot low-light shooting modes, a fast 7-shot-per-second speed-priority burst rate, smile shutter and face detection. The in-camera high dynamic range capability has been improved, now taking three shots compared to the two-shot limit on previous models.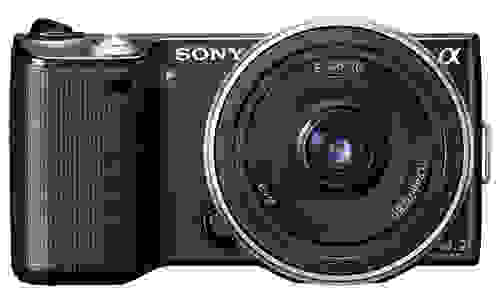 *The NEX-5 offers 1920x1280 video recording, the only significant
performance difference between the two new cameras.*
The 3-inch LCD is impressively sharp with 921,000-dot resolution, and colors pop thanks to the adoption of the TruBlack screen technology developed for Sony photo frames. The LCD is mounted on a pivoting bracket, allowing horizontal and vertical adjustment (though it can't be faced forward for shooting self-portraits, as some screen articulation systems allow).
Based on a brief hands-on with the cameras, the contrast detect autofocus speed is impressive. While we couldn't conduct a side-by-side stopwatch comparison, it felt noticeably faster than the Micro Four Thirds cameras we've tested.
Missing in action is a pop-up flash. The cameras will ship with a pocket-size HVL-F7S flash unit, but the NEX cameras lack a conventional hot shoe, making the screw-on process of attaching the flash a chore. There is no electronic viewfinder, and no provision to add one.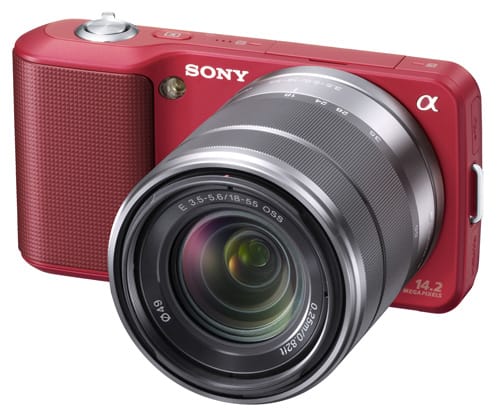 *While the NEX-5 comes in conservative silver and black,
the NEX-3 adds a distinctive red hue to the mix.*
Video was a key consideration in the new camera design. This is a major departure for Sony, which has yet to incorporate video recording in its SLR line. The NEX-5 can handle 1920 x 1080 video at 60i, storing the results as AVCHD files, and MP4 files (1440x1080, 30p or 640x480, 30p resolutions). The NEX-3 sacrifices 1920 x 1280 and AVCHD, though both cameras share manual exposure control in video mode and noise-free continuous autofocus capability. Both record stereo audio.
These camera introduce a new E-lens spec and, as with any new camera format, limited lens availability is an issue to be considered. The NEX-5 and NEX-3 will each ship in two kit configurations. The NEX-5 will run $700.00 with an 18-55mm zoom lens, and $650 with a 16mm f/2.8 prime lens. The NEX-3 will be priced $100 lower in each configuration. The only other lens announced at launch is an 18-200mm f/3.5-6.3, priced at around $800, which is scheduled to ship in the fall. Both zoom lenss are optically stabilized; unlike previous Sony SLRs, there's no in-body stabilization, in an effort to minimze camera size. An adapter that accepts existing Alpha-series lenses will be available as a $200 option, though autofocus will not work with the adapter.
Both cameras are similar in size to existing compact Micro Four Thirds designs. The NEX-5 measures 4 3/8 x 2 3/8 x 1 9/16 inches and weighs 8.1 ounces. The NEX-3 is just a hair larger,  at 4 5/8 × 2 1/2 × 1 3/8, with the same body weight. The NEX-5 has a magnesium alloy body, while the NEX-3 has a polycarbonate case. The shapes are also somewhat different, with a more rounded body and shallower grip on the NEX-3.
This makes three mirrorless interchangeable lens formats on the market, including Micro Four Thirds from Olympus and Panasonic, and the recently introduced NX format from Samsung. The Samsung and the new Sony cameras use the same sensor size as most conventional digital SLRs, while the Micro Four Thirds cameras use a sensor format that's 40% smaller.