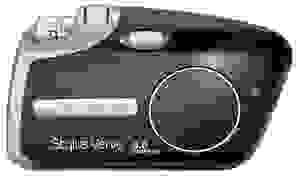 February 17, 2005 — Olympus announced a new addition to its stylish Stylus Verve line today: the 5-megapixel Olympus Stylus Verve S. The compact digital camera employs the same design as the Verve released last September, but it adds a megapixel, a finger grip and some extra features. The black-bodied Olympus Stylus Verve S will be available in April 2005 for $349.99.
"The original Stylus Verve series was created to inspire creativity and self-expression, redefining the design of digital cameras," said Tomoko Matsunaga, product manager, Olympus Imaging America Inc. "The new Stylus Verve S builds upon that great design to offer more options while continuing the tradition of power, performance, all-weather durability, and exquisite style synonymous with the Olympus Stylus Digital series."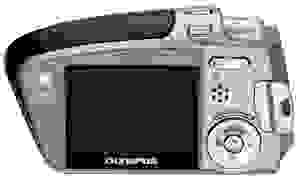 While the shooting modes and functions have not changed, the Verve S does add Calendar, Album, and Histogram features to its portfolio. The camera has the same 16 scene modes that the earlier Verve had. The two models also have the same 1.8-inch HyperCrystal LCD screen with the same 134,000-pixel resolution. The 2x optical zoom lens with additional 4x digital zoom is also available on both models. They are the same size and weight at 4.1 ounces. The biggest difference between the two models is the megapixel count; the Verve had 4 megapixels and the Verve S has 5 megapixels on its 1/2.5-inch CCD.
Constructed of durable and lightweight metal, the Olympus Stylus Verve S is equipped with internal rubber gaskets that keep rain and sand out. The 3.7 x 2.2 x 1.1-inch digital camera has a 320 x 240 and 160 x 120 movie mode that shoots 15 frames per second. The movies are limited only by the size of the memory card, which leaves 41 seconds in its highest resolution with the included 16 MB xD-Picture card.
The new Album feature allows users to create up to 12 individual albums of 100 images each. This adds another aspect to the Playback mode, which already included features such as fish eye, soft focus, rotation, resizing, and colors. The new Olympus Stylus Verve S continues in the convention that digital cameras don't always have to come in rectangular sizes. So now with five megapixels and a few extra features, you can "Find Your Verve" in April 2005.