November 15, 2004 – Barbie is a material girl living in a now digital world. Oregon Scientific, Inc. acquired a license from Mattel, Inc. to begin production of a Barbie brand digital camera. The announcement was made in September and the product will be available November 30th.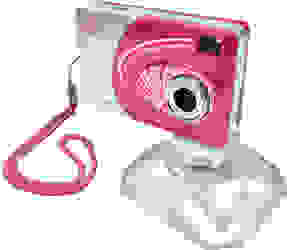 Don't expect this camera to take glamorous pictures; it is more of a toy than a quality camera. It can shoot at 640 x 480 or 320 x 240 resolution. The Barbie camera has 8MB of internal memory, so it can store up to 20 pictures at its highest resolution. The hottest features on this camera are the LCD, a self-timer, web cam capabilities, and a pseudo-movie mode that bunches 99 images into a movie clip. While the camera doesn't take the best pictures, it can still satisfy the 8 to 12-year-old girl's snap-happy ways at a sleepover or school event. And with the Barbie digital camera, parents won't have to worry about their expensive digital camera coming home abused.
The Barbie digital camera comes in the classic pink color for $34.99. It also comes with a Barbie Photo Designer CD-ROM and an ArcSoft PhotoImpression Barbie that allows users to download photos to a computer, as well as manipulate photos and access Barbie clipart and templates. Users can create all things Barbie, including calendars, greeting cards, and Barbie picture frames.
This isn't the first time Oregon Scientific has manufactured Barbie brand merchandise; in the past few years, the company created an electronic interactive Barbie dictionary, laptop, and talking storybook.