Cameras
Think Tank Photo Retrospective 7 Shoulder Bag Review
A quick look at the Think Tank Photo Retrospective 7 shoulder bag.
We don't typically dabble in apparel reviews. Think Tank Photo sent us one of their new Retrospective 7 shoulder bags anyway, so we'll take a crack at it.
The Retrospective series bags are a little more chic than Think Tank's professional, sometimes utilitarian designs. The model we received (the Retrospective 7) is on the small side for a typical messenger bag. It's available in three shades, black, blue slate, and pinestone, all with a polyspun, denim-esque texture. It blended right in on the streets of our east-coast, liberal-elite city. Photographer? Harvard Divinity School student? Or just a guy with a purse? Is there even a difference?
The soft sides and adjustable, padded shoulder strap made for comfortable carrying, even on a lengthy bicycle commute. There's also a hand strap, and it comes with a rain protector as well (which can be bunched up to double as extra padding if your rig doesn't quite fill out the main compartment).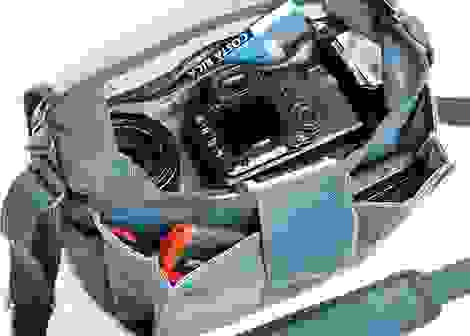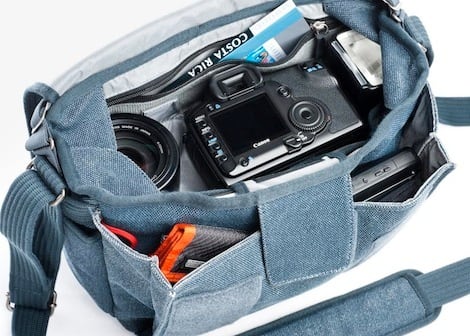 The design and quality are excellent, but the compact size is felt a bit limiting, mainly because it can only hold a tablet computer or 11-inch (or smaller) laptop. There's enough room for a reasonably large camera system—basically a standard DSLR with two, maybe three lenses. The compartments within the bag are customizable thanks to velcro lining and a handful of removable dividers, so it's pretty flexible, but it obviously works better for some rigs than others.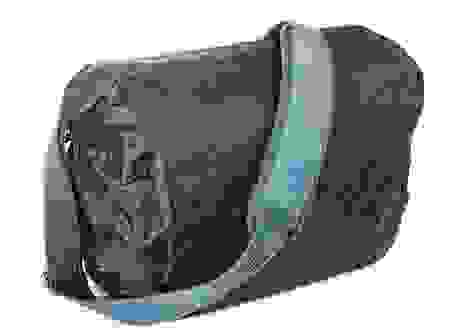 We used the bag with a few setups. The Sony A77 with 16-50mm and 70-300mm lenses was the most comfortable fit. It was a bit roomy for the Olympus OM-D E-M5, even with the extra battery grip and two lenses (12-50mm kit and Panasonic 45-200mm). The Canon 5D Mk. III and kit lens was a snug fit, and the Nikon D4 plus lens was uncomfortably tight. It's not for a full-size pro setup, basically.
The Retrospective 7 could be a good bet for students, traveling photographers who pack light, and hobbyists with smaller setups. At $154, it's not cheap, but it's a quality bag that should last for a while. It's available in a few different sizes as well, for smaller or much larger rigs.