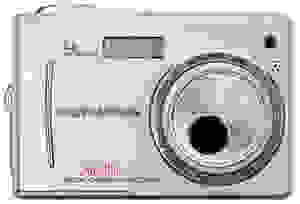 February 17, 2005 — Olympus added three digital cameras to its rapidly expanding D series: the D-630, D-595 and D-590. Olympus announced the D-7070 and the D-425 at the Consumer Electronics Show in Las Vegas in January. Today, the company announced the three new cameras at the Photo Marketing Association Trade Show in Orlando.
The Olympus D-630 Zoom is the 5-megapixel flagship model of the series. With 3x optical zoom and a large 2-inch LCD screen, the D-630 has 10 shooting modes packed in an all-metal body.
"The D-630 Zoom is designed to appeal to users who appreciate simple, elegant design and want a camera that is as attractive and portable as it is easy to use," said Naoki Tai, product manager for Olympus America Inc.
The 4.4-ounce digital camera achieves its elegant design with a brushed aluminum finish and a large viewing screen with 115,000 pixels. An optical viewfinder is also available on the D-630. The 3x optical zoom lens is constructed of 7 elements in 7 groups, with 3 aspheric elements. This is one of the camera's strong points, as well as the 14 MB of internal memory and built-in help guide. However, the Olympus D-630 only has three size options available and a movie mode that shoots 15 frames per second. The camera will be available in April 2005 for $299.99.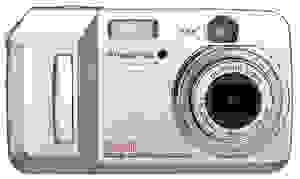 The Olympus D-595 Zoom is a direct upgrade from the D-590, which was announced in September 2004. The new 595 has many of the same features, but has one more megapixel on its 1/3.5-inch CCD. The 5-megapixel D-595 sports 19 shooting modes and a host of manual controls. "As digital photographers' skills develop, they come to expect more creative control over the quality of their pictures," Tai said. "With this in mind, we developed the D-595 Zoom to empower users to do more than they've ever done before with their digital camera. Options for manual shutter speed and aperture give users more creative control over their images, while the inclusion of 19 automatic scene modes makes it easy to get great shots in virtually any lighting situation."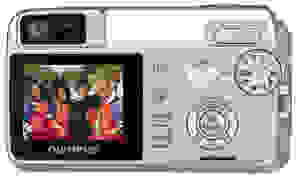 The range of automatic and manual features is wrapped in a durable and lightweight camera body made of polycarbonate material. The 4.1 x 2.4 x 1.4-inch Olympus D-595 has a bright silver finish and a contoured finger grip on the front. The camera has a battery-saving sleep mode, which conserves the two AA batteries required to power the D-595. This model has the same 1.8-inch LCD as the D-590. With an additional 14 MB of internal memory and a 3x optical zoom, the Olympus D-595 will be available for $279.99 in March 2005. The third camera announced by Olympus today is the D-545. The 4-megapixel digital camera is an upgrade from the 3.3-megapixel D-540. The two cameras have different megapixel counts, but the same price of $199.99. The Olympus D-545 is aimed for the novice photographer with its 19 scene modes and 14 MB of internal memory.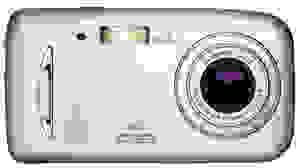 "Ease of use is paramount in the design of our D-series digital cameras," Tai said. "But ease-of-use alone isn't enough — we want to empower first-time digital camera users to do more than they imagined possible with their digital camera."
With 3x optical zoom, the Olympus D-545 has all of the basics of a good digital camera. It also has a sleep mode to save its AA batteries. The camera measures 4.2 x 2.2 x 1.4 inches, weighs 4.9 ounces, and will be available in March 2005.