Cameras
Three New Canon PowerShots Arrive for Under $200, Including ELPH 130 IS
Two predictable A-series cameras and a modest ELPH model, all designed for casual users, will make their way to stores this spring.
Canon announced three new affordable point-and-shoots today, gently refreshing the low end of its compact camera lineup for 2013.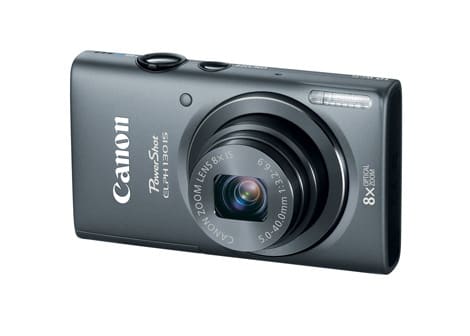 First up is the ELPH 130 IS (specs). Canon says that it does not replace the great ELPH 110 HS, winner of our best budget compact award in 2012 (the ELPH 100 HS won the award in 2011 as well). Instead, Canon made a big spec change, building this latest low-end ELPH around a 16 megapixel CCD sensor rather than one of the nimble CMOS sensors that helped to make the previous ELPHs some of the best compacts available.
Other notable features include an 8x optical zoom range starting at 28mm, optical image stabilization, a 3-inch LCD, and a DIGIC 4 image processor. The press release makes no mention of video, but based on the sensor type, we assume it can capture 720p HD clips. Canon is also equipping the ELPH 130 IS with wireless capabilities. The interface is said to be an upgrade over last year's system (thankfully), and is roughly similar to the system found in the PowerShot N, also announced today.
The ELPH 130 IS will arrive in February in red, grey, and silver for $199. Canon usually announces a second batch of PowerShot cameras in time for the CP+ tradeshow in February, so a proper successor to the ELPH 110 HS could still be in the works.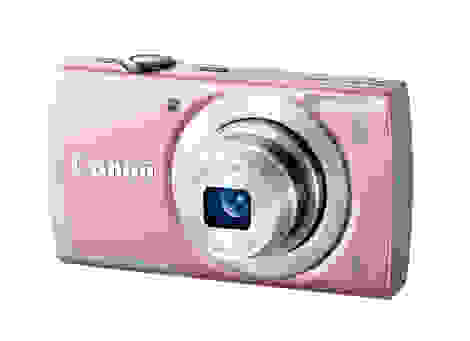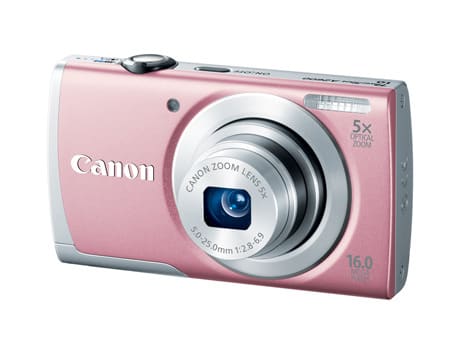 Two new A-series models debuted as well. Targeted toward photographers who are, uh, hesitant around new tech, the A2600 (specs) and A1400 ("specs"https://www.reviewed.com/cameras/specs/canon/powershot%20A1400) are designed for super-simple operation.
The A2600 is built around a 16-megapixel CCD sensor and a 5x optical zoom lens starting at 28mm. It shoots 720p video, has a 3-inch LCD, and digital-only stabilization. It's due in stores in February in black, silver, red, blue, and pink for $149.
The A1400 shares many specs with the A2600, with two key differences: it runs on AA batteries, and it has a tunnel-style viewfinder—two features that are actually pretty great in a cheap camera. It'll be available in February in black for $109.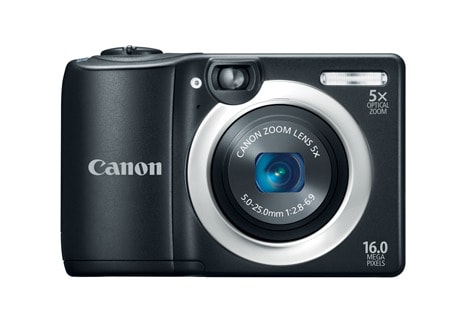 This is the smallest batch of A-series cameras announced at any recent CES, a sure sign that the demand for cheap, commoditized compacts is nearing rock-bottom. Sayonara!
For more info on these new PowerShots, see the official press release below, or head to Canon's website.
---
Official Press Release

*
NEW CANON POWERSHOT CAMERAS HELP CAPTURE HIGH-QUALITY IMAGES WITH SIMPLICITY
LAKE SUCCESS, N.Y., January 7, 2013 – Canon U.S.A., Inc., a leader in digital imaging solutions, today announced the PowerShot ELPH 130 IS, A2600, and the A1400 digital cameras to capture emotions and memories to share in stunning quality. To give consumers a simple, yet enhanced image sharing experience, Canon's built-in wireless1 functionality has evolved with new options that help make posting on social networking sites easy. Also for users who are constantly on the move, each of the new camera models are outfitted with ECO Mode, a new feature that provides approximately 30 percent longer battery life when enabled, allowing them to shoot more photos for a longer amount of time.
"Our new PowerShot models have advanced features that give photographers an enhanced high-quality imaging experience allowing them to fulfill their day-to-day photography needs, express their vision and tell their story with ease, at a great value," said Yuichi Ishizuka, executive vice president and general manager, Imaging Technologies & Communication Group, Canon U.S.A."
PowerShot ELPH 130 IS Digital Camera
The wireless functionality built into the PowerShot ELPH 130 IS digital camera is easy and intuitive and provides users with more connectivity options. With the download of the free Canon CameraWindow app2 from an Android™ or iOS® app store, users can connect to both iOS or AndroidTM smartphones and tablets3 to wirelessly transfer photos and videos from their camera to their device. This camera also has the ability to connect directly to social networking sites using Canon's iMAGE GATEWAY4, making photos easily accessible and ready to share. In addition, the PowerShot ELPH 130 IS digital camera has the ability to connect to computers and select PowerShot cameras with wireless functionality, making it possible for images to be available in various locations. And for even more connectivity options, photos can be printed using PictBridge5 on select Canon printers, including the new PIXMA MG6320 or PIXMA MX922 Wireless Photo All-In-One printers.
To make connecting easy, a new wireless history menu lists the last three connections used for uploading and sharing images. For users who want to share their images with friends and family, the advanced wireless functionality with social networking sites such as Facebook, Twitter and YouTube lets users comment directly from the camera. In addition, users can share images and directly comment to Facebook groups, so the effort of first sending the images to a smartphone, and then posting to Facebook is no longer necessary.
Additionally, with features such as an ECO Mode to help conserve battery life, an 8x-Optical Zoom with 28mm wide-angle lens, and 16-megapixel sensor with a DIGIC 4 Processor, the PowerShot ELPH 130 IS digital camera is a stylish, versatile and easy-to-use camera with advanced technologies for a great shot any time. Adding to its appeal, the camera also features Smart AUTO, which provides an effortless way to get great images in many situations. The 3-inch LCD screen and Intelligent IS also makes photographing easy, with a compact and sleek design. The PowerShot ELPH 130 IS digital camera will be available in a variety of stylish colors: red, grey and silver and is scheduled to be available in February for an estimated retail price of $199.99.
PowerShot A2600 Digital Camera
The PowerShot A2600 digital camera is an ideal user-friendly camera that creates high-quality images. It features a 16-megapixel sensor and 5x-Optical Zoom 28mm wide-angle lens to capture memories that last a lifetime. To make shooting simple, Smart AUTO automatically recognizes and chooses the best settings for 32 common shooting scenarios. 720p HD video is also available with a dedicated movie button to make memories come alive in vivid, lifelike detail. For users that are accustomed to the hustle and bustle of daily life, but looking to treasure those busy moments, the PowerShot A2600 digital camera also comes equipped with a new ECO mode that assists with battery conservation by turning off the 3.0 inch LCD screen when idle. In addition, Digital IS reduces the effect of camera shake and subject movement to help produce crisp, clear images. The PowerShot A2600 digital camera is scheduled to be available in February in five color options: black, silver, red, blue and pink, for an estimated retail price of $149.99.
PowerShot A1400 Digital Camera
With an optical viewfinder, 16-megapixel sensor with a DIGIC 4 Processor, the PowerShot A1400 digital camera gives even the novice photographer the ability to capture spectacular images with ease. The 28mm wide-angle lens with 5x optical zoom aids in capturing great shots from a distance. The PowerShot A1400 digital camera is also equipped with HD Video, and ECO Mode that gives users a camera that is full of features, yet easy to use and economical, allowing for a high-quality imaging experience at a great value. In addition, the PowerShot A1400 digital camera is powered by two AA batteries, allowing for easy replacement whether you are away on an overseas vacation or spending the weekend camping. To make it possible to capture the most cherished moments, the PowerShot A1400 digital camera features Digital IS to help reduce the effects of camera shake and subject movement and a help button that gives users answers to common questions they may have about the camera's many high-quality functions. For even more imaging options, the PowerShot A1400 digital camera includes scene modes such as fisheye effect, toy camera effect and monochrome that give users creative freedom. The PowerShot A1400 digital camera is scheduled to be available in February for an estimated retail price of $109.99.
For more information, and a full list of product specifications, visit www.usa.canon.com/powershot.
About Canon U.S.A., Inc.
Canon U.S.A., Inc., is a leading provider of consumer, business-to-business, and industrial digital imaging solutions. With approximately $45.6 billion in global revenue, its parent company, Canon Inc. (NYSE:CAJ), ranks third overall in U.S. patents registered in 2011† and is one of Fortune Magazine's World's Most Admired Companies in 2012. In 2012, Canon U.S.A. has received the PCMag.com Readers' Choice Award for Service and Reliability in the digital camera and printer categories for the ninth consecutive year and for camcorders for the past two years. Canon U.S.A. is committed to the highest level of customer satisfaction and loyalty, providing 100 percent U.S.-based consumer service and support for all of the products it distributes. Canon U.S.A. is dedicated to its Kyosei philosophy of social and environmental responsibility. To keep apprised of the latest news from Canon U.S.A., sign up for the Company's RSS news feed by visiting http://www.usa.canon.com/rss.
*