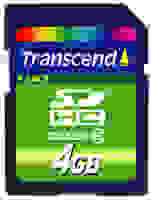 October 17, 2006 – Transcend Information, Inc. announced on Sunday the new 4GB high-capacity and high-speed SDHC card (Class 6). The new Transcend memory card will retail for $85 to $90 when it becomes available online and through retailers next week, according to a Transcend representative.
The 4GB SDHC card is formatted in FAT32 for high capacity cards. The card is equipped with the original NAND Flash chip and has a lifetime warranty. The Class 6 card has a write speed of 6MB per second.
"Now you can enjoy a high-quality digital life and store all of your MP3 music files, high-resolution pictures, and video clips in your SDHC card," stated the Transcend press release on Sunday.
The SD memory card has taken its place as the most popular flash memory device, according to an Oct. 5th Transcend press release. Transcend has also released the SDHC version 2.0 of the SD card. Earlier this month, Transcend launched the 8GB SDHC Class 2 card.