Cameras
Trusted Reviews on Canon 450D DSLR
Cliff Smith from Trusted Reviews tested out the Canon 450D DSLR and thinks it's a little expensive for an "entry level camera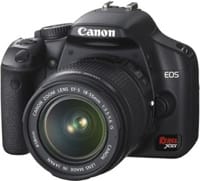 Cliff Smith from Trusted Reviews tested out the Canon 450D DSLR and thinks it's a little expensive for an "entry level camera". It pales in comparison with other entry level camera  according to the reviewer. Live View mode was also found to be a disappointment.
"Where it may win however is for the undoubtedly significant number of people wishing to upgrade from an EOS 300D or 350D, who already have some Canon lenses and so can buy it body only, avoiding the disappointing kit lens. For these people it offers outstanding performance, superior picture quality and a useful level of control and versatility that will be a good progression from their existing camera. "
Up next
Get Reviewed email alerts.
Sign up for our newsletter to get real advice from real experts.