Cameras
Trusted Reviews on Ricoh GX200
Trusted Reviews tested out the newly announced GX200, which replaces the popular and critically acclaimed GX100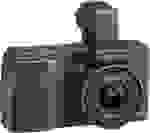 Trusted Reviews tested out the newly announced GX200, which  replaces the popular and critically acclaimed GX100. Calling it a "tough little camera", the GX200 manages to impress with its compact form factor, its black and white mode and its EVF. However when it comes to image quality, the GX200 falls short especially at higher ISOs.
Excerpt from conclusion:

"Ricoh has tried to make a camera for the enthusiast photographer, a camera that the pro or enthusiast could slip into his pocket for a day and make sure he can still get a great shot. Design-wise, the company has pulled it off. The tough little camera is a beauty to hold and a joy to use, and I couldn't wait to see the pictures. It's the imaging aspect that's a disappointment though, and really lets the camera and Ricoh's ambitions down. The 12MP sensor and processing combination is frankly poor."