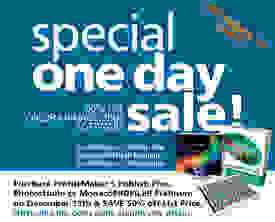 December 12, 2006 – In a one day sale tomorrow, X-Rite Inc. will offer a 50 percent discount on its color management software products, ProfileMaker 5 Publish Plus, ProfileMaker 5 Photostudio, and MonacoPROFILER Platinum. The software, geared for large volume imaging, normally retails for thousands of dolllars, but the price will be cut in half for the 24 hour period.
ProfileMaker 5 Publish Plus is a CMY profile builder for large-scale printers.  ProfileMaker 5 PhotoStudio creates ICC profiles including RGB, CMYK, and Hexachrome, which is geared to studio photography.MonacoPROFILER Platinum, the ICC profiler for monitors, scanners, digital cameras, and printers, normally retails for $4,350.
The X-Rite sale is valid on Dec. 13.  A 24-hour voucher is available at http://www.xrite.com/Documents/Literature/EN/1daysaleUS_EN.pdf.