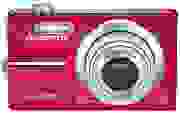 August 19, 2008 – Olympus announced two new FE-series compact cameras, both slated to ship this month, and both offering 8-megapixel resolution. The FE-360 features a 3x zoom lens in a slender 0.7-inch-deep camera, priced at $149.99. The step-up model, the FE-370 ($199.99, shown here), raises the zoom level to 5x and incorporates both sensor-shift and ISO-boosting image stabilization systems.
The FE-360 provides a 2.5-inch (6.4 cm) LCD with modest 154,000-dot resolution. The FE-370 display is larger, at 2.7 inches (6.9 cm), and raises the resolution to 230,000. Both cameras offer an extensive array of preset shooting modes (20 for the FE-360, 19 for the FE-370), and movie recording at 640 x 480 or 320 x 240 resolution, 15 or 30 frames per second, stored, in Motion JPEG format. Both models support xD card memory, or microSD with an adapter. The cameras also share an aggressive color palette, including red, blue, pink, black and silver.
The FE-370 extends the ISO range from the ISO 1000 maximum on the FE-360 to ISO 1600 at full resolution, and ISO 3200 at 3 megapixels, and provides enhanced in-camera editing features. It's also slightly larger and heavier than its less expensive cousin: the FE-360 measures 3.7" x 2.2" x 0.66" (93.9 mm x 55.6 mm x 16.8 mm) and weighs 3.5 oz. (99 g) without batteries or media card, the FE-370 is 3.7" x 2.2" x 0.84" (94.7 mm x 56.7 mm x 21.4 mm) and 4.5 oz. (128 g).