Cameras
Canon 500 HS Digital Camera Review
We put the 500 HS through its paces to see if this touchscreen compact can hold its own in a competitive market
Introduction
The Canon 500 HS is the head of the class for Canon's ELPH / IXUS range in 2011, with a 3.2-inch touchscreen, a host of creative color and shooting modes, and a bright (f/2.0-5.9) 4.4x zoom lens. If you're a lover of touchscreen control and fun extras, the 500 HS / IXUS 310 HS will sate your appetite—while still providing solid picture quality for a compact camera.
There are better performing cameras in this price range, but the 500 HS is a good option for those looking for a fun, stylish alternative that can bring the creative side of any photographer out.
It debuts at an MSRP of $299 and is available in a lovely pink, silver, or brown.
Front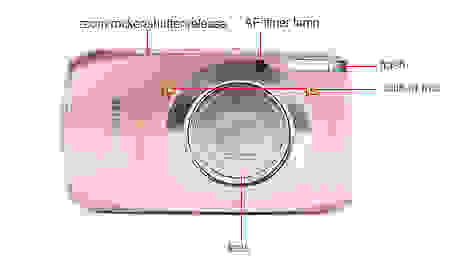 Back
Sides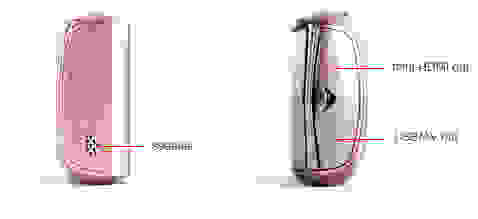 Top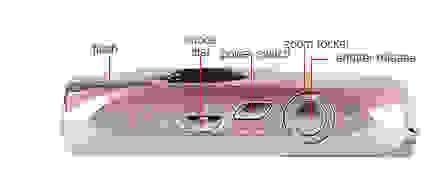 Bottom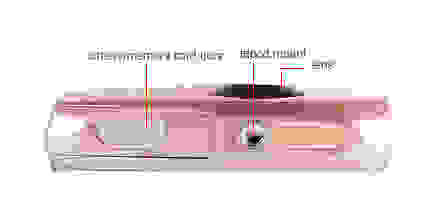 In the Box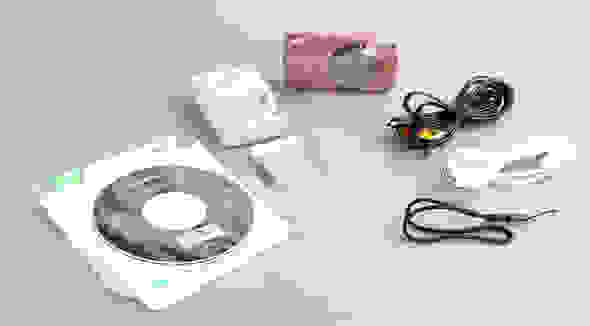 The Canon 500 HS comes with the following in the box:
Battery Charger

NB-6L Rechargeable Battery Pack

USB cable (mini-USB)

A/V cable

Wrist strap

Manuals/Software
Color
The 500 HS / IXUS 310 HS exhibited acceptable—if not great—color accuracy in our tests, tending to oversaturate colors in its standard mode. We found the "Neutral" mode in My Colors to be more accurate, though a bit undersaturated.
In the neutral mode, the camera had the most trouble accurately reproducing orange, yellow, and teal, but it did very well with skin tones and sky blue. In the standard mode, the opposite was true, with the 500 HS having the trouble with blue and purple. More on how we test color.
All the compact cameras in our comparison group reproduced colors that were accurate by point-and-shoot standards. The 500 HS was right in the middle of the pack, just ahead of the dual-screen Samsung TL225. All the cameras in this group are higher-end point-and-shoot cameras with prices from $300-$400 originally, so it's to be expected that they would be able to perform acceptably well here.
Color Modes
The 500 HS includes 10 preset color modes ("My Color" modes) in the function menu. There is also a custom color option that allows for fine adjustments to contrast, sharpness, saturation, skin tone, red, green, and blue channels. These color options are available in playback and can be applied to an image after capture.
The camera also has both of Canon's popular Color Swap and Color Accent options. Unlike some other Canon cameras, both of these options have been made their own separate shooting modes rather than My Color settings. As a result, they cannot be applied to images after the fact.
Noise
The 500 HS manages to keep noise to a respectable level through the ISO range, with less than 2% as high as ISO 3200 in both bright and low light testing. There is still considerable detail lost due to in-camera noise reduction, which cannot be turned off. More on how we test noise.
There is very little difference between noise levels at 3000 lux (bright light) and 60 lux (low light). The 500 HS had an average noise of 1.8% in its images taken in bright light and just 1.6% when those same images were taken in a low light setting. This amounts to little or no visible difference in the images.
The 500 HS beat out its brand-mate, the Canon S90, despite being hampered with a smaller sensor. It lost out to both the Samsung TL225 and the Sony TX9, however, in terms of measurable noise in test images.
The Sony TX9 scored the best here, which isn't a surprise as it features a back-lit CMOS sensor. (Back-lit CMOS sensors are better able to gather light and are therefore less prone to noise.)
We advise that you also look at the comparison crops below. They show that, while measurable noise is better in the TX9 and TL225 at the highest ISO settings, the images from the Canon cameras have softer gradation and retain more detail without looking splotchy.
ISO
The camera offers ISO settings from 100-3200 in full increments with an automatic option also available. Disappointingly, there is no option to cap the automatic ISO at a certain sensitivity.
NOTE: The images above are not used in our testing or scoring, but are included here to show real-world examples of the differences between cameras at the various ISO settings.
Resolution
Overall, the Canon 500 HS is right on par with its comparison group; it has a sharper lens and average chromatic aberration, but suffers from a moderate amount of distortion at wide and middle focal lengths. It ranked behind Sony's TX9 in our resolution scoring only because of that distortion. More on how we test resolution.
Distortion ()
The 500 HS had an average distortion percentage of 1.2% through the middle of the zoom range—though that relaxed to less than 1% at the telephoto end. Barrel distortion (bending of parallel lines that seem to bow outward from the middle of the frame) was the primary culprit.
Sharpness ()
The 500 HS had the sharpest lens of any camera in our comparison group. It was also among the top performers of point-and-shoots that we have tested so far. This isn't surprising given its price—with a debut of $299, you'd expect good results—but it's a pleasant surprise for a pink, 4.4x optical zoom touchscreen camera.
Chromatic Aberration ()
The camera exhibited average chromatic aberration results in our test. This is easiest to see in high contrast areas such as in the crops below, where there is very clear blue and green fringing. This is most apparent near the periphery of the lens: compare the edge crops to the center crops and the disparity becomes clear.
Quality & Size Options
There are 16 quality and size options for still images, and all are compressed in JPEG format. There is no RAW shooting on the Canon 500 HS.
Image Stabilization
With stabilization on, we found that the 500 HS showed a 10% improvement in sharpness at 1/30 second shutter speed. It won't give you a sharp image all the time, but it will occasionally save an image from being completely worthless. More on how we test image stabilization.
The Canon 500 HS was the second-best in our comparison group for stabilization, beating out the Canon S90. The Sony TX9 features optical image stabilization, but was not given a numeric score for this feature since it cannot be turned off. We score based on the effectiveness of the feature, and there's no way to quantify that without a control example to compare it to. (Though the TX7 did score very well in that test) The Samsung TL225 was the best here—although none of these cameras put up particularly phenomenal scores.
Video Mode
The Canon 500 HS was clearly not designed for video. It handles well enough for a compact point-and-shoot camera, but should definitely not be anyone's primary video for important memories. It records full 1920x1080 h.264 video at 24fps with no real quality adjustment available. Videos can be recorded with a maximum clip time of approximately 10 minutes, and a 4GB card will fill up with video at the default settings after a little over 14 minutes.
Video Color
The Canon 500 HS had exceptional color accuracy during video recording compared to other compact cameras we have tested. It showed a mean color error of just 3.61 in our testing, far better than the other cameras in our comparison group. This is most impressive because it was exactly how the camera performed in still image testing. Most compact cameras tend to lose a considerable amount of accuracy when shooting video. More on how we test video color.
Video Sharpness
The 500 HS produced the sharpest image of any of our comparison cameras for still photos, but in video recording it fell behind the Sony TX9. We were able to see 450 lw/ph of sharpness horizontally and 575 lw/ph vertically. The camera was sharper toward the center of the lens, but had issues with artifacting and banding near the edges of the frame. More on how we test video sharpness.
Playback Mode
The playback modes are fairly substantial on the Canon 500 HS, though it is a royal pain to control while outputting to a television. This is because the back LCD goes black while the camera focuses on video output, so touch operation is mostly a blind affair. You can assign four directional swipes to specific controls, but there are no constant onscreen controls to guide you and no physical controls to fall back on.
When viewing images back on the camera itself, though, the playback features are far easier to use and result in a much more pleasant experience. The slideshow feature and picture effects are fun and help get more out of the camera, in this regard.
In-Camera Editing
The 500 HS allows users to make a number of edits to their images after capture. The playback menu allows you to rotate, resize, crop, correct for red-eye, adjust contrast, assign a category, or apply a "My Colors" filter to any image you like.
Direct Print Options
The 500 HS has support for both PICTBridge compatible printers and DPOF ordering. In its playback menu, the Canon 500 HS has a dedicated printing tab where the user can select images for printing with options including quantity, time stamping, and file number stamping.
Display
The 500 HS features no viewfinder of any sort, but does benefit from its 3.2-inch touchscreen LCD. When shooting in the default mode, the image does not fill the whole screen. The touchscreen controls do not cover your image, unless shooting in the widescreen 16:9 aspect ratio.
The LCD is fairly typical of other resistive touchscreen LCDs on cameras: it's moderately responsive, but can be frustrating to use at first. The lack of physical controls makes scrolling and some menu adjustments more difficult than they need to be.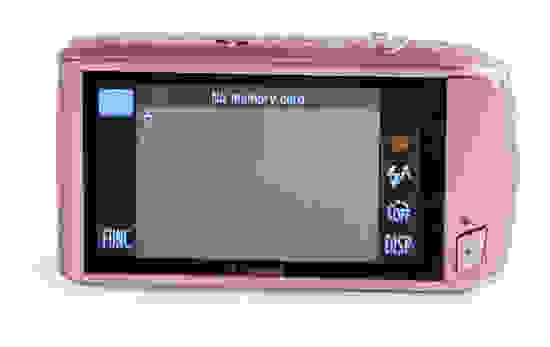 Flash
The camera has a built-in flash located in the upper right of the front of the body. It's more powerful than a typical compact camera flash, as it can be effective up to 16 feet. That comes at a bit of a tradeoff, with the camera requiring as much as 10 seconds to recycle the flash. In our use of the camera, this was typically closer to five seconds. The protruding lens did tend to block the flash's light during some shots.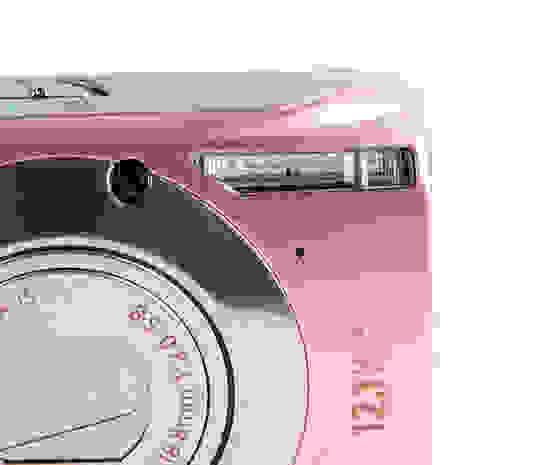 Lens
The Canon 500 HS has a lens that zooms from 4.3-18.8mm, with a maximum aperture range of f/2.0-5.8 and a minimum aperture of f/8. It is concealed behind an easily-moved thin metal cover and telescopes out from the body when the camera is turned on.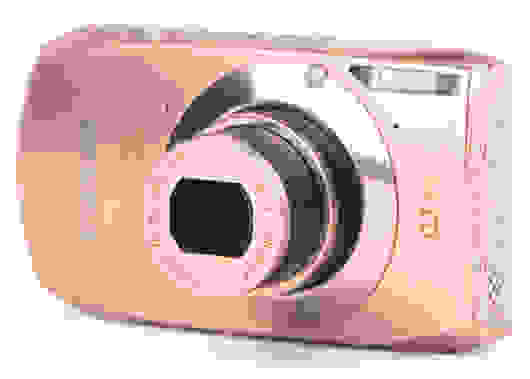 The 500 HS' 4.4x optical zoom range can be augmented by the use of digital zoom up to 18x in standard mode. Alternatively, users can set a constant fixed digital teleconversion of 1.5x or 2x in the menu.
Battery
The Canon 500 HS comes with Canon's NB-6L rechargeable lithium ion battery, which is charged in an external wall charger. It's a battery that's been around for a while now, so if you currently own a Canon point-and-shoot camera, it's possible you'll already have a spare on hand. Either way, you may want a spare as the battery is only rated to approximately 180 shots per charge.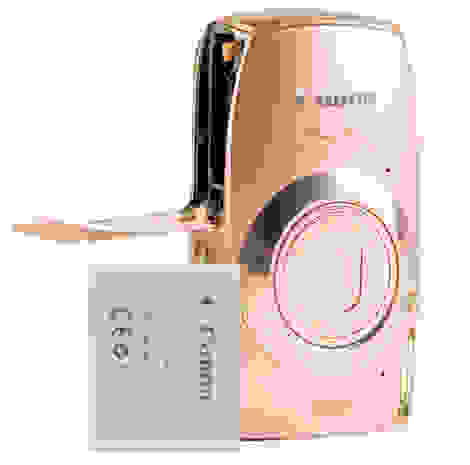 Memory
The 500 HS can make use of SD/SDHC/SDXC memory cards. Canon does not currently list a maximum size memory card (and did not provide a maximum when questioned) for the camera, but we'd guess that the newest SDXC cards (128GB+) will not work without a firmware update.
The camera also supports Eye-Fi, MMC, MMCPlus, and HC MMCPlus cards, if you have one of those kicking around.
Jacks, Ports & Plugs
The Canon 500 HS is all about standardization, with a mini-HDMI port as well as a mini-USB port. It comes with a mini-USB to USB cable for data transfer as well as a composite cable for A/V output.
The 500 HS is also compatible with the Eye-Fi series of wireless SDHC cards for transferring pictures off the camera via wi-fi.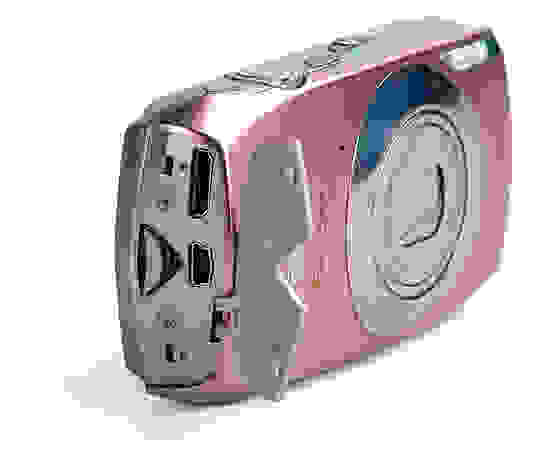 Shooting Modes
There are 26 shooting modes selectable in the menu for the 500 HS: program, aperture priority, shutter speed priority, movie digest, portrait, kids/pets, smart shutter, high-speed burst, best image selection, handheld night-scene, low light, fish-eye effect, miniature effect, toy camera effect, creative light effect, monochrome, super vivid, poster effect, color accent, color swap, beach, foliage, snow, fireworks, iFrame movie, and super-slow motion movie.
Most of the modes work as described, or are for shooting in their titular setting, but there are some rare effects in play here: the toy camera mode creates an extreme vignette effect; the creative light mode will digitally alter out of focus points of light from circles to a user-selected shape; the fish-eye effect creates an extreme distortion effect like a fish-eye lens; miniature effect blurs sections of the scene to make it look like a miniature model; the iFrame movie mode shoots in a format that can be edited on some Apple devices.
Picture Effects
There is a wide selection of fun picture effects available on the 500 HS, with the aforementioned fish-eye, monochrome, miniature, toy camera, creative light, poster, super vivid, and Color Accent and Color Swap available in the shooting modes menu. There are also eleven other My Color adjustment filters in the menu that can be applied either before or after a picture is taken.
Manual Controls
There are not many manual controls available on the 500 HS, with just shutter-priority and aperture-priority shooting modes. There is no full manual mode. The shutter and aperture modes are not very expansive, with the camera only able to take advantage of a limited range of shutter speeds (1/1000-15 seconds) and apertures (f/2.0-8.0).
Drive/Burst Mode
There are two standard drive modes available in the 500 HS' menu: single and continuous burst shooting. There is a reduced resolution high-speed burst shooting mode available in the menu, as well.
The typical 10-second and two-second self-timer options are available, as well as a custom option. This custom setting allows the user to trigger a sequence of up to 10 shots with a designated delay of up to 30 seconds per shot.
The Canon also comes with a wonderful wink detection self-timer, with the camera taking a photo two seconds after detecting a wink. If it doesn't detect the wink, Canon's only advice is to "wink a bit slowly." Thanks for that bit, Canon.
Shot to Shot ()
The 500 HS managed a respectable 2.35fps in its full-resolution burst mode, second best in the comparison group. It's not quite the 3.2fps Canon advertises, though. There is very little shutter delay and there doesn't seem to be any buffer limiting the amount of shots that can be taken in this mode.
If you're just looking for pure speed, there is a high-speed shooting mode that reduces resolution to three megapixels (1984x1488 per image). It's listed as shooting at 8.2fps, but came in closer to 7fps in our testing.
Handling
The 500 HS has a segmented body design with tapered, angular edges that allow for a little more grip and give the camera its distinct look. Its metal construction is nice and feels solid in the hand, but it's not the easiest material to grip. It's simply not a camera designed for single-handed shooting, except for quick snapshots where no adjustments are needed.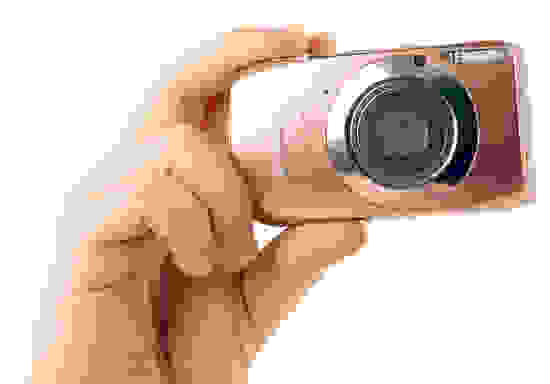 The back of the camera is dominated by the 500 HS' 3.2-inch touchscreen interface. The screen is complemented only by a playback button, with no other physical controls to speak of. In the interests of providing extra grip, there's a raised ridge for your right hand on the back of the camera.
The 500 HS has a well-designed touch interface that is simple to learn and intuitive. The touchscreen lends itself to image playback more than fine-tuning exposure settings. The Canon 500 HS is full of surprises in playback, such as the ability to simply tap the side of the camera to move to the next image.
Buttons & Dials
There are few actual buttons on the 500 HS, as it sports such a large touchscreen. On top there is a shutter release and zoom rocker along with a power button and physical switch to go between adjustable shooting settings and a full automatic mode. The presence of the auto mode switch lends itself to amateur use. You can root around in the menu and experiment with the different shooting modes all you like, then return to full automatic with just a flick of the mode switch.
Menus
The menu is easy to learn, but there is no dedicated menu button to access it. That control only presents itself after the user has activated the function menu by pressing the bottom left corner of the screen. The function menu allows for most of the major adjustments one would make before taking a photo, but having a physical—or at least more readily available—menu button would have been a nice touch.
Manual & Learning
The Canon 500 HS comes with just a quick start manual for getting the camera up and running. The full manual is available in .PDF format on the included CD. It's 212 pages and goes into a good amount of depth on what each setting does and where it is available. There's not much in the way of general shooting tips, but its more than enough to acclimatize you to the camera's every function.
Sony Cyber-shot DSC-TX9 Comparison
The Canon ELPH series is (rightfully) seen as the little brother to Canon's S-series compact cameras. The S90 model is a little older now, but it features a sensor that is about twice the size of the 500 HS.
With its touchscreen control and lack of physical and manual controls, the 500 HS features a radically different design from the S90. In performance, though, the 500 HS shows the gap between the two lines of cameras is not as great as you might imagine.
By our tests, the 500 HS has a sharper lens that suffered from less distortion (though slightly more chromatic aberration), but was less accurate in terms of color reproduction. The Canon S90 showed a little more noise in its images across the ISO range, but retained more fine detail in those images. The S90 also has the benefit of shooting in either JPEG or RAW format, with more customizable options.
In the end, the two cameras just appeal to different user bases. The 500 HS is a touchscreen-controlled camera with a ton of color modes and picture effects, but limited manual options. It's designed for the automatic user who wants a little more style and creativity from their camera. The S90 is the exact opposite, with slightly better image accuracy and a host of manual controls.
Samsung TL225 Comparison
The Sony TX9 and Canon 500 HS are very similar cameras: both are top of their respective model lines, feature full HD video, touchscreen control, and perform well in low light. Both cameras split the difference between easy automatic mode and creative extras.
The real difference between the two cameras is size; the Canon body is thicker while the Sony uses a non-telescoping lens in order to maintain its extremely slim profile. The Sony lens creates a little more chromatic aberration, but it's just as sharp and it has almost no distortion. The TX9 performs better overall due to its back-illuminated sensor, which gathers light more efficiently per pixel.
That performance gives the Sony the edge here. It has better color accuracy, slightly better low light performance (except at ISO 3200), a slimmer profile, and a similar touchscreen design. The Canon has a few more neat features and a shade more optical zoom, but the Sony is the better option for the money in terms of picture quality.
COMP 3
The Samsung TL225 and Canon 500 HS both offer fun features for the snapshooter who wants a little better picture quality and some nice extras, like touchscreen control. The TL225's headlining feature is its small LCD screen on the front of the camera, allowing for easy framing during self portraits.
The 500 HS had a little better color accuracy in our testing, but the Samsung TL225 showed less noise across the ISO range in testing. The TL225 did lose quite a bit of detail due to noise suppression, though. The Canon's lens created more chromatic aberration, but it allowed in more light and was generally sharper across the image. You'll have to deal with blue/green fringing with the 500 HS, but there will be less smearing of detail.
If you're looking for a touchscreen-controlled camera that has some fun modes to play with, either camera is a good option. If that's your aim, however, we find that the Canon 500 HS is simply easier to control; the touch elements are larger and implemented in a better fashion, the menu is designed better, and the text is much more legible.
For our money, the Canon 500 HS provides a better value with some nice extra features. However, if you're desperate to do self-portraits for your MySpace profile that don't involve a bathroom mirror, then you probably live in the year 2006 and the Samsung TL225's dual screens will suit you best.
Conclusion
The Canon 500 HS is a well-designed touchscreen camera that crams a lot of fun, creative features into an attractive, compact camera. It's nice and small, but still feels substantial in the hand with its metal construction and angular design. It has a nice bright lens (maximum aperture f/2.0-5.9) and a ton of creative modes and picture effects.
It was outperformed in our noise tests by the Samsung TL225 and Sony TX9, but at ISO 3200 the Canon 500 HS retained detail better. In resolution testing, the 500 HS had the sharpest lens of any of the cameras in our comparison group, though it suffers from pretty heavy chromatic aberration—mostly seen as blue and green highlights around areas of contrast.
The 500 HS handles well for a camera of its size. Our main point of contention is its touchscreen, which is frequently more trouble than it's worth. If you don't mind the camera's quirks—and enjoy what touchscreens provide for usability—then the 500 HS is certainly a worthy contender for your money.
Photo Gallery