Kitchen & Cooking
5 ways to use the Instant Pot as part of your Canadian Thanksgiving prep
Say hello to stress-free cooking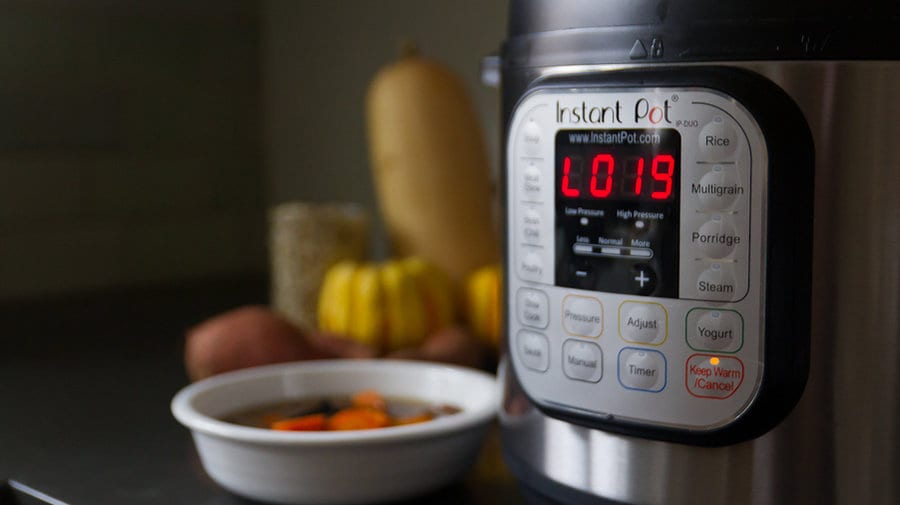 Credit: Instant Pot
By early October across the border, Americans are already in full swing preparing for Halloween. But Canadians have another holiday before they start thinking about scary costumes and sweet treats: Thanksgiving. As visions of turkey, stuffing, vegetables, pumpkin pie, and other fixings dance in your heads, the stress of having to cook it all becomes a reality. As someone who has entertained a time or two (including for many Thanksgivings!), I like to think I have the whole meal preparation situation down pat. But it doesn't come without help, both by other people as well as handy small appliances.
I bought an Instant Pot about four years ago – I have the Ultra 10-in-1 model which our team in the U.S. ranks as the best overall pressure cooker you can buy and I have never looked back. The Canadian invention has by far become one of the most-used small appliances in my kitchen, if not the most (yes, even more than the trusty toaster). And while it's great for everyday family cooking, when it comes to big meals for holidays like Thanksgiving, an Instant Pot can be a critical tool for prep. Here are some ways you can use it.
1. Cook sides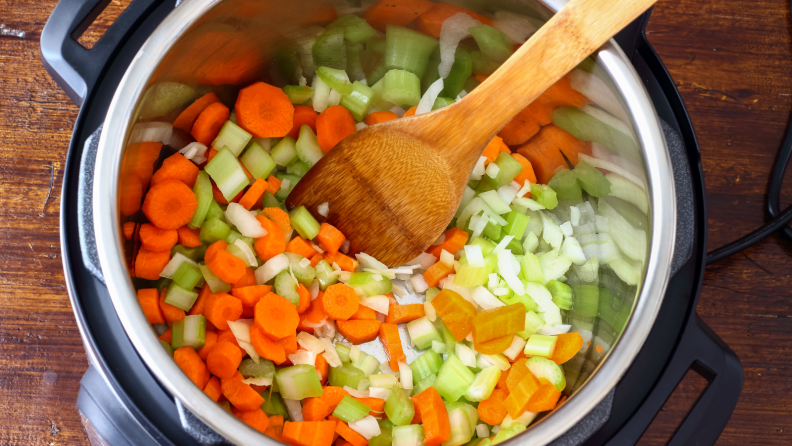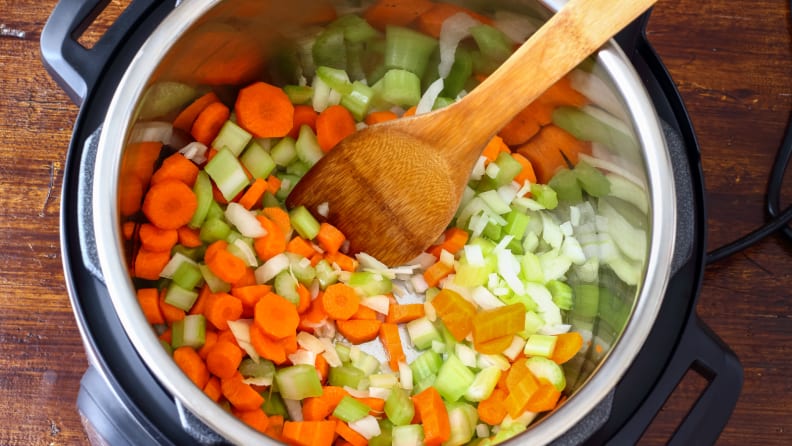 Even with four stove burners and an oven, when preparing a big meal I run out of a room for the many dishes I inevitably have going at once. Fortunately, there are certain side dishes that can be made wonderfully in the Instant Pot, in a fraction of the time they would take in an oven or even on the stovetop. I've made perfect corn on the cob (go ahead and finish it on the barbecue if you desire), baked potatoes, steamed vegetables, scalloped potatoes, risotto (seriously!) – you name it – in my Instant Pot. Not only does this free up space on the stovetop for your gravy and homemade cranberry sauce (go ahead and make those in the Instant Pot as well), it also means you can make this dish at the last minute instead of hogging the oven for an hour just to get those perfectly soft baked potatoes. Several ears of corn, for example, will pressure cook with one cup of water in just four minutes.

Get the Instant Pot Tempered Glass Lid from Amazon
2. Keep warm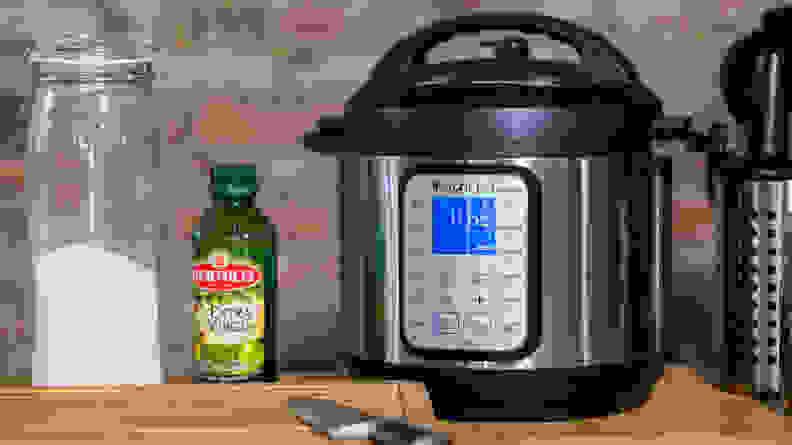 If you're visiting friends or family for the holidays, that means packing the car with everything from gifts to your food contribution, a bottle of wine, a sweater for time spent outside by the fire, and more. What is great about the Instant Pot is that you can simply grab it and use it to cook your dish at their house so you don't have to make it at home then transport it while it stays warm and fresh, especially if it's a long drive. The Instant Pot has a Keep Warm function so you can plug it in, dump in the ingredients, turn it on, then grab a glass of wine and leave it until it's time to eat. Keep Warm comes in handy if you're hosting, too, since you can use it for a filler side dish like rice and leave it there for hours while it will remain hot and ready to serve when the mains are ready.

Get the Instant Pot Silicone Lid from Amazon
3. Make dessert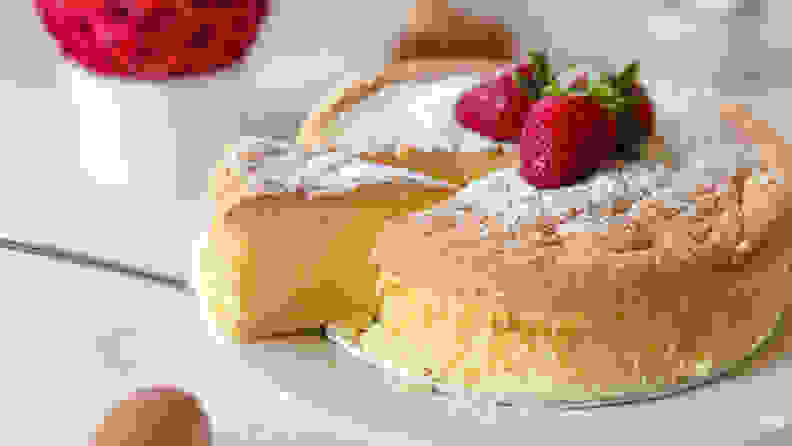 The Instant Pot can make pretty great desserts, too, from to-die-for mini chocolate lava cakes to cheesecake. You could also do a last-minute fresh apple crisp to serve hot with some vanilla ice cream – all you need are peeled, cored, and sliced apples, butter, oats, brown sugar, salt, and cinnamon – all typical kitchen staples that can be thrown together in a flash. Want to make pumpkin pie from scratch but don't have time to cook the pumpkin pieces in the oven for pureeing? Pop the pieces of pumpkin atop the trivet in the Instant Pot with a cup of water at the bottom, and they will steam to perfection in a fraction of the time so you can blend them and whip up a perfect pie – no canned pumpkin necessary.

Get the Instant Pot Springform Cake Pan from Amazon

Get the Instant Pot Instant Pot Silicone Springform Loaf Pan from Amazon
4. Cook from frozen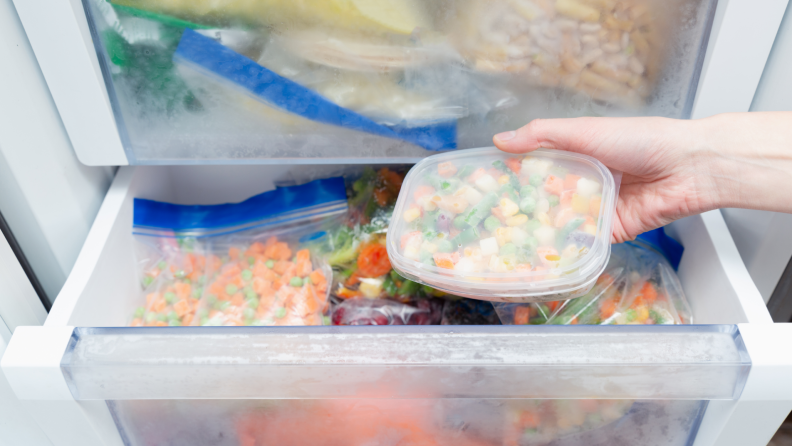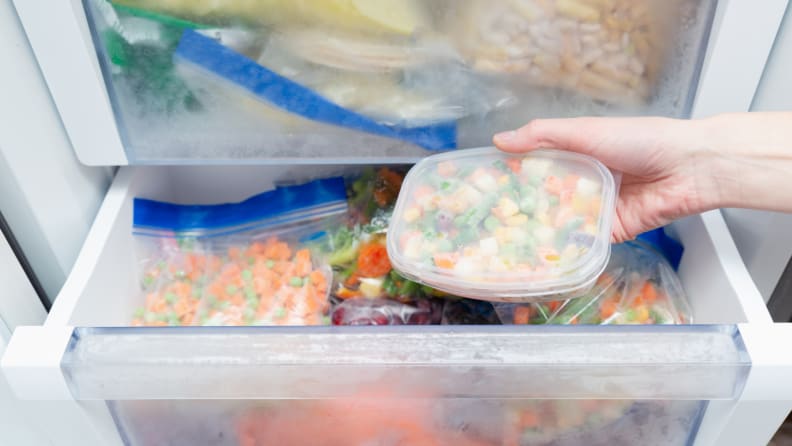 We know, we know. Thanksgiving is all about fresh food cooked from the heart, with love on the big day. But not everyone has the time to make multiple dishes all on the same day while also getting the house cleaned, the table set beautifully, and other décor and entertainment ready. Some dishes, like vegetables and even chicken breasts, can be just as wonderful when cooked right from frozen as they are when fresh. And the best part about the Instant Pot is that you don't need to defrost them first. Pop food right from the freezer to the Instant Pot (with at least one cup of liquid) and cook it for the same time you normally would. The Pot will just take a few extra minutes to come to pressure because of the frozen temperature of the food but it will cook just as quickly once ready. It's a lifesaver if you forget to remove something from the freezer the night before.

Get From Freezer to Instant Pot: The Cookbook from Amazon
5. Air fry away!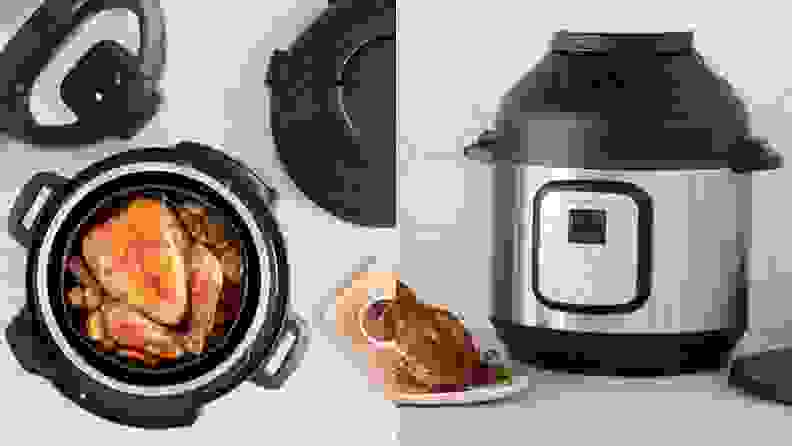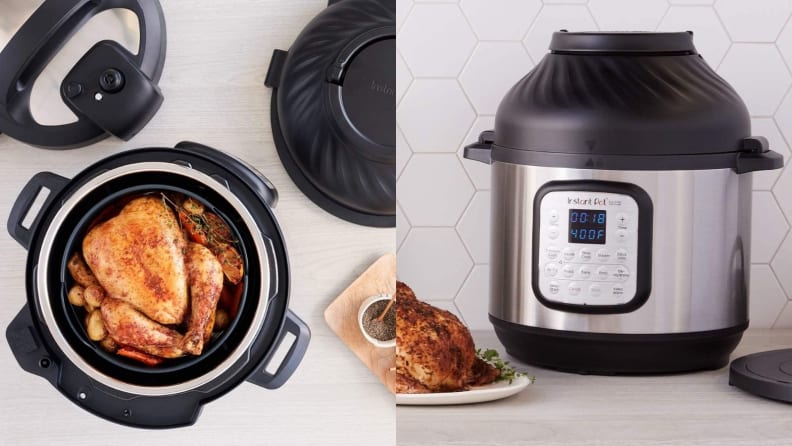 One of my favourite accessories for the Instant Pot is the Air Fryer lid which we use far more than I ever thought we would. When it comes to Thanksgiving, the Instant Pot Air Fryer lid can be perfect for cooking crispy appetizers like spring rolls, pigs in a blanket, mini quiches, and other small bites that guests can munch on while they wait for the main course. As noted above, even when apps are straight from the freezer, they'll cook super quickly without the need to preheat first. The only limitation is that you can only fit a small amount of food in the fryer. But you can cook up some apps and immediately toss in another batch to refill as needed. Keep the assembly line running as long as it takes for the turkey to be done and the bellies to be full.

Get the Instant Pot Air Fryer Lid from Amazon

The product experts at Reviewed have all your shopping needs covered. Visit Reviewed Canada for all the latest reviews, recommendations, buying guides, and coverage of all the best products available in Canada.
Prices were accurate at the time this article was published but may change over time.