Laundry
5 top-load agitator washers you'll love
Traditional design meets modern convenience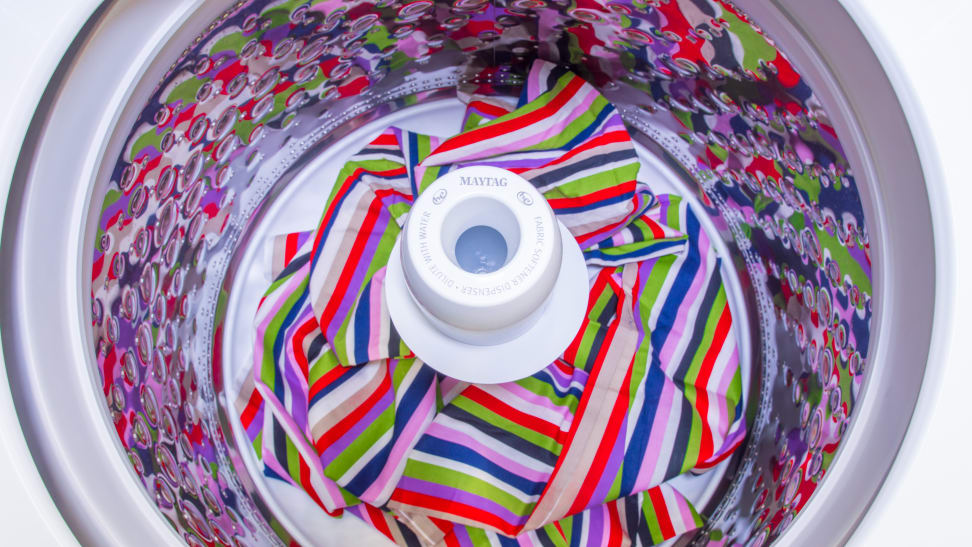 Credit: Reviewed / Kyle Hamilton
There's no getting around the fact that top-load washers don't perform as well as front loaders. Our test have confirmed that front-loaders offer better energy and water efficiency, and generally clean clothes better than top-loaders. Still, there's something comforting about doing household chores the same way you saw them done while growing up.
Fortunately, time hasn't stood still for pole-agitator models. Many use the top loader's time-tested design and improved on it with the addition of modern improvements such as stainless steel wash tubs, soft-close hinges, and dual-action agitators. What's more, high-efficiency front-load washers, though newer, still have issues with odour build-up and loud vibrations.
These are the best top-load agitator washers you can buy in Canada.
1. Whirlpool WTW8127LC
If you want a washer that is easy to use, provides a good clean, and has a pole agitator, the Whirlpool WTW8127LC is a solid choice.
This washer has three unique features that set it apart from the rest of the pack. First, it has a removable agitator for when you need extra space or a more gentle wash cycle. All you need to do is squeeze the handle on top of the agitator and the whole pole pops out. This top-loader also comes with a built-in pretreating station—there is a faucet that can dispense hot and cold water and a specialized brush for scrubbing stubborn stains. Finally, instead of having vague cycle names, the WTW8127LC has the "What to Wash / How to Wash" system. Knowing exactly what your washer is doing to your clothes helps cut down on confusion and frustration when it comes to doing laundry.
We think a washer that has a pole agitator, a washer plate, and a utility sink is worth checking out.

Get the at Whirlpool WTW8127LC Home Depot Canada
2. LG WT7305CV
Laundry purists may stand behind a traditional washing machine design—a top loader with a pole agitator—such as the new LG WT7305CV, but those who can also geek out on special smart features will love this modern machine.
The WT7305CV comes outfitted with LG's ThinQ app, which lets you control the washer remotely, and, through LG's ProActive Care program, it uses AI and wifi to send LG usage diagnostics and appliance problems. It also has some other great features that actually add functionality, like its soft-close lid and a deep fill feature, which is great for users who get their clothes really, really dirty.
When it comes to cleaning power, the WT7305CV holds its own, but we would've liked to see a bit more stain-fighting power from a washer in this price range. That being said, the WT7305CV is more than capable of handling the average load of laundry—just be careful around red wine and chocolate.

Get the LG WT7305CV at Home Depot Canada
3. Maytag MVW7230HW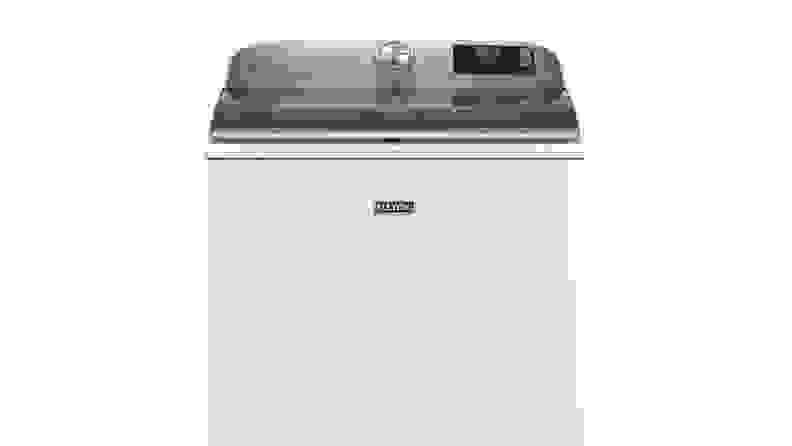 The Maytag MVW7230HW top-loader carries a premium price, but if you can get it on sale it offers some decent performance for a traditional top-loader. On our tests, we found it performed about as well as the average washer and also had some nice extras like a built-in faucet and an impressive, decade-long warranty.

Get the Maytag MVW7230HW at Best Buy Canada
4. Maytag MVWC465HW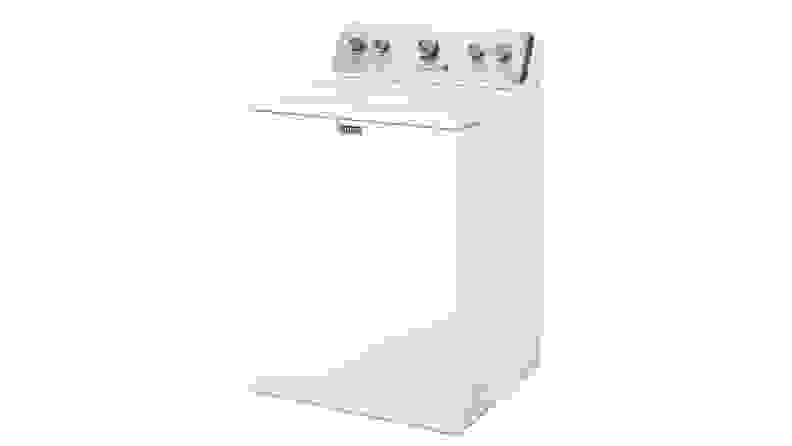 The made-in-America Maytag MVWC465HW washer is perfect for people who want a traditional white top-load washing machine with an old-school pole agitator.
The PowerWash cycle does a good job removing stains, but its cycle time is a bit long, clocking in at an hour and 24 minutes. You can try the normal cycle, which has a shorter run time of 47 minutes, but your clothes might not get as clean.
This machine lets you add more water to a cycle with the "Deep Water Wash" option, and the "Deep Rinse" option sprays water on the wash drum itself, cleaning the washer of leftover detergent and stain residue, which means you're not transferring dirt from one load of laundry to another. We think this washer will work well for a smaller, cleaner family.

Get the Maytag MVWC465HW at Home Depot Canada
5. Maytag MVWC565FW
The Maytag MVWC565FW washer is a good value—less expensive than its sibling, the Maytag MVWB765FW, but similar in important ways. The spacious, 4.9-cu.-ft. tub lets you do a lot of laundry at once, and the central corkscrew agitator and lengthy PowerWash cycle work together to produce very clean clothes.
This model also includes a Wrinkle Control cycle (basically a Delicate cycle with warm water) that purports to help clean and mitigate wrinkles on fabrics that might be more difficult to iron, like sports jerseys or clothes made with blended fabrics.
This washer's five knob interface won't win any design awards, but whether you're a laundry expert or you've never done a load before, you'll find every control easy to use. The temperature settings are numerous, you can choose a deep water level for really dirty clothes, and with a turn of the dial, select whether you want one rinse or two.

Get the Maytag MVWC565FW at Home Depot Canada
The product experts at Reviewed have all your shopping needs covered. Visit Reviewed Canada for all the latest reviews, recommendations, buying guides, and coverage of all the best products available in Canada.
Prices were accurate at the time this article was published but may change over time.