In-car infotainment systems have historically lagged behind smartphones and tablets in functionality and usability. While car manufacturers are getting better at putting together the software elements behind these devices, there remains a scourge of proprietary standards that really inhibit smartphone integration. And let's face it, your smartphone is probably the most important piece of technology you own... So why wouldn't you want it to sync up with your car's interface?
That's the idea behind Apple CarPlay and Android Auto, both of which let you mirror a modified version of your phone's OS on your dashboard.
But until now, there's been a major problem: What if your car runs one OS, but your smartphone runs another? And what if your car has another primary user with a different OS? Shouldn't your car's interface work with both?
Enter Volkswagen's MIB II Infotainment system. MIB II doesn't care which OS you use, because its App-Connect software detects which OS your phone uses the moment you plug it in and adapts accordingly. It may not sound like such a revolutionary concept—and, really, car tech has been headed in this direction anyway—but App-Connect on Volkswagen's MIB II, along with Hyundai's Display Audio, is unique in this category. And the unveiling of both these systems at CES was an important statement about where vehicle interfaces are headed—and why that direction is good.
Design
Straightforward, as it should be
OS agnosticism aside, MIB II's design is actually somewhat familiar. The hardware interface is straightforward, with a 12.8-inch display sandwiched between two columns of large, physical buttons. On the left are commands for Radio, Media, Phone, and Voice control; on the right, Navigation, Traffic, Car and (Main) Menu.
Thanks to App-Connect, the actual digital display depends largely on the OS of your phone. If you own an iPhone, you'll recognize the familiar app icons and cell signal indicators. This is really the most attractive aspect of the MIB II, the fact that it essentially projects the contents of your phone on your car's interface. Users can customize which info is displayed on the screen and where, just as you would with a phone.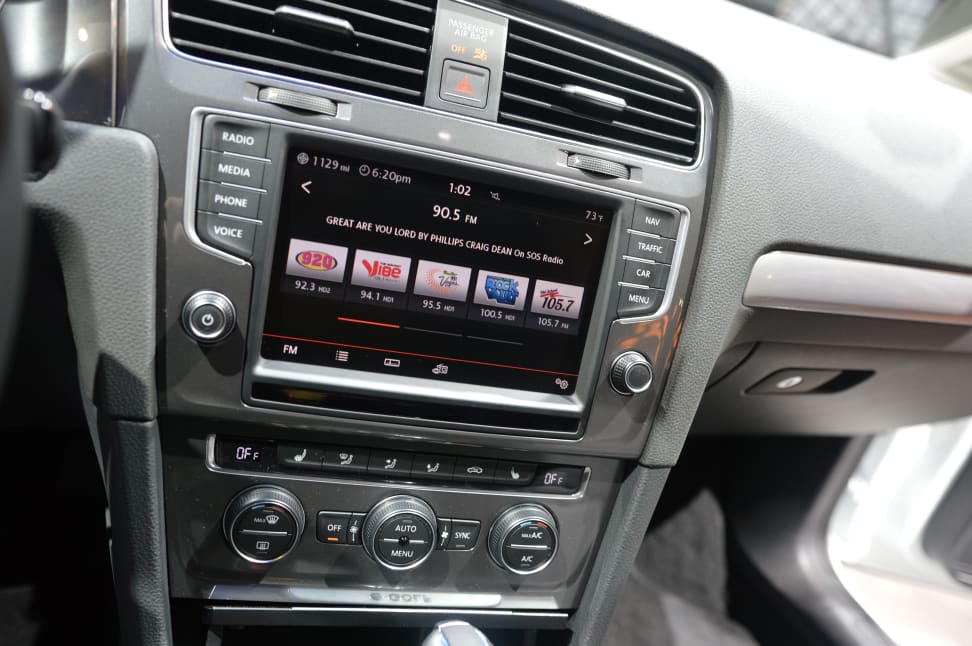 Usability
If you can work a smartphone, you can work the MIB II
MIB II is pretty straightforward and easy to use, as it should be. All you have to do is plug your phone in and the App-Connect system automatically engages either Apple CarPlay or Android Auto, or it sets up MirrorLink. Through this integration, users are able to incorporate a huge number of apps, smartphones, tablets, and even smartwatches.
Volkswagen intends to roll out MIB II for 2016 model-year cars.
The genius behind this is that, if you've ever used a tablet or smartphone you'll intuitively be able to operate the MIB II, because it's just a projection of your device onto the center display.
While Volkswagen intends to roll out MIB II for 2016 model-year cars, the recently unveiled Golf R Touch, a concept car, features a souped-up infotainment unit that uses cameras to detect hand gestures and even assign meanings to them, as well as smartwatch integration. This is obviously huge, as it means hands-free control over a wide range of car functions, thereby making a safer driving experience. But you shouldn't expect this function in all 2016 Volkswagen cars.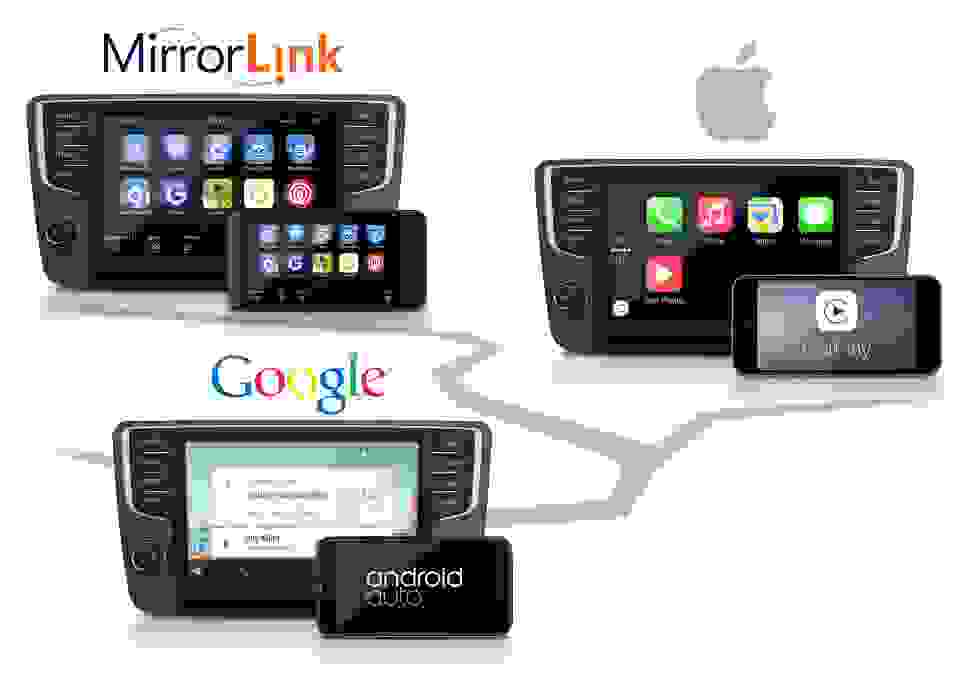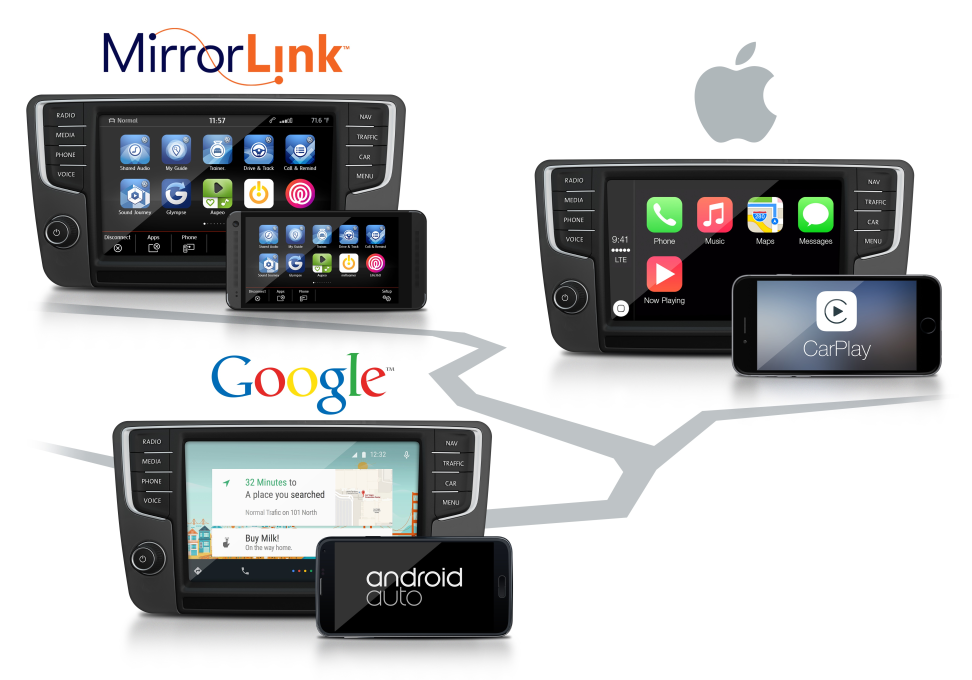 Features
Three platforms to cover nearly any smartphone
Branded as a "modular infotainment platform," the MIB II is nothing like the rigid, standalone interfaces that connect with mobile devices on a superficial level. The MIB II is your mobile device. With MirrorLink, the MIB II integrates numerous Android apps and operating layouts into the interface, including phones from Samsung, LG, HTC, and Sony.
Yes, you'll have to consume your data plan if you use your phone's apps on your Volkswagen.
Volkswagen also plans to launch Android Auto and Apple CarPlay alongside MirrorLink, giving their cars the most open-ended mobile-controlled infotainment system around, aside from Hyundai's Display Audio. But this is the direction car tech is headed in, so don't expect these brands to claim this title for long.
All this will allow you to operate most of your favorite smartphone apps and functions—Spotify, Pandora, Podcasts, GPS, Messages, Phone, etc.-—directly on your car's display screen. The downside of this is that, yes, you'll have to consume your data plan if you use these services.
However, MIB does include a radio—so you could always listen to terrestrial or satellite radio if you want to keep things simple—or if you don't feel like inflating your data plan.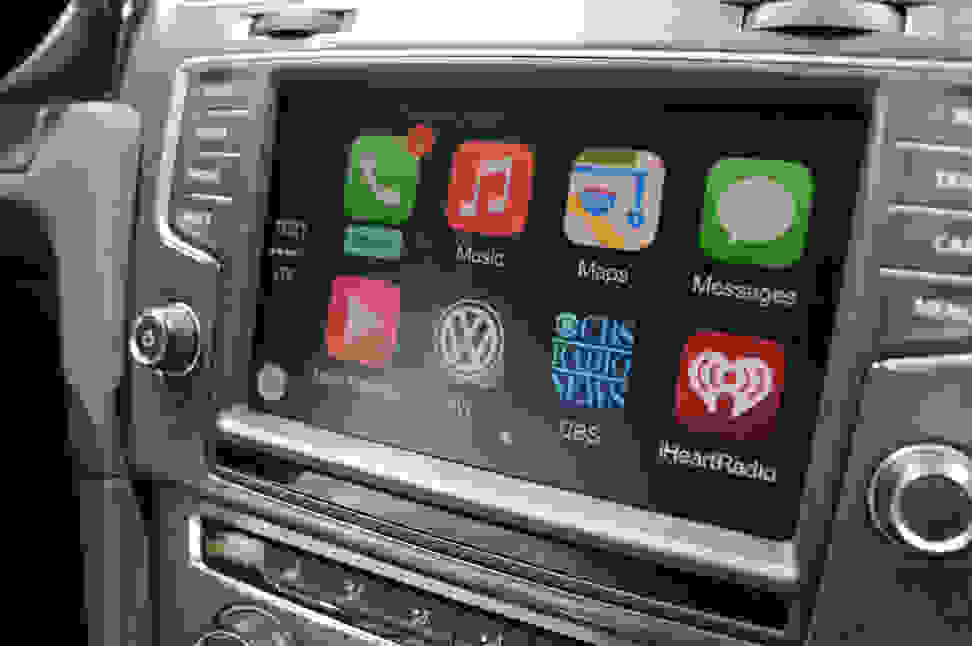 This Is How It Should Be
The future of infotainment
Apple CarPlay is downright cool. So is Android Auto. But it doesn't make sense for cars to require users to swear their allegiance to one or the other. Thankfully, Volkswagen is taking the right step by adopting both of these standards, plus MirrorLink, giving users compatibility with nearly any smartphone.
The MIB II will roll out in model year 2016, but it's the company's concept Golf R Touch that most invokes the future of the connected car. The vehicle boasts everything from gesture controls and self-driving functions to smartwatch integration and inductive charging on electric models. Because it's a concept car, it's not something we can expect to see rolling out on the roads right away. But like the very real MIB II, it gives us a glimpse of a future that's as inevitable as it is exciting.
Our editors review and recommend products to help you buy the stuff you need. If you make a purchase by clicking one of our links, we may earn a small share of the revenue. Our picks and opinions are independent from any business incentives.