Panasonic wants to take over your mornings and with this breakfast time line up––with its sleek and matching designs––the company might just succeed. All of these appliances either come in a toned down grey or sensible purple.
The Toastest with the Mostest
The NT-ZT1 is more than your average toaster. It has two extra wide slots capable of accepting Texas toast. In order to keep smaller items from slanting one way it has a centering mechanism, clasping the item for that even browning. Controls on this model are placed on the back of the toaster and are lit up by LEDs. When your breakfast is done there's a warming rack that extends out of the top the toaster. Place a plate of cookies on top and keep it warm for hours. The NT-ZT1 will retail for $149.
The NC-ZK1: Successfully Mixing Water and Electricity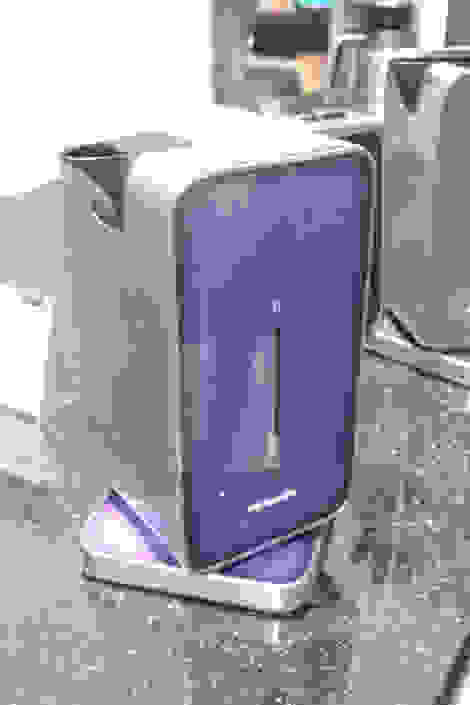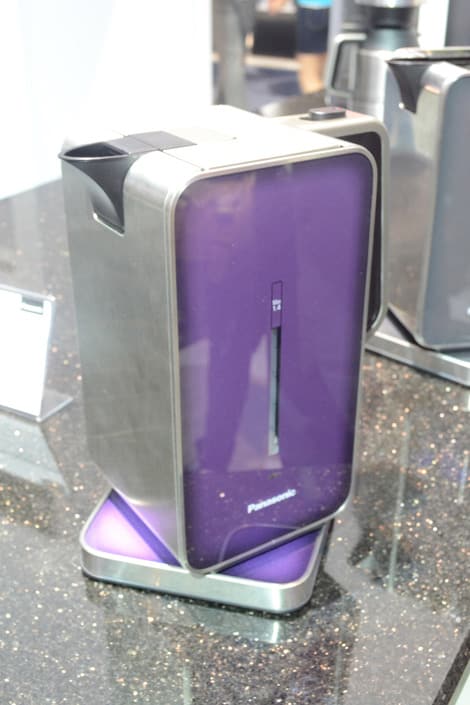 The NC-ZK1 with its striking angular design is a 1.4 liter electric kettle, pricing in at $149. It has a built in screen for brewing tea. Unlike the other small appliances in this line, it is not completely clad in stainless steel. Weight reduction was the reason we were given. Imagine if you will, an octogenarian struggling to lift a 1.4 liter that's stainless steel through-and-through. He curses Poseidon because it's so heavy. He's willing to sacrifice a little insulation for ease of use and so should you.
Coffee Brewer
The NC-ZF1 has an eight cup capacity. Instead of high, medium, or low, an aroma selector controls the boldness of your coffee. The pot is double lined with stainless steel for insulation. There is no heater on this unit, a choice that allows the coffee to retain its initial freshness rather than risking burning the brew. We should also mention that there are two filters, one for coffee and the other for tea. Of the breakfast conquering trio, the NC-ZF1 is the most expensive at $179.
Is it Worth it?
There's no doubt that this line up is expensive, but are the appliances worth it? We haven't had a chance to test these products in our labs, so we can't say for sure. However, based on aesthetics alone, these small appliance have a very attractive and bold design. They look and feel high-end. Panasonic's breakfast collection has style, but its too early to tell if it has substance.
Our editors review and recommend products to help you buy the stuff you need. If you make a purchase by clicking one of our links, we may earn a small share of the revenue. Our picks and opinions are independent from any business incentives.