The Best Citrus Juicers of 2019
By Lindsay D. Mattison, November 29, 2018, Updated January 02, 2019
There are very few recipes that don't benefit from a splash of lemon, lime, or orange juice. A touch of bright lemon brings out the best flavors in seafood dishes and adding an orange to your favorite pulled pork recipe really takes it up a notch. Sometimes, it's as simple as fancying up sour cream with a sprinkle of coriander and a splash of fresh lime. Not to mention the merits of adding one (or, all three) ingredients to your favorite cocktail or homemade soda! The easiest way to make these additions is to use a citrus juicer–like the top-performing handheld squeezer Chef'n FreshForce Citrus Juicer (available at Amazon for $24.95).
When you think juicers, your mind probably goes to those big, mega-juicers capable of taking down leafy greens and tough root vegetables. Those models will work, but they're often overkill when it comes to citrus. Instead of throwing any of those juicers into the mix, we focused on the simple models that allow you to slice a lemon in half and get to juicing.
As it turns out, there are four different types of citrus-specific juicers: handheld squeezers, wooden reamers, tabletop hand juicers, and motorized models. We didn't want to assume one type would perform better than the rest…so we tested them all! After squeezing lemons, limes, and oranges through 13 different juicers, we didn't find that one type is necessarily better than the others, but some are certainly easier to use and yield more juice. 

Here are the best citrus juicers we tested ranked, in order.
Chef'n FreshForce Citrus Juicer
OXO Good Grips Double-Sided Citrus Juicer
OXO Good Grips Wooden Reamer
Black and Decker CJ625 34-ounce Citrus Juicer
Breville BCP600SIL Citrus Press
Cuisinart CCJ-500 Pulp Control Citrus Juicer
Prepara Glass Citrus Juicer with Storage
Gourmia GMJ9970 Large Citrus Juicer
Bellemain Premium Quality Stainless Steel Lemon Squeezer with Silicone Handles
Zulay Premium Quality Metal Lemon Lime Squeezer
Lu Cucina Citrus Juicer & Strainer
Chuzy Chef Lemon Squeezer Hand Held Juicer
Proctor Silex 66331 34-ounce Alex's Lemonade Stand Citrus Juicer
Updated January 02, 2019
Advertisement - Continue Reading Below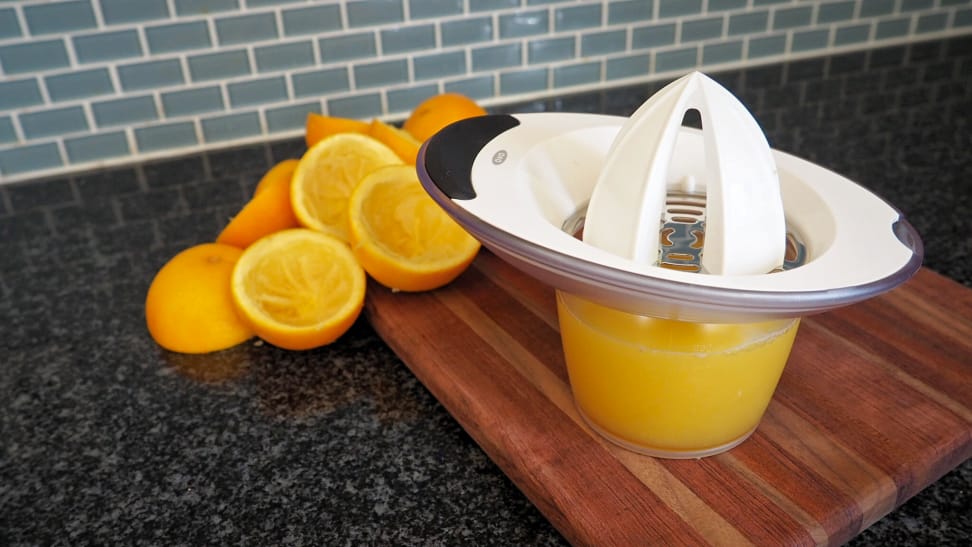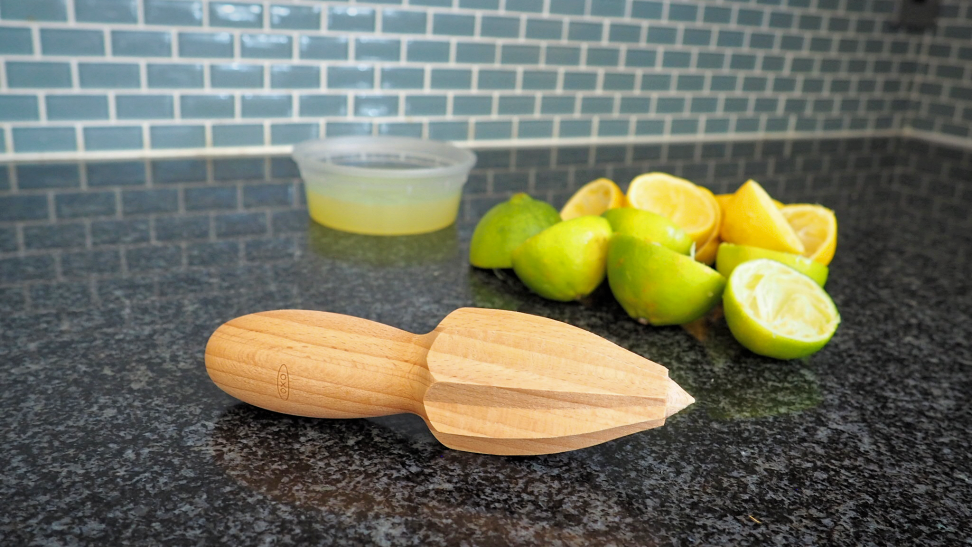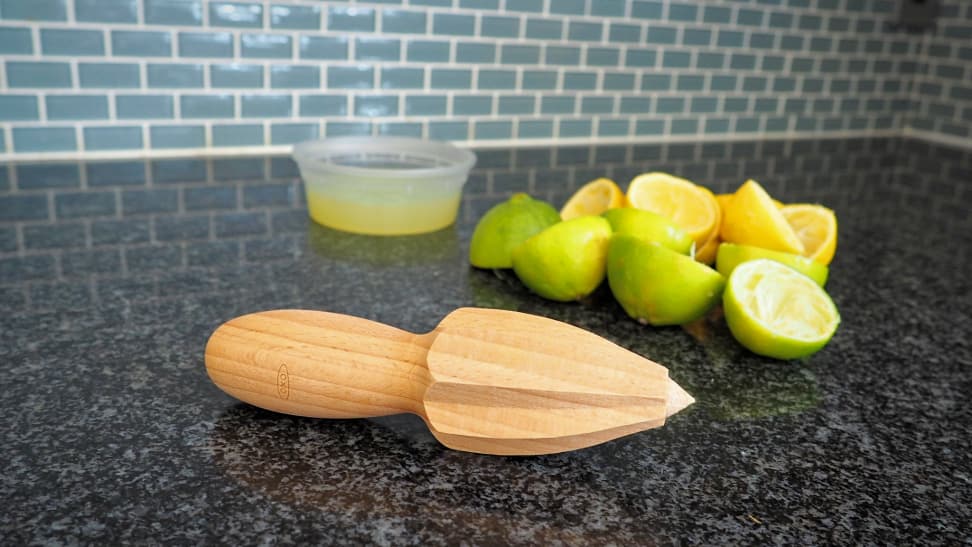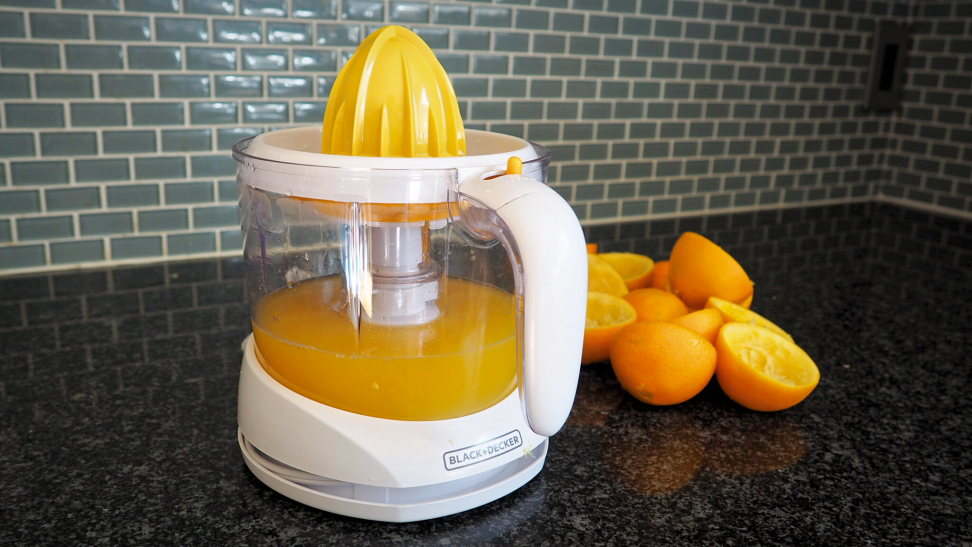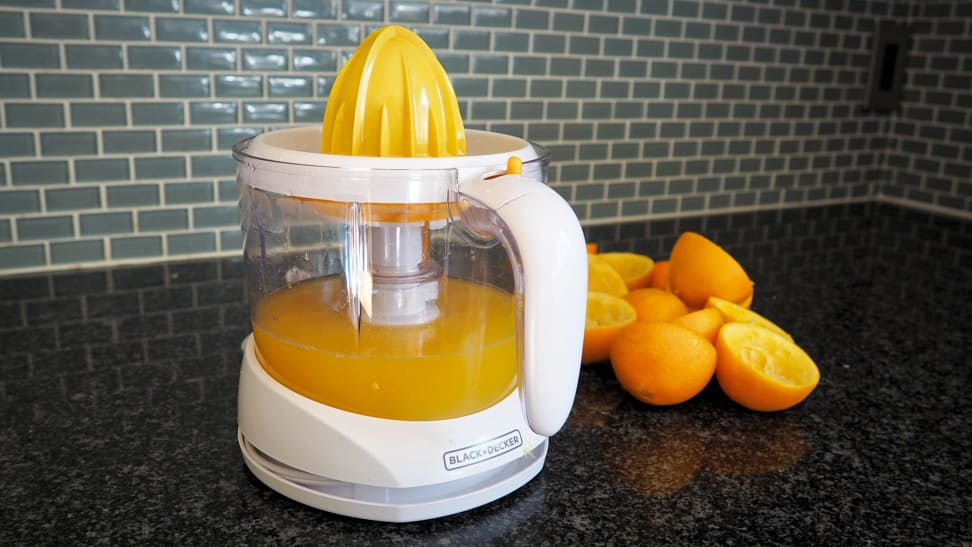 How We Tested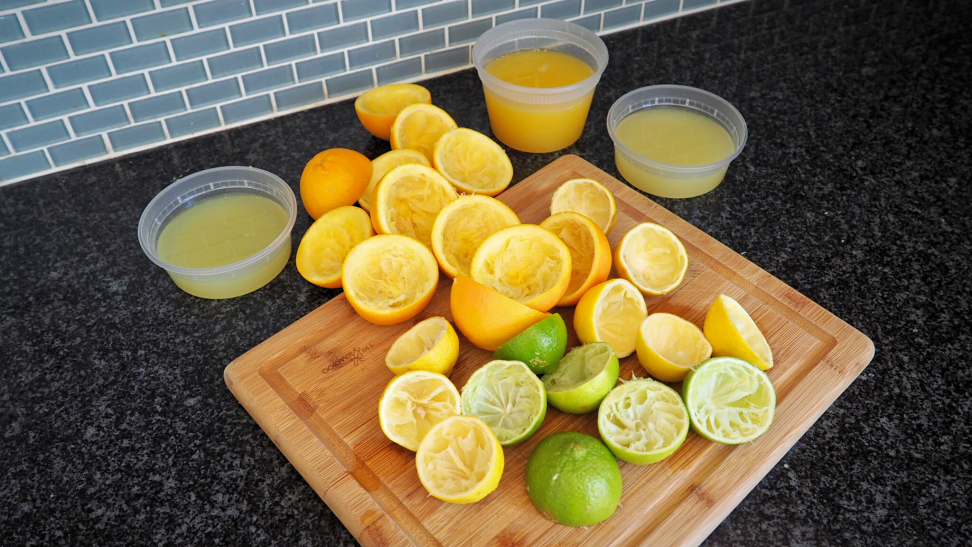 The Tester
Hi, I'm Lindsay Mattison, a trained professional chef and a huge proponent of building layers of flavor. The difference between good food and great food often comes down to the smallest factors, like when you add the salt or finishing the dish with a touch of acid. My handheld citrus juicer works overtime, making it quick and easy to add fresh juice to my favorite dishes. I also tend to reach for it when I'm looking to add zest and tang to my favorite cocktails. If you don't have a go-to citrus juicer, I'd love to help you find one!
The Tests
We selected 13 juicers of all shapes and varieties. We ended up with one handheld reamer, four handheld squeezers, five tabletop hand juicers, and four motorized juicers. Our tests were relatively straight forward: juice three lemons, limes, and oranges in each unit. In the end, we were looking for a juicer that was not only efficient and easy to use, but also produced the maximum quantity of high-quality juice.
To determine efficiency, we timed ourselves as we processed the fruit. Some of the juicers were clunky and it took extra time to churn out the juice. On other units, the time ticked away as we struggled to remove spent citrus from the hopper or the unit became overly clogged with pulp. We averaged the times and ranked and rated the juicers accordingly.
In addition to time trials, we also weighed the citrus before and after juicing. We were looking for a product that produced a maximum quantity of juice, but not without affecting the quality. We took points off if a ton of pulp or seeds passed through the juicer, and we awarded bonus points for orange juice that didn't have any traces of bitterness.
Finally, it's all about ease of use. After all, if it takes too much effort to pull out the juicer (or, it's a pain to clean), you won't be as likely to use it. We were looking for a model that didn't slip around or tire our hands as we juiced. In addition to measuring the splash radius to see how much mess each juicer created, we also assessed how easy it was to assemble and store.
After working with hundreds of pieces of citrus, we not only found every cut and scratch on our hands, but we also learned how valuable it is to have a good juicer!
What You Should Know About Citrus Juicers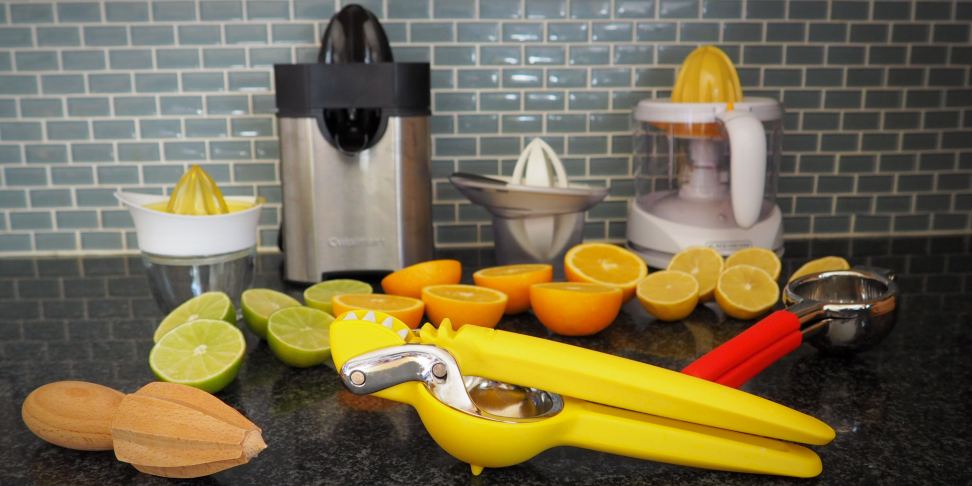 Unlike larger juicers capable of juicing everything from kale to sweet potatoes, citrus juicers have a more specific purpose. You can juice citrus in a larger juicer, but you usually have to remove the peels first. With citrus-specific juicers, you simply cut the fruit in half, making these models ideal for juicing a tablespoon of juice for baking recipes or a single glass for drinking. They're typically much less expensive than larger juicers, too (although some of the models we tested pushed the limits of our budget).
You'll find a shocking variety of styles in the citrus juicing world: handheld reamers, handheld squeezers, tabletop hand juicers, and motorized juicers. Is one type really better than the other? After extensive testing, I can honestly say: No, they all have their benefits and drawbacks. Handheld reamers were slow and messy–so you need to be okay with that–but they were shockingly efficient and produced some of the sweetest tasting juicer. Handheld squeezers are my personal favorite because they're easy to store and keep the mess to a minimum. That being said, they're not ideal for larger citrus and they wouldn't be my go-to choice for juicing a glass of OJ every morning.
The tabletop models are better suited for drinking juice because they make it easier to work with larger citrus, like oranges or grapefruit. We found the hand juicers more tiring to use than the squeezers, though, especially if you're working with a large quantity of citrus. Finally, the motorized versions were often the fastest and easiest to use, but many of these models produced bitter juice because they over-worked the pith (the white, bitter part of the citrus fruit, found in between the flesh and the rind). They also take up more space on the counter and can be noisy.
Really, at the end of the day, it's up to you to decide what model is best for you! Take a close look at why you want to juice citrus and how much you want to spend, and make your decision from there.
---
Other Citrus Juicers We Tested
Advertisement - Continue Reading Below