Water: Without it, chances are that life wouldn't exist on this planet. We swim in it, bathe in it, play with it, and, of course, drink it. If you're fortunate enough to live in a community with access to safe drinking water, you probably don't think much about what's actually in the water. However, between the Flint water crisis and reports of everything from pharmaceuticals to plastic fibers in local tap water, society is becoming more aware that we have to maintain vigilance when it comes to the quality of our drinking water.
While communities are slowly replacing old lead water pipes, they often run into financial and logistical difficulties that prevent these changes from immediately improving the water quality. In reaction to slow legal and infrastructure initiatives, people have started to look for small ways that they can protect their own drinking water. Buying water bottles is one option, but that has the downside of creating a lot of plastic (albeit recyclable) waste. One of the most cost-effective and environmentally-friendly measures is using a water filter pitcher.
We tested nine water pitchers—some with multiple filters—to determine which yielded the best tasting water, what water contaminants they reduced or removed, and which pitchers were the easiest to use on a day-to-day basis. Hydration aside, without great-tasting water, how else are you going to get the best French press coffee?
Not surprisingly, market leaders Pur and Brita stole the show. Our current favorite is the Brita Everyday 10-cup pitcher (available at Amazon for $26.99) (which includes a Standard water filter) because of its clean, neutral water taste and streamlined pitcher design. The other pitchers we tested are ranked as follows:
Brita Everyday 10-Cup Pitcher
Brita Grand 10-Cup Pitcher
Pur Classic 11-Cup Pitcher
Pur Ultimate 11-Cup Pitcher
Clearly Filtered 10-Cup Pitcher
Clear2O Advanced Pitcher
Dragonn Alkaline Water Pitcher
Zerowater Pitcher
Clear2O Gravity Advanced Filter Water Pitcher
Advertisement - Continue Reading Below
How We Test
The Tester
Hi there, my name is Julia MacDougall, and I'm the Senior Scientist here at Reviewed. I've tested a wide variety of products, including rakes, shredders, backpacks, smart thermostats, and coding toys for kids. I've been using a water filter pitcher for years, so I was excited to get my hands on nine water pitchers and put them head-to-head to see which ones came out on top.
The Tests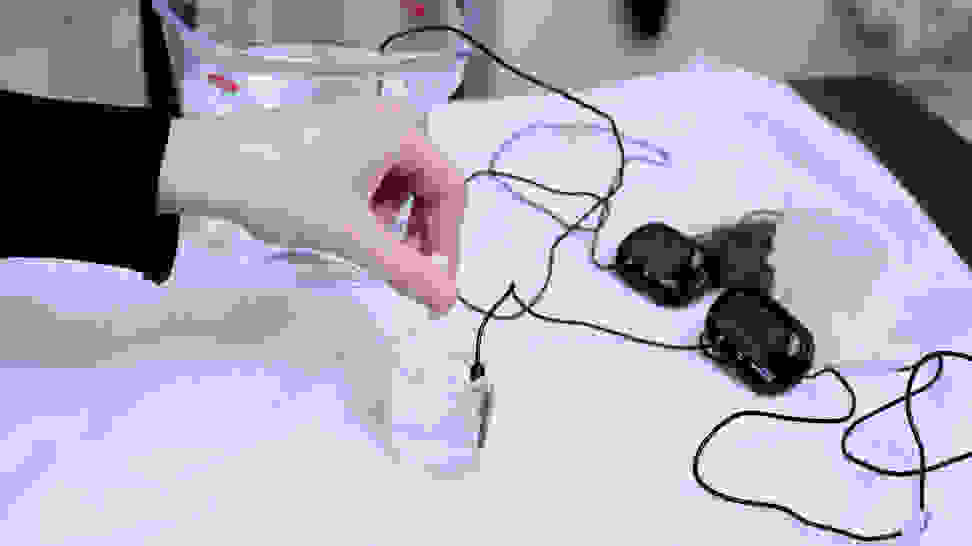 I broke the testing for water pitcher filters into two parts: the quantitative and the qualitative. For the quantitative, I used chlorine test strips, pH test strips, and TDS meters to measure the difference in total chlorine, free chlorine, water acidity, and total dissolved solids before and after each water pitcher filtered our test water. (Free chlorine measures a certain subset of chlorine products, while total chlorine includes both free chlorine and another subset of chlorine products known as chloramines, which are produced by ammonia and nitrogen.)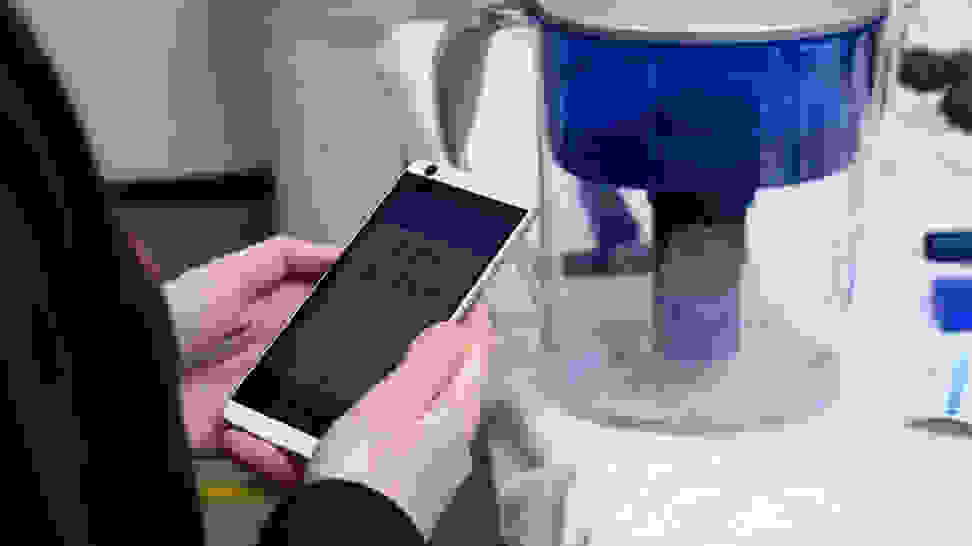 I also recorded the time it took for each water pitcher filter to completely filter 3.5 cups of water; 3.5 cups is close to the maximum capacity of most of these pitchers' reservoirs. After installing each pitcher's filter and following the directions for initial filter use, I tested the water in each pitcher four times, twice before they were loaned out for casual use, and twice after.
In addition to quantitative testing, the pitchers were also tested qualitatively by volunteers from the Reviewed office in Cambridge, Mass. Each volunteer took a pitcher home, used it daily for two weeks, and filled out a survey that asked questions about the pitcher's ease of use, water taste, filtration speed, and ease of handling. After two weeks, volunteers then swapped their pitcher for a second pitcher, tried that pitcher out for two weeks, and filled out a second survey.
Lastly, we had an in-house water taste test (using the same source water each time) that was organized bracket-style, in that the best-tasting water samples advanced to later rounds. A number of control samples were included in the taste test, including distilled water, unfiltered tap water, and filtered water from dispensers at our office. (Un)Lucky volunteers were asked to taste flights of different water samples and select the best-tasting water sample and, if possible, the second best-tasting water sample.
The best water pitcher filters created great-tasting water, were easy to use, and fit easily inside most refrigerators.
What Contaminants Are in Tap Water?
Contaminants in drinking water are defined as the EPA as anything other than water molecules. There's a long list of the contaminants that can be found in tap water. Some are well-known, like lead and chlorine, and some are beneficial, like fluoride. While there are serious health risks that arise from long-term lead exposure, imbibing chlorine is thought to be much more benign, save for the fact that there may be a correlation between chlorine and bladder cancer. Though fluoride can cause health problems in extreme concentrations, it has been added to some municipal tap water in safe concentrations for nearly 70 years in the U.S., and has been shown to drastically improve dental health in children and adults. Both Brita and Pur claim their filters do not remove fluoride to any significant degree.
Other contaminants that may also be in tap water include mercury, cadmium, asbestos, copper, zinc, herbicides/pesticides, sediments, and pharmaceuticals, with pharmaceuticals considered one of the "emerging concerns" to the safety of tap water. As you might expect, it's not a great idea to be drinking any of these contaminants in large doses or over long periods of time; a water pitcher filter rated to remove these contaminants can go a long way toward easing your mind when it comes to the quality of your drinking water.
The National Sanitation Foundation/American National Standards Institute (NSF/ANSI) have established water purity standards to let consumers know what types of contaminants are removed by a water pitcher filter. The most commonly invoked standards are 42 (reduction of chlorine smell/taste), 53 (reduction of a contaminant with a negative health effect), and 401 (reduction of emerging contaminants like pharmaceuticals). For a given product, these standards only apply for specific contaminants listed on the pitcher's performance data sheet, which often include both type and respective amount of each contaminant that was removed in third-party lab testing.
What Affects Taste?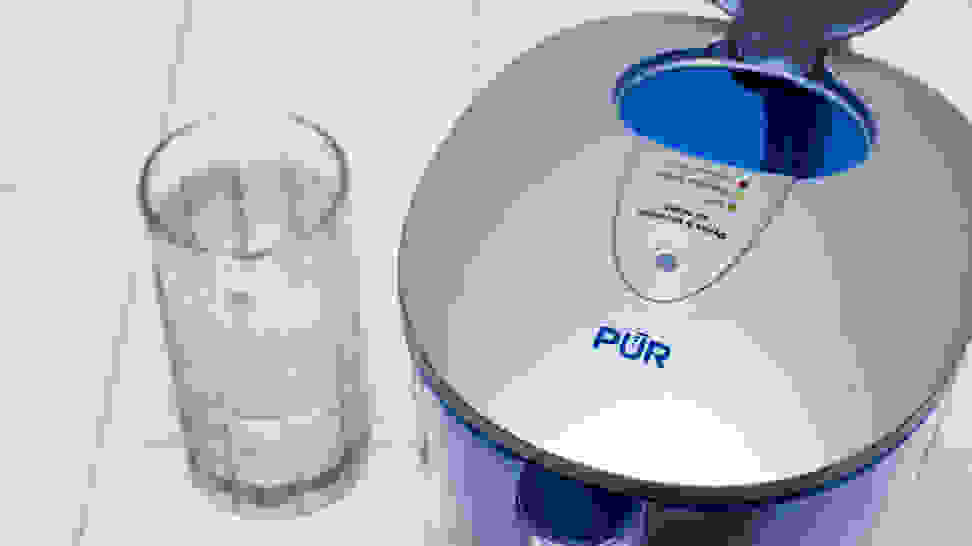 While we all agree that water should be as clean as possible, people are split on whether water should be tasteless or have some taste. Whichever side of the debate you fall on, there are three major factors that affect your water's taste: TDS/minerality, temperature, and the presence/absence of contaminants.
Minerality/Total Dissolved Solids (TDS)/pH
Minerality refers to the mineral content of the water, which is measured using TDS and pH. The minerals are largely inorganic salts like calcium, magnesium, potassium, and sodium. As you might expect, high TDS amounts are correlated with stronger-tasting water; the taste may be salty or bitter. pH, a measure of water acidity, is defined on a scale of 0 (extremely acidic) to 14 (extremely basic). Most water has a neutral pH of 7, but some pitchers, known as alkaline water pitchers, drastically increase the pH of the water with the aim of providing users with positive health and hydration benefits. However, the link between alkaline water and health benefits may be unsubstantiated.
On the other hand, it has been observed that water with very low TDS values lead to water tasting "flat". We experienced this during testing when testers outright rejected distilled water, which has a TDS value close to zero, as tasting "bad" or "strange."
Temperature
One of the largest factors in water taste is temperature. Very cold water tastes more refreshing; however, its cold temperature also numbs the tongue and prevents it from fully experiencing the water's taste. The same thing happens when ice cream melts—the flavor is noticeably sweeter when it's ice cream soup than when it's solid on a cone. At warmer temperatures, the individual flavors become much more apparent to the taster.
Contaminants
In most circumstances, the aforementioned contaminants are not present in large enough quantities to affect the water's taste. However, in large enough quantities, lead can actually lend a slightly sweet taste to the water. Its sweet taste is why lead paint chips present such a danger to small children, who just like the taste and aren't aware of the health risks.
Why Don't Identical Filters in Different Pitchers Make Water Taste the Same?
If the filters are the same, why are the taste test results different when those filters are placed in different pitchers? This question mainly concerns the different taste of the different Brita filters (Standard and Longlast) and Pur filters (Standard and Lead Reduction). Different pitchers are designed to work with certain filters; typically, those are the filters that come standard with purchase of the pitcher. Each water pitcher is designed to channel the water into the filter over a certain time period—that's why the reservoirs for these pitchers aren't identical. By substituting a different, but compatible, filter, the water will spend more or less time in the filter than its original use intended, which could affect the water's taste.
---
Other Water Filter Pitchers We Tested
Related Articles
Advertisement - Continue Reading Below