The Best Rakes of 2019
By Julia MacDougall, October 23, 2018, Updated January 02, 2019
Whether it's the onset of cold weather, the start of the school calendar, the leaves starting to change, the arrival of Pumpkin Spice Latte, or the terrifying realization that the holiday season is just around the corner, they all mean the same thing: Autumn is here.
(If the prospect of hosting Thanksgiving terrifies you, take a deep breath, find your happy place, and peruse our roundup on the tools you'll need to have a successful Thanksgiving.)
Once those leaves start falling, it's time to make sure you have the right tool to clean up your lawn. Surprisingly, though, choosing the right rake is more involved than just blindly grabbing one and putting it in your physical or online shopping cart. So to make your work easier, I tested seven of the most highly-recommended rakes on the market to see which ones performed the best.
After spending some quality time raking a New England lawn filled with leaves, pine needles and acorns (in the rain, I might add), I liked the lightweight Truper Tru Tough 24-inch Leaf Rake (available at Lowe's for $21.98) the best because of its solid performance and ease of use.
Here's how the rakes I tested ranked, in order:
Truper Tru Tough 24-inch Leaf Rake
Razor-Back 24-Tine Steel Rake
Ames 26-inch Dual Tine Poly Leaf Rake
Ames True Temper Poly Leaf Rake
Blue Hawk 24-inch Leaf Rake
Fiskars 24-inch Leaf Rake
Gardenite 63-inch Adjustable Garden Leaf Rake
To see which rake is best for you, read on!
Updated January 02, 2019
Advertisement - Continue Reading Below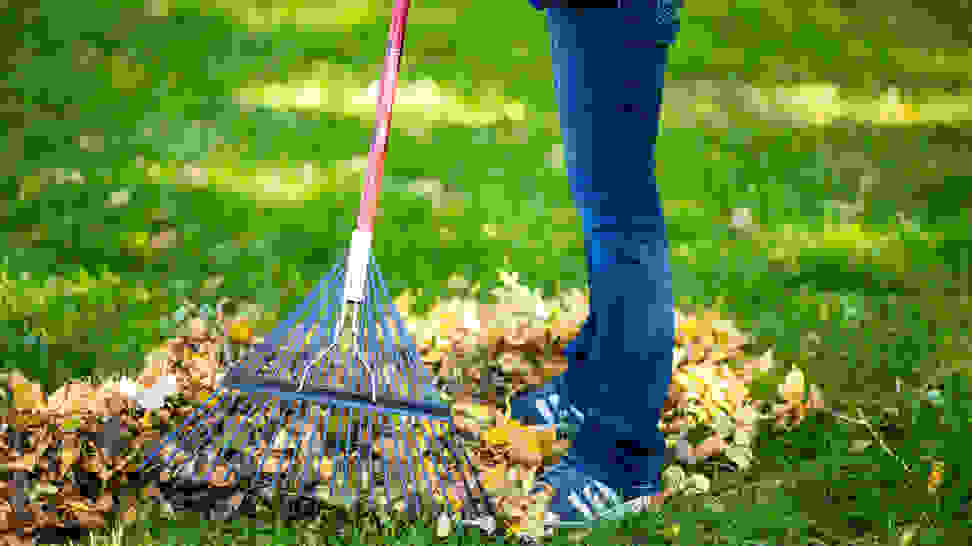 How We Tested
The Tester
My name is Julia MacDougall, and I'm the senior scientist here at Reviewed. In addition to designing and upgrading the standards for all of our product testing, I sometimes get to step away from my computer and test products myself. In the past, I've tested a variety of different products, including on- and over-ear wireless headphones, fire extinguishers, smart thermostats, and lunch coolers. I like products that let me get my hands either physically or metaphorically dirty. The rake testing was definitely the most raking I've done in a long time, but I was happy to do it in the name of SCIENCE.
The Tests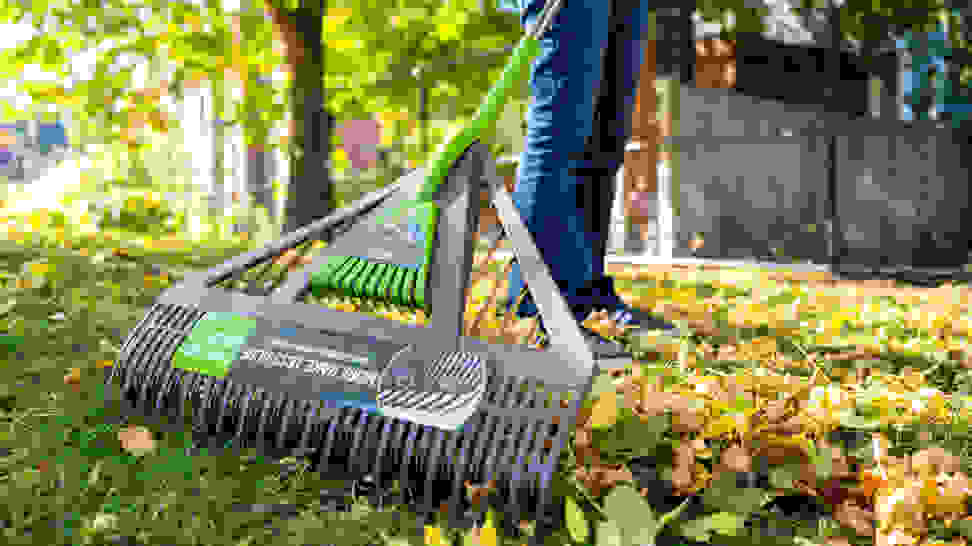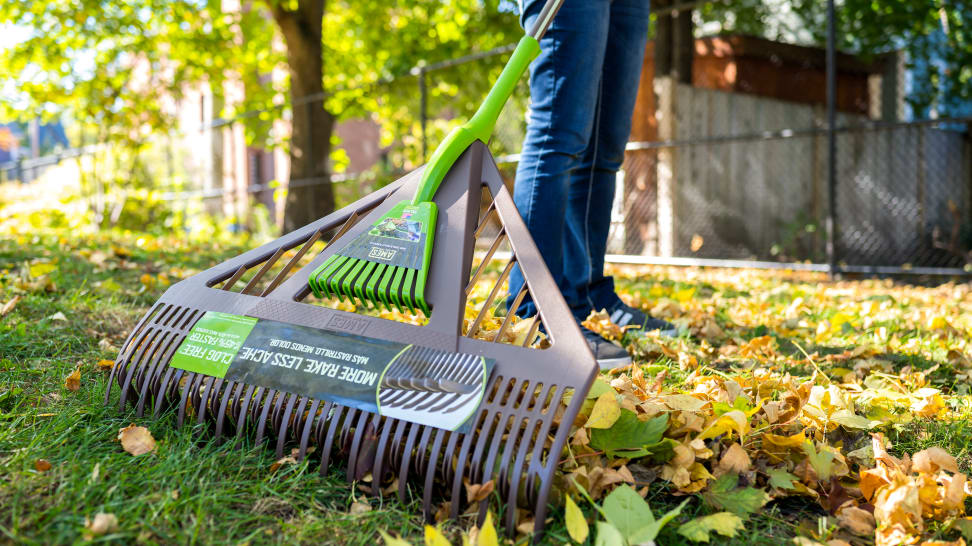 Unsurprisingly, the core of the testing for these rakes involved me actually raking leaves. However, I made sure that I tested these rakes out in a variety of circumstances, including the terrain type (hilly vs. irregular vs. flat) and lawn debris (leaves, acorns, small sticks, pine needles, etc.). In addition to raking performance, I also took note of some more subjective aspects of each rake, such as how quickly the rake clogged with lawn debris, how comfortable it was to hold, and how well-built it was.
Things to Consider When Shopping for a Rake
Even though a rake is probably the most basic lawn maintenance tool out there, there's still enough variability in the types of rakes that it's worth considering a few points before you buy one.
Lawn debris—What kind of lawn debris do you have in your yard? You may have leaves, acorns, small sticks, pine needles, or anything else that falls off of trees. If you're often dealing with something more complex than just leaves, it may help to have rake tines that are further apart. This way, it's less likely to get clogged with sticks or pine needles.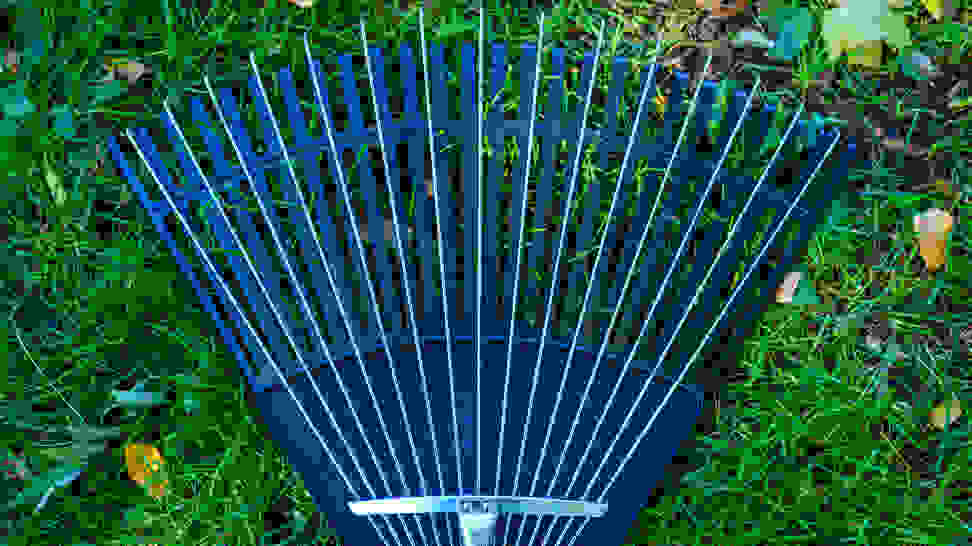 On the other hand, tines that are spaced too far apart may start to miss leaves and require you to rake the same swath of ground over and over again. Also, look for rakes that have "Medium Duty" or "Heavy Duty" labels; "Light Duty" rakes are best for raking jobs that just involve leaves.
Terrain—Do you have a relatively flat lawn space, or does your backyard have slopes, hills, or dips? Plastic rakes, which are more rigid, will do a good job clearing leaves from a flat lawn, but the tines may have more trouble reaching all of the leaves located in ditches, divots, or hills. The tines on metal rakes are more flexible, and it will be easier to pull leaves and other lawn debris out of non-flat places.
Grass height—Do you have low grass that just peeks out of the hard ground, grass that fully covers your lawn, or tall grass? While metal rakes can work well on all three types of grass, the sharp edges of the metal rake may leave marks or gouges on the lawn if the ground is exposed. Additionally, tall grass may get tangled in the spaces between the metal tines. Plastic rakes generally do not leave scratches on a hard ground surface.
Handle material—While it's common for rakes to have wooden handles, those wooden handles may not be conducive to your comfort if you're raking for long periods of time.
Fiberglass and metal handles are smoother, lighter, and often come with grips on the end of the handle that can make it easier and more comfortable to hold and wield the rake for however long you need.
Handle height— While long handles can make it easier to reach leaves further away, they can prove to be cumbersome if you're shorter or if you have shorter arms. Make sure the raking motion feels natural, and that your backhand doesn't have to stretch a long way to grab the end of the handle.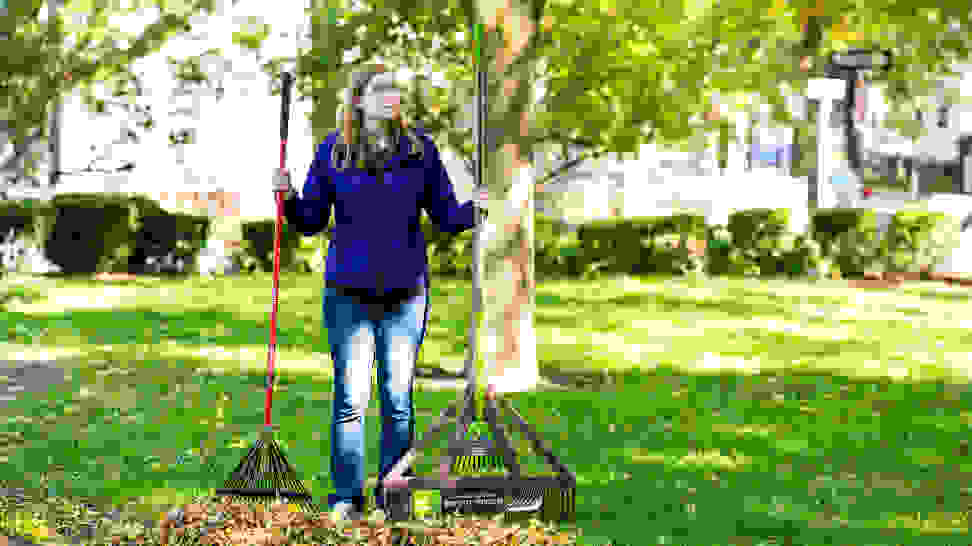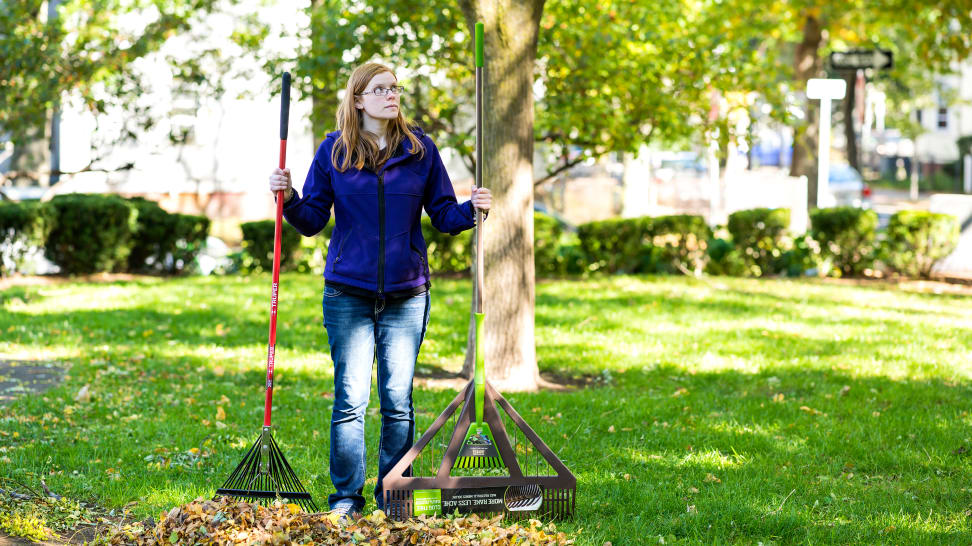 In my experience, if you stand a rake upright next to you, the end of the handle shouldn't be much taller than your height, or too much shorter than your chin. If it's too long, the arm that reaches for the back end of the rake will hurt from constantly stretching beyond your normal range of motion, and if it's too short, you'll be bending over a lot.
Rake head width— Most of the time you see a measurement in a rake's product name, it's referring to the maximum width of the rake head, that is, the horizontal distance from the first tine to the last tine. This number also translates roughly into the width of the swath of lawn you can rake in a single sweep.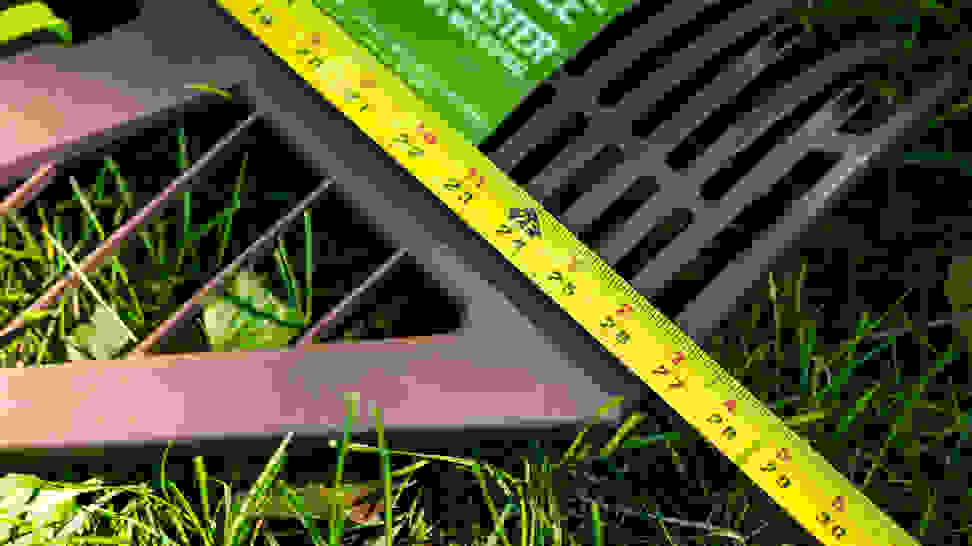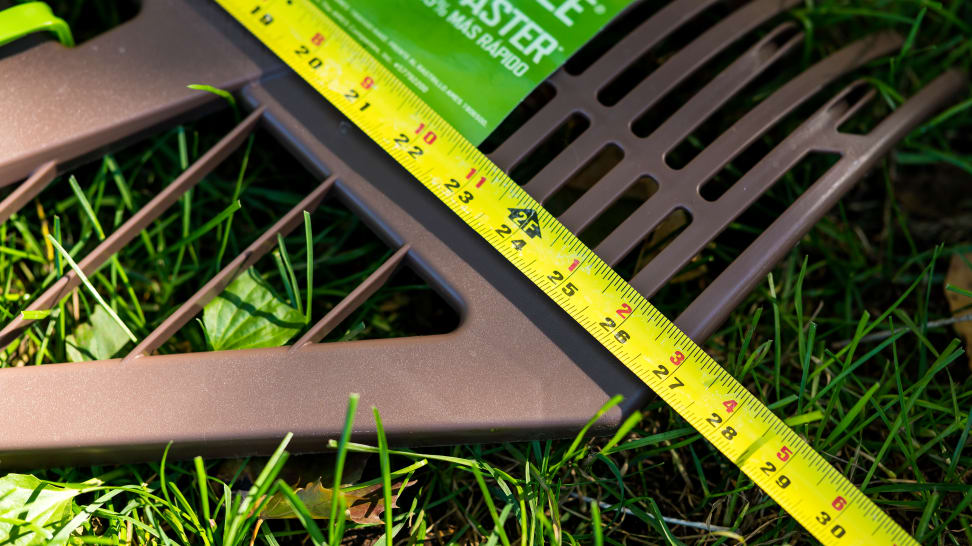 Most rake heads are about 24 inches wide; usually, it's a trade-off between rake head width and the size of the debris you'd like to rake. A wider rake head means that the tines are probably further apart, leaving space for smaller lawn debris to slip through the tines. The reverse is true for a narrower rake head—it's best for smaller debris, since it may end up clogging quickly otherwise.
---
Advertisement - Continue Reading Below