Kitchen & Cooking
The Best Hand Mixers
These handheld mixers get the job done when your stand mixer is just too much.
Credit: Reviewed.com / Nick Schmiedicker
Whether you occasionally make a batch of chocolate chip cookies or are a serious baker, you need an electric mixer. And while nothing beats the convenience of a stand model for hands-free mixing—especially for tough tasks like yeast doughs or lengthy ones like sponge cakes—great results can surprisingly come from a hand mixer, too. Not only are hand mixers less expensive, but they're easy to stash away and don't hog space on your countertop.
Our favorite, the Cuisinart Power Advantage Plus 9-Speed Hand Mixer with Storage Case (available at Amazon for $60.74) is on the pricey side, but handles all mixing tasks exceptionally well and is convenient to use. However, if you're looking for a more budget-friendly model, the Black + Decker Easy Storage Hand Mixer (Available at Amazon for $21.72 ) will also make your baking life much easier.
To help you spend wisely, we chose nine highly-rated hand mixers and put them to work whipping up cream, egg whites, sponge cakes, oatmeal cookies, and white bread.
These are the best hand mixers we tested ranked, in order:
Cuisinart Power Advantage Plus 9-Speed Hand Mixer with Storage Case
Braun MultiMix Hand Mixer
Black + Decker Easy Storage Hand Mixer
Krups 10 Speed Digital Hand Mixer
KitchenAid 7-Speed Hand Mixer
Breville the Handy Mix Scraper
Hamilton Beach Hand Mixer with Snap-On Case
Black and Decker Helix Performance Premium Hand Mixer
Dash Go SmartStore Hand Mixer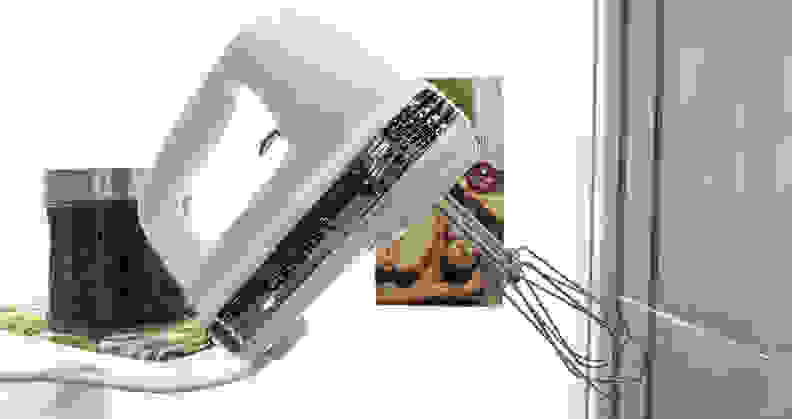 Best Overall
Cuisinart Power Advantage Plus
From whipping cream to kneading bread, you can't beat the Cuisinart Power Advantage Plus 9-Speed Hand Mixer with Storage Case. It simply didn't have any weak spots on any of our tests. We didn't have to stop and scrape the bowl when we were making sponge cake batter and when it came to cookie dough, it sailed right through, easily beating in oats and raisins thoroughly so we didn't have to do a quick mix with a spatula before forming cookies. The Cuisinart kneaded yeast dough into a smooth elastic ball as well as the human hand.
The on/off switch and speed controls are intuitive to use, and the mixer always starts off slowly, so you never get an initial spatter of flour in your face. Of all the hand mixers we tested, it has the most helpful manual, which even includes recipes you might actually want to make. The attachments are dishwasher safe and can be stored in the included case, snapped on the top of the mixer. The only drawback is that this is the noisiest model we worked with, although it is certainly nowhere near as loud as a blender or a hairdryer.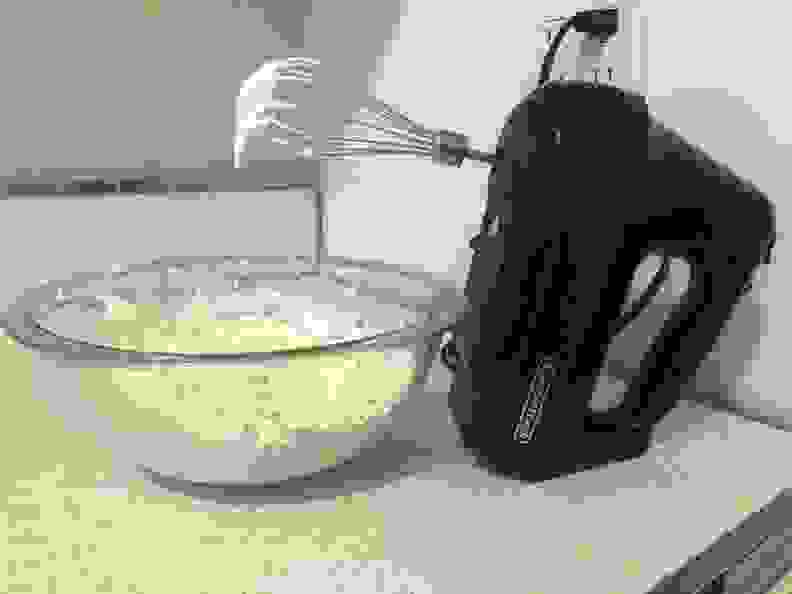 Best Value
Black + Decker Easy Storage Hand Mixer
Although the 6-speed Black + Decker Easy Storage Hand Mixer isn't fancy, it does come with wire beaters—not the old-fashioned kind with center posts—and dough hooks. And it more than holds its own when it comes to whipping, mixing, and kneading. It created clouds of whipped cream and egg whites quickly. Unlike some at this price-point, it cut right through cookie dough, easily mixing in oats and raisins evenly. When we used it to mix sponge cake batter and knead bread dough, it wasn't speedy but our cakes and loaves came out picture perfect.
Operating this mixer is a no-brainer—there's only one control that you click forward to turn on and select a speed. The manual recommends hand washing all the beaters, but we didn't find this much of a handicap as they virtually rinsed clean. Since it comes with a storage box that holds the mixer and its attachments, it's easy to keep everything neatly together in one place. For the money, we don't think you'll find a better hand mixer.
How We Tested
The Tester
Hi, I'm Sharon Franke, and I've been reviewing kitchen equipment for more than three decades. Before that, I cooked and baked professionally in New York City restaurants for seven years. My career was jump-started by my love for home baking. In high school, I baked a birthday cake for a friend every year using a boxed mix and a wooden spoon and (no wonder!) my creations always came out lumpy and leaden. As soon as I had my own kitchen, my first purchase was a mixer that could be used on a stand or by hand and I was off and baking!
The Tests
We tested nine hand mixers. First, using the whisk attachments, we whipped heavy cream and egg whites, timing how long each took to create stiff peaks and measuring the volume created. Then with the mixing beaters, we used each mixer to make a classic sponge cake which calls for beating eggs and sugar up to 15 minutes until they're pale yellow and thickened. We looked for cakes that baked up high and uniformly with a fine crumb and few air holes. Next, with the beaters, we tested each model's ability to cream butter and sugar together for oatmeal cookies, then incorporate the remaining ingredients and mix a thick dough loaded with oats and raisins. Properly mixed cookies come out puffed up in the oven with raisins evenly dispersed throughout. With mixers that came with dough hooks, we kneaded enough dough for two loaves of white bread, noting how well each one handled the heavy load and how high the bread rose.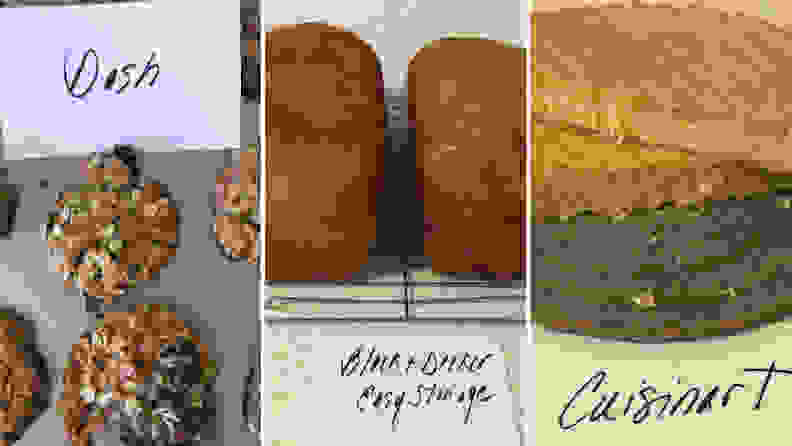 As we worked, we noted how easy it was to install and eject the beaters, operate the controls, comfortably hold the mixers, and how much noise they made. We evaluated the helpfulness of the manuals, how easy the mixers were to clean and store, and whether or not they had helpful special features.
Which Mixer Is Best: Hand or Stand?
In our tests, all hand mixers were able to effectively pass each of them. However, beating eggs and sugar together for as long as 15 minutes was fatiguing and we often switched hands even when using the lightest models. When it came to kneading bread dough, it definitely required concentration to keep the dough hooks moving through the heavy load. If these are the types of tasks you only do occasionally, if ever, there's no need to spring for a stand mixer. For whipping cream, mixing a cake mix, or even beating a batch of cookie dough you can get by quite well with a handheld mixer. However, if you bake often, double up on recipes, and make yeast doughs on a regular basis, it's worth making the investment and dedicating countertop space to a stand mixer.
---
Other Hand Mixers We Tested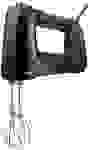 Braun MultiMix Hand Mixer
Brand new on the market, the Braun MultiMix Hand Mixer wowed us with its speed and performance on almost all tests as well as its convenience. Cake batter was ready to go in the oven a full five minutes sooner than from almost every other mixer. And although it doesn't come with a whisk, using the mixing beaters, we got the highest volume on egg whites by far. On this model, the weight of the motor is upfront and not under the handle which makes it easy to hold during time-consuming tasks. However, this configuration also makes it tall and therefore it moved less fluidly through thick oatmeal cookie dough than some of the others.
The speed dial is very easy to set from one to nine or Turbo before you turn the Braun on and if you stop to scrape or check on your progress you don't have to reset the speed when you continue. This is the only mixer without air vents which makes for easy cleanup with no batter to pick out of slots. All of the beaters can be safely cleaned in the dishwasher and you get a bag to store them in to prevent them from getting lost.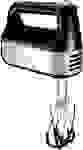 Krups 10-Speed Digital Hand Mixer
The Krups 10-Speed Digital Hand Mixer easily cut through thick cookie and bread dough and whipped up bakery-quality goods. Our only quibble is that whipped cream came out less fluffy than we would have liked. There's a timer on board that starts to count up as soon as you start mixing; you can hit pause if you want to stop to stir and then hit it again to keep going at the same speed without losing track of how long you've been mixing. It is easy however to hit off instead of pause and then you have to reset the speed and remember how long you were already mixing. And often, as we were working, we accidentally hit the off or pause button, depending on which hand we were using, as they're located on the edges of the handle close to where we were holding the mixer. We also struggled a bit to insert the attachments correctly. With the Krups you get a storage case for the dishwasher-safe beaters and you can snap the mixer itself on top of it.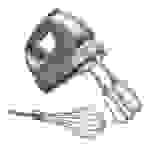 KitchenAid 7-Speed Hand Mixer
Everything from whipped cream to sponge cake to oatmeal cookies came out perfect when we used the KitchenAid 7-Speed Hand Mixer. However, we found the controls unintuitive to set. There's an on/off button that you press first. Then you select your speed with up and down arrows. The speeds themselves are displayed in bars on a lighted display above the on/off switch so you find yourself doing a lot of thinking about what you're pressing. And every time you stop, you have to go through the whole process again. Even though this mixer costs a bundle (you can also choose from eight colors), it doesn't come with dough hooks or a storage accessory of any kind. The manual is quite thorough, and the attachments can be popped in the dishwasher.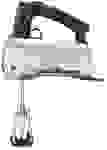 Breville the Handy Mix Scraper
Breville's the Handy Mix Scraper comes loaded with an impressive array of features. To operate it, you press "on" and then select one of nine speeds. As soon as mixing starts, a light shines down on the bowl and a timer starts counting up. There's a pause button so that if you interrupt mixing to stir or add ingredients, you can keep track of your mixing time. While in theory this sounds like a great feature for when a recipe specifies a specific number of minutes, we found we often pressed "off" instead and lost track of time. (We kept a stopwatch going to capture our test results.) Speed recommendations are right on the body of the mixer. The beaters are coated with rubber and when beating, this mixer was the quietest of all we tested—in fact, it just about purrs.
According to Breville, the Handy Mix has Beater IQ that senses the attachments and adjusts the speed regardless of the setting. In spite of this, we didn't find that the Breville offered topnotch mixing performance. It was one of the slower models and the only one that struggled a bit to knead enough dough for two loaves of bread. Although it comes with two whisks instead of one, it didn't whip up particularly airy egg whites. Plus, at more than 2 .5 pounds, it was heavy and hard to hold continuously for more than a minute or so. However, cookies, cake, and bread all rose high in the oven and came out evenly browned and tender.
With a trigger that makes it easy to release the beaters, a plug that's easy to pull out of the socket, dishwasher safe attachments, and a storage case to corral all the parts, this mixer is easy to care for. But we're not sure that all the benefits justify the very steep price tag for a hand mixer that's not first in its class in mixing performance.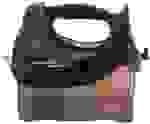 Hamilton Beach Hand Mixer with Snap-On Case
Talk about no-frills! The Hamilton Beach Hand Mixer with Snap-On Case even has the old-fashioned kind of beaters with posts in the center rather than the wire ones that are now standard on most mixers. And dough hooks are not included. There's simply one control that you push forward to both turn on and select one of the six speeds, and then push down to eject the beaters. However, this mixer gets the job done and was even faster than many at mixing sponge cake batter and oatmeal cookie dough. You have to hand wash the attachments but even with the center post, cleaning is not particularly difficult. The one extra that you get is quite useful: a case for the attachments that the mixer snaps onto for neat storage.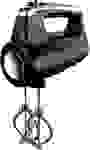 There's a lot to love about the five-speed Black and Decker Helix Performance Premium Hand Mixer. With its lightweight and ergonomic handle, it's decidedly easy to hold. On whipping cream and egg whites and kneading bread dough, it was one of the fastest workers. However, in our testing it had a fatal flaw: It spattered everywhere when we mixed up the cookie dough, spewing dough, oats, and raisins all over the counter and walls. The nylon-coated beaters are unusually designed in a helix formation. According to Black and Decker, they are supposed to mix in multiple directions, covering more ground. This may account for its speed but also for the splattering. For storage, the mixer snaps onto a case that contains all the beaters which are top-rack dishwasher safe.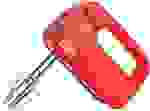 Dash Go SmartStore Hand Mixer
At first glance, the small, lightweight, brightly colored Dash Go SmartStore Hand Mixer with a single set of beaters seems like a toy, not a serious appliance. But although it was one of the slower performers in our tests, it was able to competently handle all the mixing tasks we threw its way; it doesn't include dough hooks so we didn't even attempt to knead bread. The Dash didn't create the fluffiest whipped cream and didn't move as easily through cookie dough as we would have liked, but it still produced beautiful cookies as well as tender sponge cakes. The handle is not particularly ergonomic and there are only three speeds, which are not easy to differentiate between. However, on the plus side, the beaters snap onto the body for storage, making the mixer easy to stash away or carry with you. If a rock bottom price is your priority and you're never going to try your hand at bread, this mixer is worth consideration.
More Articles You Might Enjoy
Up next
Get Reviewed email alerts.
Sign up for our newsletter to get real advice from real experts.