Kitchen & Cooking
Here are 6 delicious ways to cook your apples this fall
You can get more from your apples than apple pie.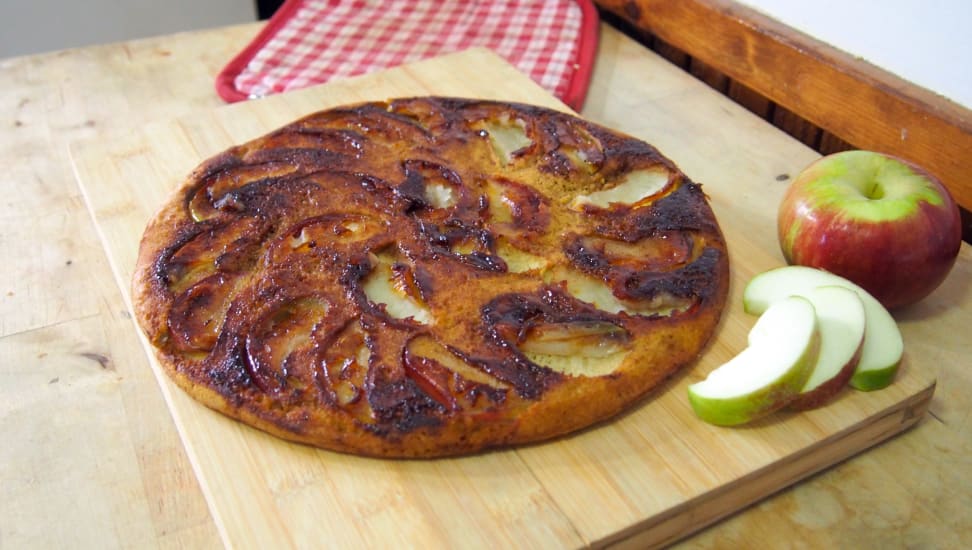 Credit: Reviewed.com / Kori Perten
Last week, my roommate came home with two giant bags of apples. He set them down in the kitchen, and an hour later the house started to smell really, really good.
"What are you making?" I asked, drawn toward the kitchen like a person bewitched. A big pot was set atop the stove.
"Apple sauce," he said, gesturing at a row of jars lined up, ready to receive the fruit (sorry) of his labor. The sauce bubbled away, fragrant and lovely. When it was finished, I ate a reverent spoonful with my eyes shut, the taste of autumn nutmeg-scented on my tongue.
The next morning, I came into the office with an article to pitch. "How about I buy a big bag of apples and cook until they're gone?" I suggested.
"Sure," said my benevolent editor.
Then I ate about 15 apples in 24 hours and regretted absolutely nothing. Welcome to fall, gang! Pull up a chair. Have an apple or 15. Here's what you can make with a giant haul of apples that's not, like, ordinary apple pie.
1. Apple chips
Apple chips were the winner of the whole experiment, as far as I'm concerned. I made a bunch of tasty eats, but apple chips are very little effort for a lot of reward. It's simple:
• Preheat your oven to 250°F
• Slice up some apples real thin, and toss them with cinnamon if you'd like.
• Bake them on a cookie sheet lined with parchment paper
They're pretty much done when the edges start to curl up, which should take an hour to an hour and a half. And don't worry—they crisp as they cool.
Remove them from the baking sheet. Put them in your mouth. They'll be sweet as candy but full of autumn flavor. I ate these with breakfast to help fuel my day of cooking. And okay, I'll admit it. I've made apple chips three times this week. Don't judge me.
You'll need: a steady cutting board for slicing apples nice and thin, as well as a good baking sheet
I chopped my apples on our favorite Totally Bamboo Kauai Cutting Board. I used my roommate's scary, warped baking sheet, but our favorite Nordic Ware baker's half sheet is a million times more pleasant to use.
2. Peruvian pork and apple stew with chiles and lime
I am not a big recipe-follower when it comes to cooking, but cooking pork intimidates me so I followed Mark Bittman's recipe for pork stew pretty closely. ]At the end, I added extra lime juice, a few glugs of good cider vinegar, and a bunch of chili powder and salt. Normally I refuse to peel apples for any reason, but it's important to do so here so the apples will cook into the broth and meld with the onions.
The result is a rich, hearty stew that is saved from heaviness by the freshness of the lime juice and the cilantro garnish. The apple flavor disappears into the dish, but it lends a hint of sweetness and complexity to the broth that I really enjoyed.
"Bring in leftovers," said my coworkers. I did not. I hoarded the stew selfishly for myself and I'm not sorry.
You'll need: A good knife and cutting board for slicing up lots of pork and apples
We love the Zwilling Pro 8" chef's knife, but I used the cheaper Mercer Renaissance Collection chef's knife to chop the meat and it worked great—especially nice because cutting meat is totally unpleasant. I used a plastic cutting board, the way I always do for meat. We like the Prepworks by Progressive plastic cutting board.
3. Apple and cheese tortilla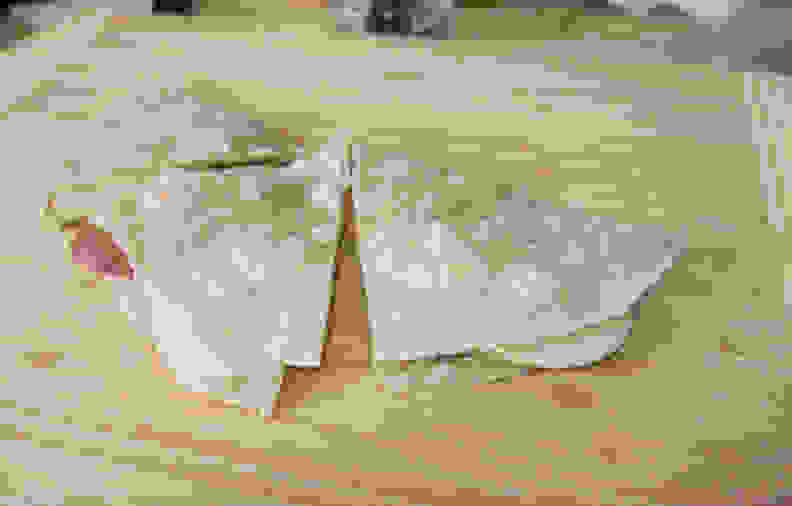 Apples are lovely with cheese, and that is a fact. I got hungry while the stew was cooking and made myself a sandwich of sorts. I placed cheddar and apple slices in a brown rice tortilla, folded the thing over, and zapped it in the microwave until the cheese melted. Easy as, er, apple pie, and just as tasty. Honestly, sometimes the simple food is the best—make this with bread, a wrap, whatever you want—and just eat it with your mouth.
You'll need: Like 2 minutes, including prep and cook time
4. Apple tea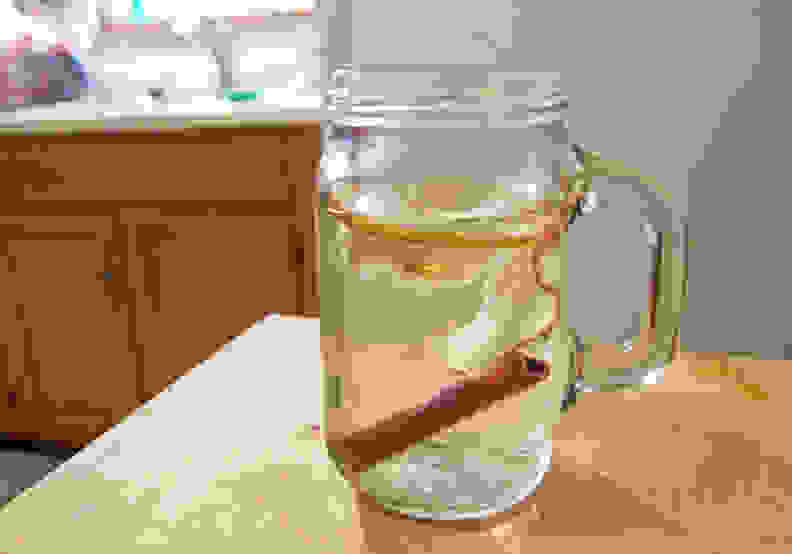 Apparently all you need to make apple tea is an apple chip, a cinnamon stick, and some hot water. I was skeptical and expected this to taste like hot cinnamon water, but it actually worked! The apple flavor transfers over, along with a hint of sweetness. Next time, I want to try adding Rooibos tea for some brightness. But! Apple chips for the win, gang. Apple chips forever. A thousand years apple chips.
You'll need: An electric kettle. We love the Cuisinart PerfecTemp electric kettle, which we think is the best electric kettle on the market.
5. German apple pancake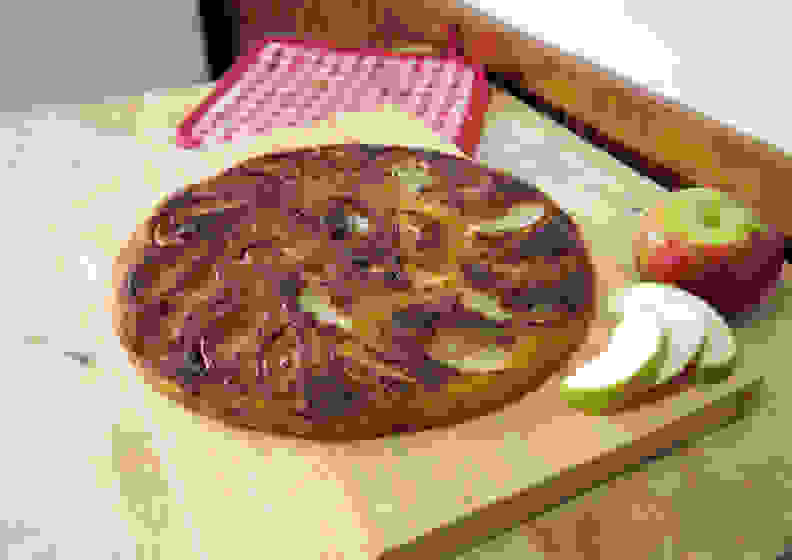 When I began mapping out the apple things I planned to cook, I knew a German apple pancake (also known as a "Dutch baby") had to make the list. My dad used to make these for special occasion breakfasts when I was a kid, and I went through a phase of requesting one every year for my birthday dinner. I remember his version as a puffy, eggy, pancake, that he'd plop down on the table with great ceremony, topping it with hot, cinnamon-coated apples and a shake of confectioner's sugar.
I've been gluten-free for about 5 years now, so it's been a long time since I had a German apple pancake. It was time to change that. I tracked down a recipe published on Serious Eats and tried to ignore how different it sounded from the apple pancakes of my childhood.
I mixed. I chopped apples. I laid everything out neatly in my cast iron. I plopped it in the oven.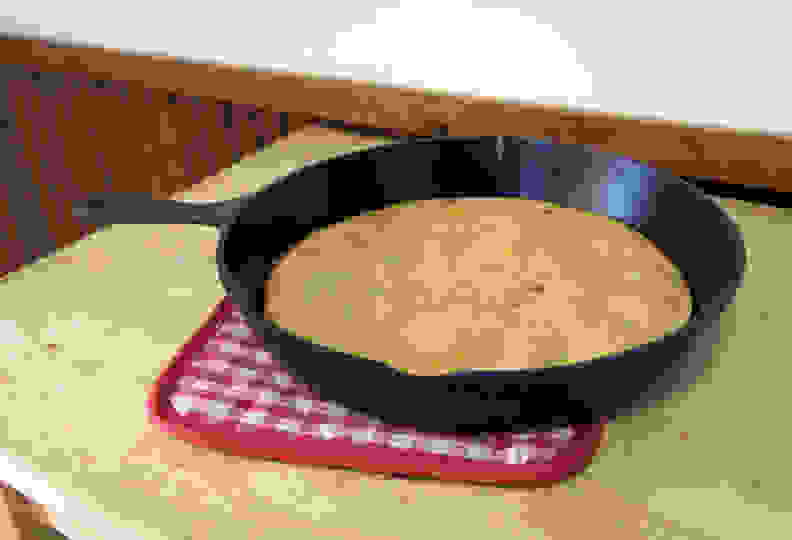 Reader, I'm not going to lie to you. It came out looking bland and sad.
But then—then I flipped it over. The apples and sugar had caramelized on the bottom. This was not a German apple pancake, not really, but it was a pretty tasty apple cake that disappeared entirely over the course of a day. If you find a real gluten-free German apple pancake, please tell me! But if you want to make a gluten-free apple cake, this one is easy!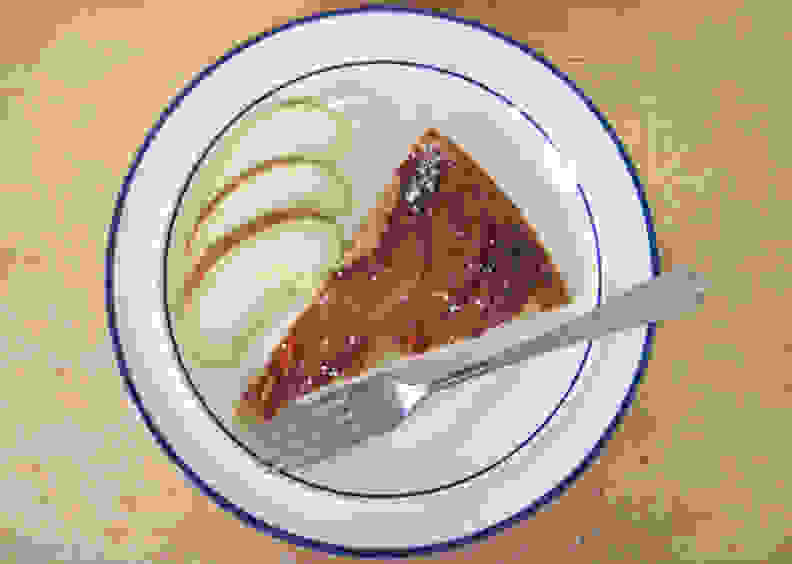 You'll need: A cast iron skillet. I used my 10-inch Lodge, which is basically everything I need from a cast iron—durable, good at retaining heat, and sort of impressive-looking.
6. Just apples, okay?
Honestly, no matter how you slice it, apples are the best. It is not true that I cooked every single apple I bought for this project. I couldn't resist sneaking a few on the side and eating them raw—gnawing my way around the core like some kind of deeply satisfied apple monster.
And now that the bag is gone, I know what I need to do: Buy more apples. Make more apple chips. Enjoy the season.