Kitchen & Cooking
This meal kit brings gourmet vegetarian meals to you
We love Home Chef, but can it nail vegetarian alternatives?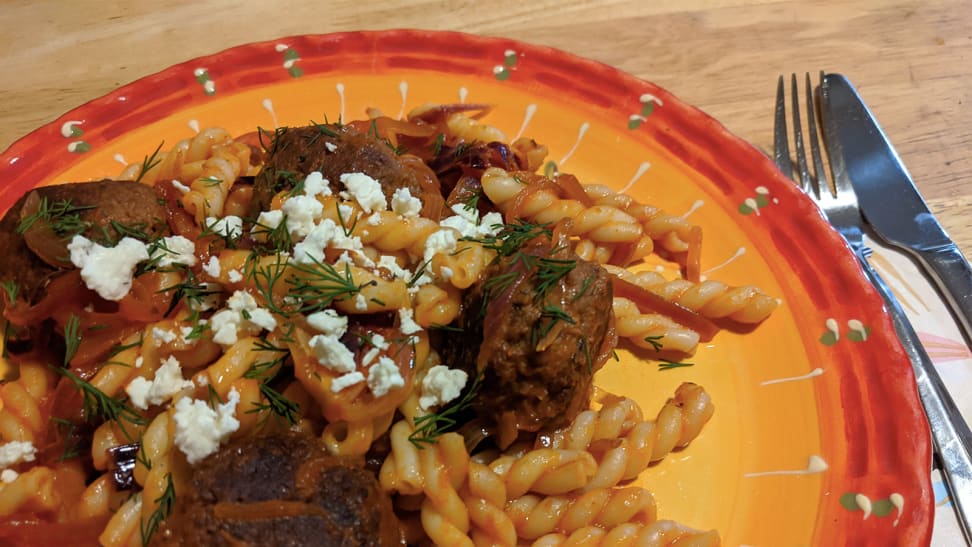 Credit: Tessa Bahoosh
My relationship to cooking has fluctuated over the past six months. For weeks at a time, cooking might be my happy place—I'll put on an audiobook, let the stress of the day dissolve, and focus on making something delicious and beautiful. But, on the flip side, after weeks of culinary experiments, I tend to burn out and start looking for ways to shake off cooking fatigue.
For someone like me, who finds cooking fun but who can get worn out after a hard day (or a hard six months), meal kits can be the perfect solution. When I'm tired, I tend to go back to the same handful of reliable dinners again and again—so my ideal meal kit would shake up my eating patterns while still respecting my dietary choices.
Although I'm not a vegetarian, I do prefer to eat plant-based meals, with most of my protein coming from legumes and soy products. Fortunately for me, Home Chef has partnered with Impossible Foods to offer weekly meals that are delicious, easy to make, and completely vegetarian. Eager to find out if Home Chef could actually work for me, I took the service for a spin.
What is Home Chef?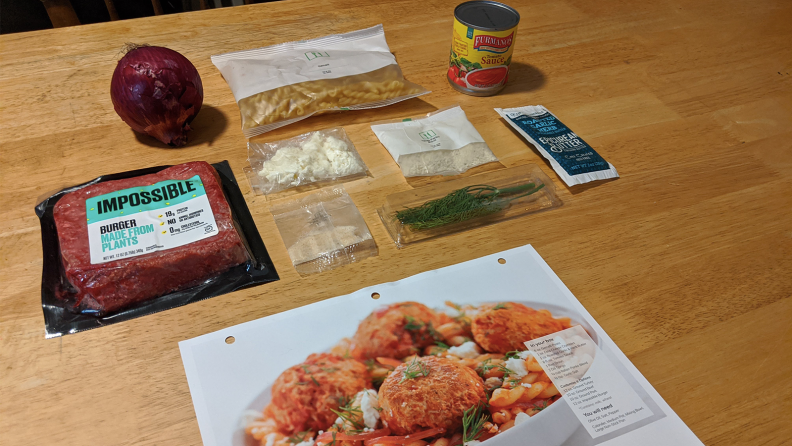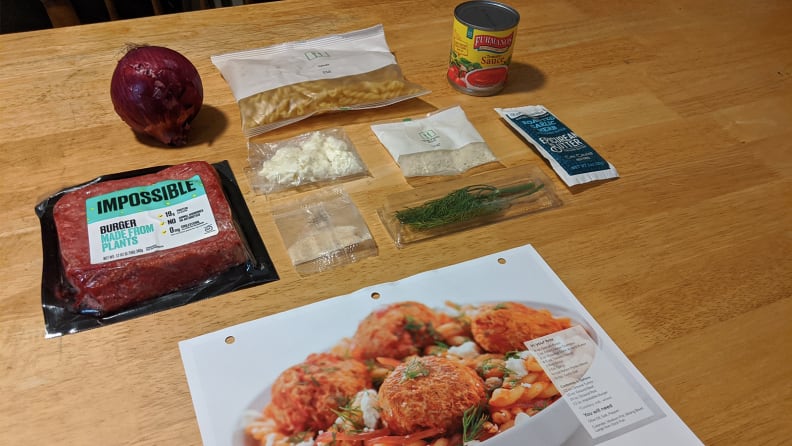 Of all the meal kits on the market right now, Home Chef is our very favorite. In our tests, Home Chef rose above the competition thanks to its varied, high-quality meals, its ability to satisfy multiple diets, and its easy-to-follow recipes.
The Home Chef team has shown they're committed to accessibility, with their delivery service capable of reaching over 97% of the U.S. population. In addition to meal kits that come with pre-portioned ingredients and recipes, Home Chef also offers Oven-Ready meals that don't require any prep-work whatsoever. Home Chef membership is competitively priced, easy to cancel, and flexible if you need to skip a week or two.
What is Impossible Foods?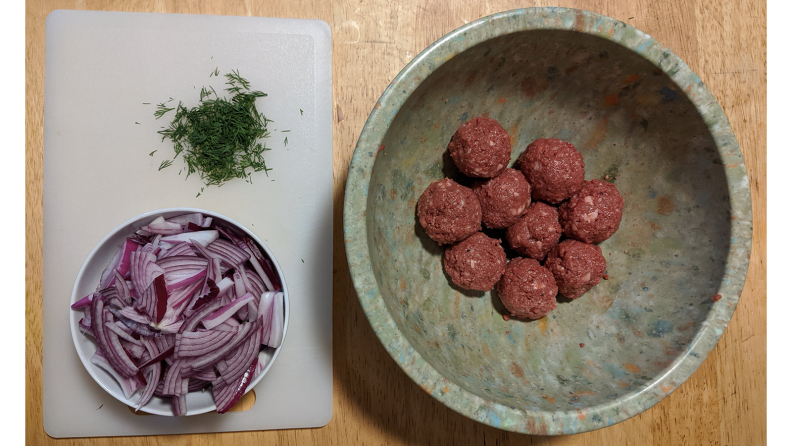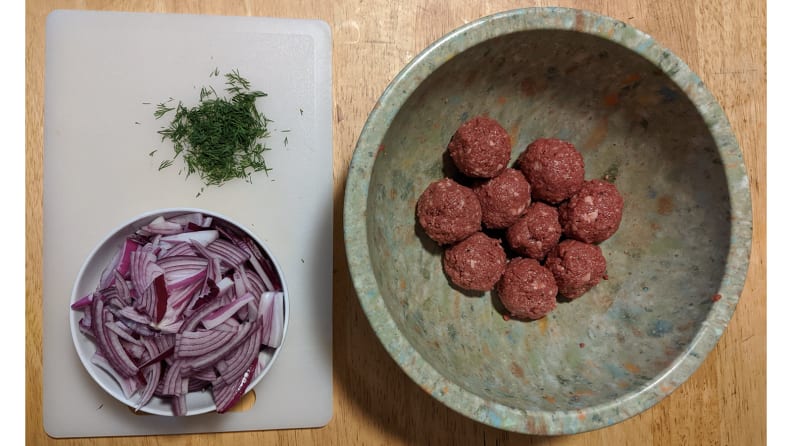 Impossible Foods is the maker of one of the trendiest plant-based meat alternatives available right now. The Impossible Burger has gotten so mainstream, it's even been served at Burger King!
There are plenty of vegetarian meat alternatives on the market, but Impossible Foods makes loftier claims than the average plant-based fare. The company's mission is to offer a product that looks, tastes, and even bleeds like real meat. The idea is that meat alternatives shouldn't just satisfy vegetarians—they should also be enjoyable for even the most devoted carnivore.
Nutritionally, Impossible Burger is closely comparable with ground beef. In a 4 oz. serving of Impossible Burger, you get 240 calories and 19 grams of protein—just about the same as with a 4 oz. hamburger patty.
What I like about Home Chef x Impossible Foods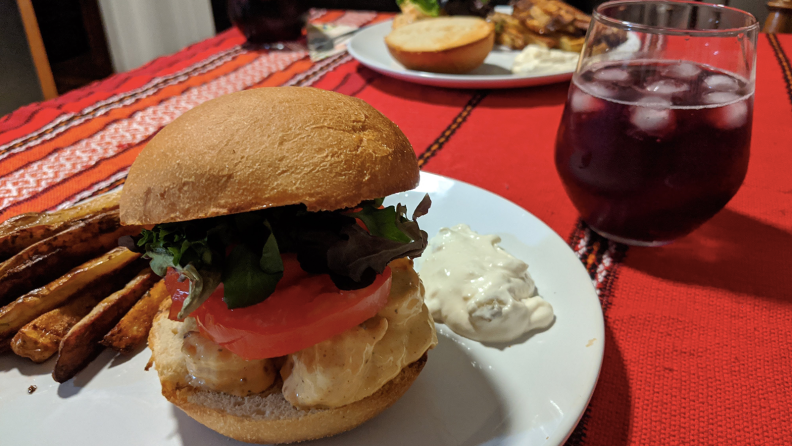 Meals taste great and ingredients are high quality
Let's start with the most important thing: Each of the three meals I tried were delicious. I got the New Orleans Shrimp Roll, the Mediterranean Meatballs and Gemelli, and the Sunday Supper Pot Roast Meatballs (substituting Impossible Burger for the latter two). As a seafood lover, I think the shrimp roll was my favorite, but it was a very close race between all three meals.
Each of the meals was carefully constructed, offering a really nice balance of different textures and flavors. The produce and herbs were fresh and fragrant, and I would have felt comfortable letting them sit in my fridge for a few extra days if my schedule didn't allow me to cook them quickly.
Recipes and ingredients are well-organized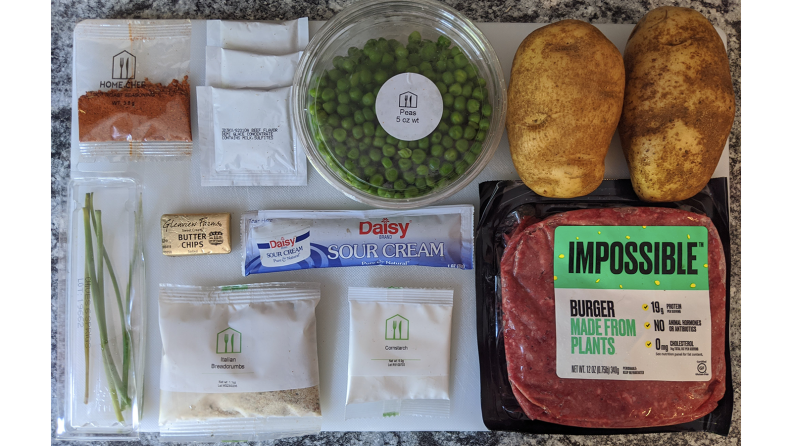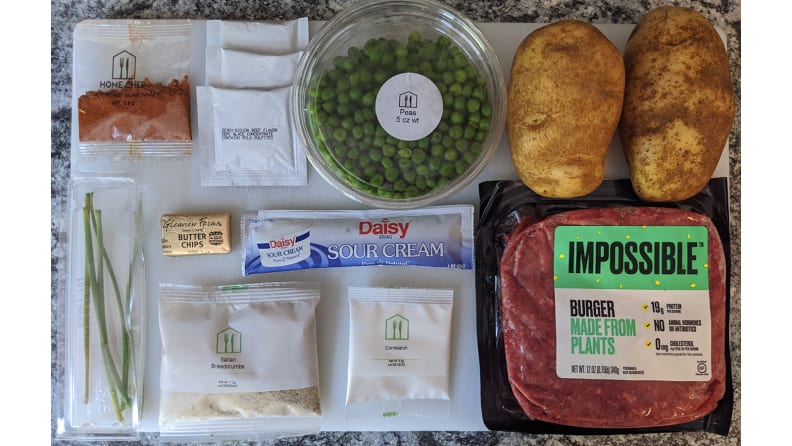 Home Chef really shines with their organization. I loved that the ingredients for each meal were separated into their own large plastic bags, making it easy to grab everything you needed without hunting through a chaotic box. At the beginning of each recipe, everything you need to know before you begin cooking is highlighted, making it less likely you'll forget to wash veggies or preheat the oven.
The recipes are clear, well-written, and reliable. Each one provides an estimate of how long the meal will take to cook (for mine, 40-60 minutes), and I easily fell within that range every time. I also loved that Home Chef preserves your recipes through your online account, and even generates shopping lists if you want to make a meal again. From start to finish, I found Home Chef to be a thoughtful, user-friendly experience.
Portion sizes are generous
Before I got my box, I was concerned the meals would be too small for me. I'm happy to report that I could not have been more wrong. Each serving yielded plenty of food, at least for me—I actually wound up saving half of the Mediterranean Meatballs and Gemelli for lunch the next day.
It makes vegetarian meals more accessible
For both my vegetarian meals, I enjoyed trying Impossible Burger in a new way. In my opinion, Impossible Burger doesn't taste quite like real ground beef, but the texture is fantastically meaty, and the flavor is close enough to be satisfying. I don't think Impossible Burger will trick anyone who regularly eats both red meat and vegetarian sausage, but it is inarguably more meat-like than most plant-based options. If I was to compare it to another vegetarian meat, I'd say it's closest to Lightlife Gimme Lean veggie sausage—another soy-based alternative, which also happens to be a longtime favorite of mine.
I love the fact that Home Chef is making it so easy to create delicious vegetarian entrees that might otherwise look intimidating. If you're just starting to eat more plant-based food, it can be hard to imagine how a vegetarian pot roast could be as good as the traditional version. This meal kit makes that transition seamless. Home Chef does a great job of presenting meat alternatives not as a sacrifice, but just as what they are—one more yummy option.
On one very minor note—I really liked the flavor and texture of the Impossible Burger once it was cooked, but I did think that in its raw form it had a slightly unnatural, off-putting scent. This only bothered me for a minute, and it went away entirely once the meal was cooked, but it was a little bit of a surprise when I took it out of the package.
What I don't like about Home Chef x Impossible Foods
Meals can be on the heavier side
While I really enjoyed my meal kit overall, there were a few areas I would love to tweak.
My biggest issue with Home Chef is that most of the meals are fairly heavy. The meals I received ranged from 705 to 934 calories. Everyone's eating patterns and caloric needs are different, but for me, 934 calories is a huge dinner. Home Chef does offer calorie-conscious meals, but as someone who is not a big fan of chicken breast, many of these options just didn't look nearly as appealing to me.
Each of my recipes called for either a pre-made sauce or a substantial amount of dairy—all delicious, but not the best on my stomach after three days. I'm a big believer in the idea that there's no such thing as bad food, but that all food is best enjoyed as part of a balanced, varied diet. By the end of my Home Chef box, I was ready to balance with a whole week of salads. If I was subscribing to Home Chef for a longer period of time, I'd probably get fewer than three meals in a week, just to give my stomach time to digest.
Packaging could be more sustainable
Although I loved how organized Home Chef's ingredients were, I would have liked to see more reusable or recyclable packaging. Most of the ingredients came in plastic bags, which went straight to garbage when I was done with them.
Is Home Chef x Impossible Foods a good option for vegetarian meals?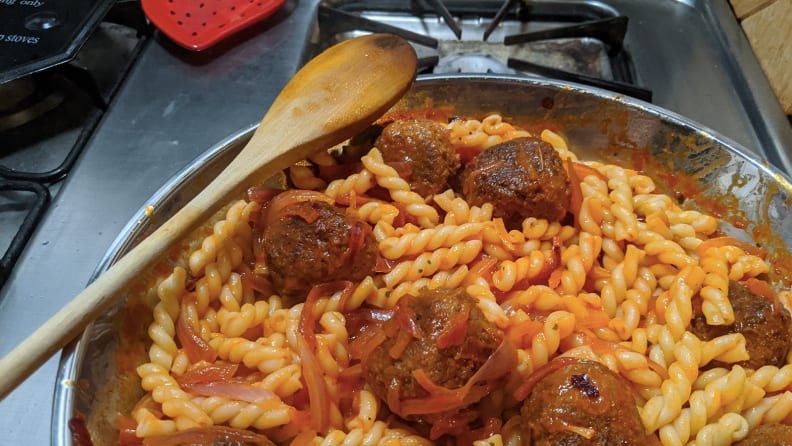 For convenience, variety, affordability, and taste, Home Chef's partnership with Impossible Foods is yielding some spectacular results. I would absolutely recommend Home Chef to anyone looking to eat more plant-based meals, as long as the rest of their diet is flexible enough to work with a pre-packaged meal kit.
Home Chef really shows what a meal kit can be. The meals are fun to make, even better to eat, and unusual enough to brighten up a tired dinner routine. This is especially great if you're looking for more vegetarian meals, but you don't know where to start.
You don't have to go fully vegetarian to enjoy Impossible Foods (I haven't!). Just reducing the amount of meat you eat is often better for your health, and is always better for the environment. Plus, opening your heart (and mouth) to plant-based foods can introduce you to a whole world of delicious, comforting, and exciting meals. A well-rounded service like Home Chef can help you get there.
How much does Home Chef cost?
Home Chef meals start at $6.99/serving, with the average cost hovering around $8.99/serving. You can expect to pay a surcharge if you swap meat for Impossible Foods (I paid $3.99 per meal), plus $6.99 for shipping.
For the most up to date information about Home Chef's pricing, check their meal plans.
The product experts at Reviewed have all your shopping needs covered. Follow Reviewed on Facebook, Twitter, and Instagram for the latest deals, product reviews, and more.
Prices were accurate at the time this article was published but may change over time.