Kitchen & Cooking
Can these two Gibson dinnerware sets stand up to my family?
Color, fit, and breakability all factor in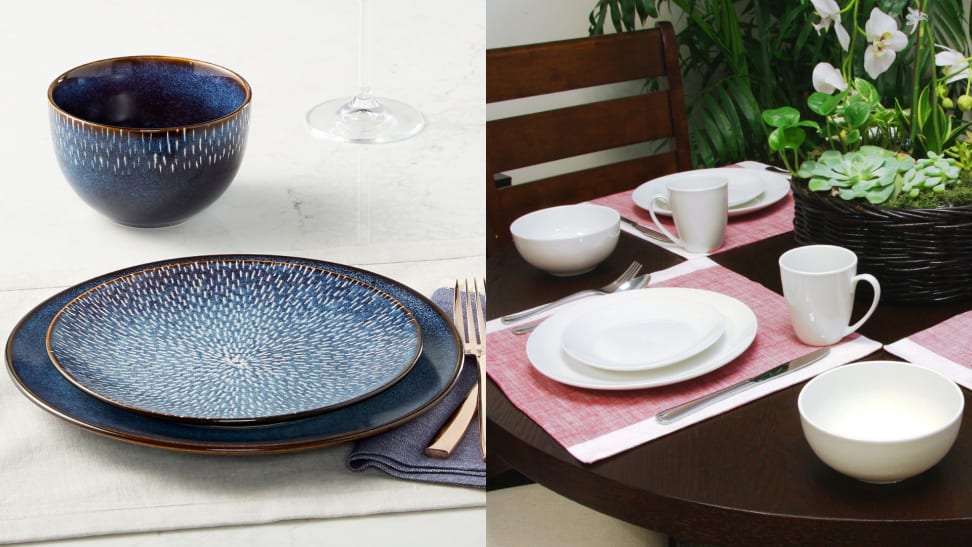 Credit: Gibson
My 14th wedding anniversary is approaching, which means I've been using the same dinnerware set for nearly a decade and a half. It is an unfussy set from Kohl's, and the simple white bowls, plates, and mugs with a beaded rim have served us well.
But, these plates are a little on the delicate side, and now I have three decidedly un-delicate young daughters. The stacks in the kitchen cabinets seem to be dwindling by the day.
I've been on the hunt for something sturdier, and while I'm at it, I'd love something with a little color, beyond, say, Corelle, to brighten up our all-white kitchen.
I tested two separate Gibson dinnerware sets: the Gibson Laurie Gates Matisse Round Blue 16-piece, which retails for around $140, and the Gibson Ogalla 16-piece, which retails for around $69.
The Matisse stoneware comes with four of each dinner plates, dessert plates, bowls, and mugs, all in a deep ocean blue shade. The dessert plates have a kind of starburst dash pattern, and the same pattern trims the mugs and bowls. The dinner plates are the same blue hue, without the pattern. The Ogalla set comes with four of each dinner plates, salad plates, bowls, and mugs—all in a simple white.
The claims

Macy's describes both sets as dishwasher and microwave safe (both a must in my house) and also calls them striking and elegant. (Both true!)
Finally, Macy's notes the Ogalla set can be "stored compactly between meals." After using both sets and finding one to be cumbersome in my cabinets, I understood now why this is a selling point.
What I like about Gibson dinnerware sets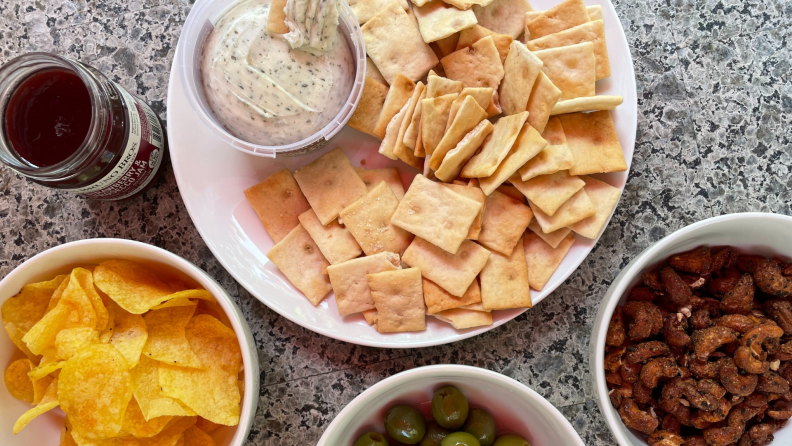 Pieces from both sets are in rotation in my kitchen now, which means they're getting used during meals, run through the dishwasher daily, and dropped … not infrequently.
A few weeks ago, we invited a few friends over for a canned cocktail tasting on our roof deck. I served some snacks in the sturdy blue stoneware bowls, and accidentally left one on the dining table. Around 6 o'clock the next morning, my husband and I, as well as our kids on the floor below, were awoken by a cracking thud. The bowl had fallen off the table, onto the fiberglass roof, and didn't break. Not even a chip or scratch. It was unceremoniously tested again a few days later—this time on the hardwood floor in the kitchen—when my youngest daughter accidentally dropped it. Again, it didn't break.
Also, as a family of five, the dishwasher is usually running every other day, and the Matisse stoneware plates and bowls held up in there, as well. I loved using them to microwave leftovers, too—as opposed to our current dinnerware, which feel flaming hot after a 60 second spin since they're so thin.
Finally, even though they didn't claim to be freezer safe, I put a half-eaten bowl of ice cream in mine, and it came out unscathed the following day.
What I don't like

While I love both the look and the sturdy heft of the beautiful blue Matisse set, I don't love how bulky they are to store. The bowls of my old dinnerware set stack neatly in the cabinet, but this set takes up much more space and looks unruly stored in my relatively small city kitchen. (It also could be what contributed to some commenters' complaints of chipping.) They're also tougher to arrange in the dishwasher so that each bowl isn't overlapping its neighbor.
The Ogalla ceramic set is indeed elegant and stores compactly in the cabinet, but it was also less sturdy. At least one bowl and dinner plate were shattered after hitting the floor (one hardwood, one outdoor carpeted floor with paving stones underneath.) With that said, my guess is that most dinnerware sets aren't contending with toddlers and preschoolers (and fine, their butterfingered mom), and they look lovely on the kitchen table.
Should you buy Gibson Matisse and Ogalla dinnerware sets

Yes. I would buy the Matisse set again, and, in fact, I am. I'm sending a set to a friend who just bought his first home and is starting to fill his kitchen. I think they look a lot swankier than they cost, and after years of using the same simple white plates, I'm thrilled to have something striking and sturdy in my kitchen.

The product experts at Reviewed have all your shopping needs covered. Follow Reviewed on Facebook, Twitter, and Instagram for the latest deals, product reviews, and more.
Prices were accurate at the time this article was published but may change over time.