Kitchen & Cooking
I tried this popular nonstick baking mat—is it worth it?
Never grease a cookie sheet again.
Credit: Getty / Suwapatbv168
There are so many kitchen gadgets and gizmos out there—and if your kitchen space is anything like mine, you've only got so much room to store your standalone appliances and cooking accessories.
One item I always make space for is my Silpat Baking Mat. I'm not a professional chef by any means, but I do cook quite a bit at home, and the Silpat Baking Mat is my secret ingredient. Food no longer sticks to the pan after baking, so I can cook bacon in the oven without having to forcefully use a spatula to get it loose, and I can bake cookies that have a crisp golden brown bottom.
What is the Silpat Baking Mat?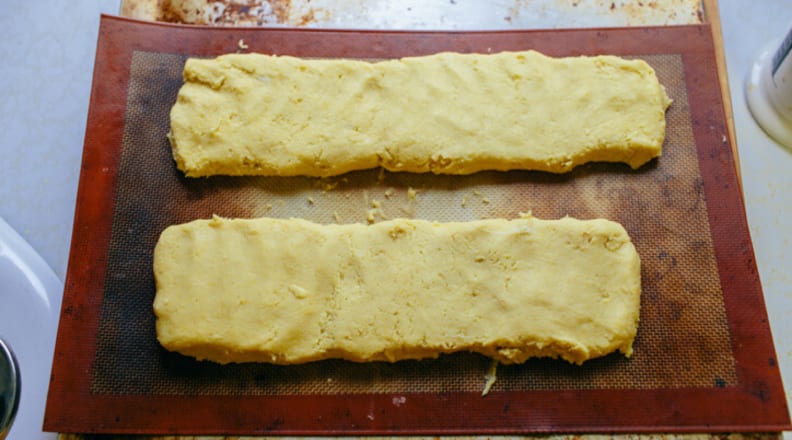 The Silpat Baking Mat is a nonstick, reusable baking mat made in France. The mat was conceptualized in 1965 by French baker Monsieur Guy Demarle, who sought "a better way" to bake baguettes.
So, he invented the Silpat—made from fiberglass mesh and food-grade silicone. All Silpat products meet FDA regulations, are certified by the National Science Foundation, and are Kosher-safe.
Silpat claims the mat "provides consistent heat distribution" and "promotes even baking and browning." The silicone mat was designed to withstand oven temperatures of up to 500°F. (I've not tested the mat at that temperature, but I've used it with my oven cranked to 425°F and everything was just fine.)
As for storage, Silpat cautions against bending or folding the mats, as doing so may cause damage. I usually roll mine up and store it with other pots and pans. Or, you can buy a Silpat storage band to keep your baking mat in tip-top shape.
Silpat Baking Mat vs. parchment paper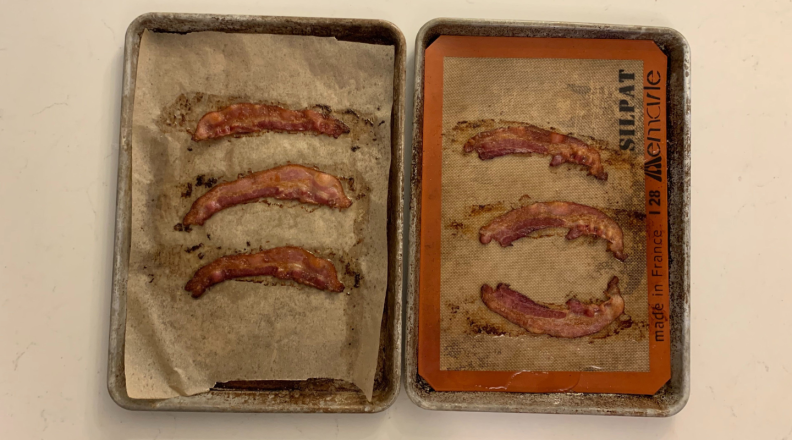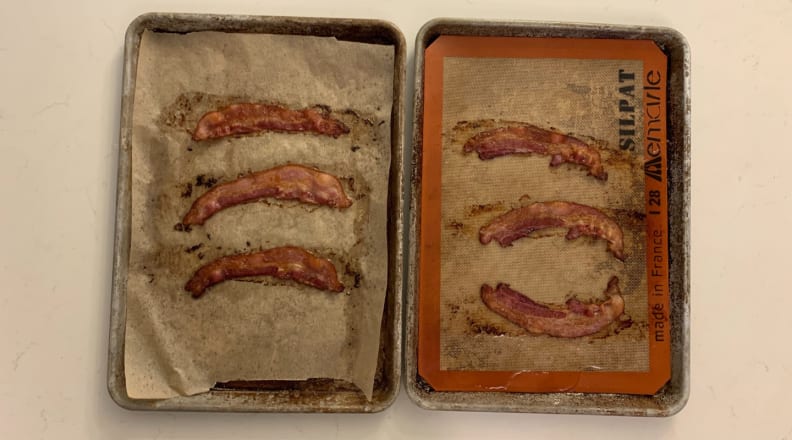 You may be wondering why you need a Silpat Baking Mat when parchment paper is a cheaper substitute. Truth be told, parchment paper works just fine. But, in my experience, a reusable baking mat will give you the same results most of the time—and save you money over time.
To find out which product works best, I cooked a total of six slices of Hormel Natural Choice Original Uncured Bacon at 400°F, because the best way to make bacon is in the oven. I cooked three of the bacon slices on Reynolds Kitchens Compostable Parchment Paper, which I happened to have on hand in my pantry. Then, I cooked the additional three pieces of bacon on my Silpat.
The end result for the bacon cooked on the parchment paper and the Silpat was pretty much the same. Both sets of bacon were firm, yet slightly flimsy, for a savory bite. Neither test produced overcooked, burnt, or rubbery bacon. However, I had to cook the bacon on the parchment paper for 12 minutes, whereas the Silpat only took 10 minutes to cook to perfection.
What can you cook on the Silpat?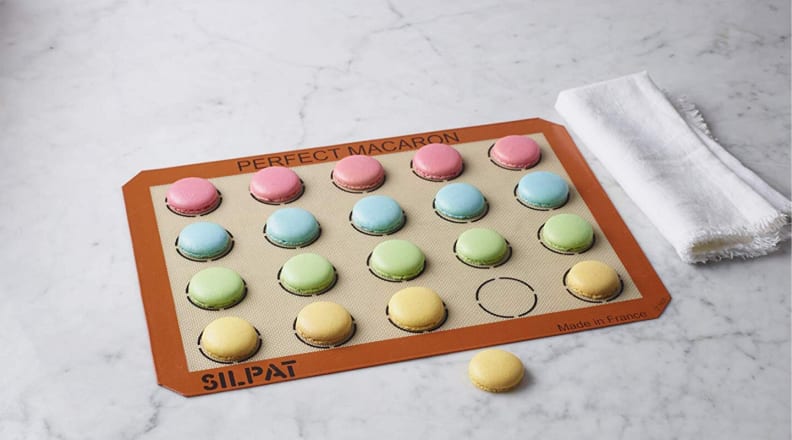 You can bake just about anything using the Silpat, but there are a few drawbacks. If you're cooking pizza or another food that needs to be cut before serving, make sure to transfer it to a cutting board. Silpat advises against using knives, pizza cutters, and other sharp objects that may knick or tear the baking mat.
Moreover, some recipes, like cakes and brownies, may call for you to cut a piece of parchment paper to the size of the pan. In these instances, it makes more sense to use parchment paper, so you can trim it down to the exact size you need.
Silpat does sell different sized mats, but you probably don't need to keep every size in stock at home. They also make baking mats specifically for breads and cookies. There also sell baking molds for mini muffins, mini loaves, mini fluted cakes, and more.
How do you clean the Silpat Baking Mat?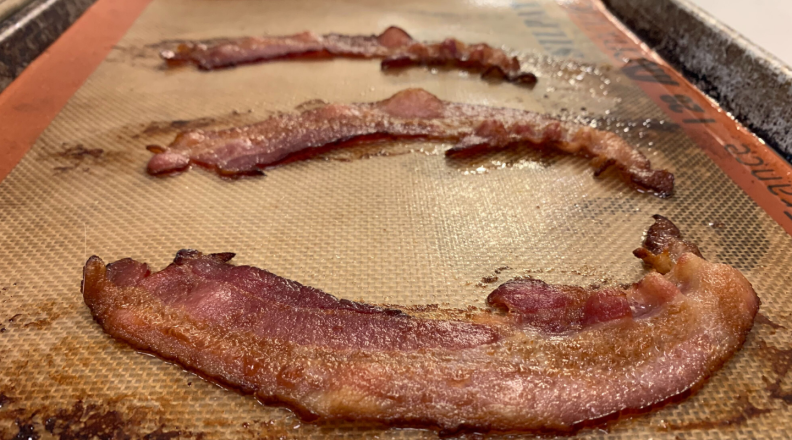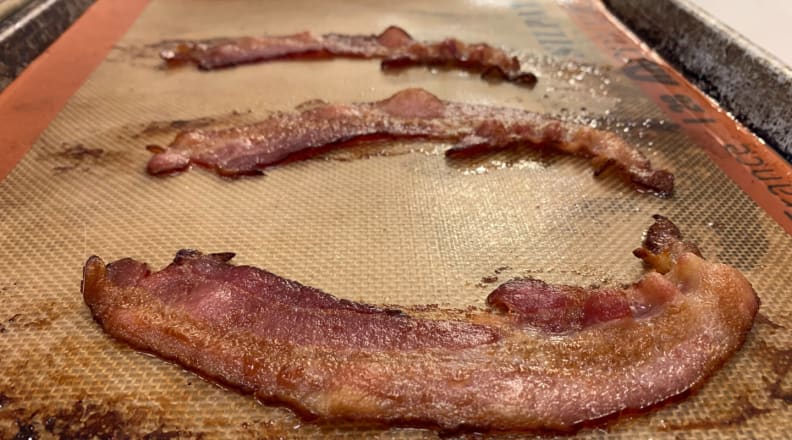 Unlike parchment paper, which can be tossed in the trash after use, the Silpat Baking Mat requires some elbow grease to get it clean.
The company recommends using a soft, damp sponge to wipe away any residue, and then rinse with water. For best results, shake the mat to get rid of any lingering water and place it on a drying mat so it can air dry. For bacon, which produces a lot of grease, I add a small amount of dish soap to my sponge for an extra good clean.
You can also dry it in an oven at around 212°F for two to three minutes, according to Silpat. I've not tried the oven drying method, but you can also place the mat in the dishwasher for an easy clean. I usually opt to wash the mat by hand, especially if I've recently used it for cooking something greasy like bacon. But, even after more than a few loads in the dishwasher, I'm happy to report that 4.5 years later it's held up just fine.
Is it worth it?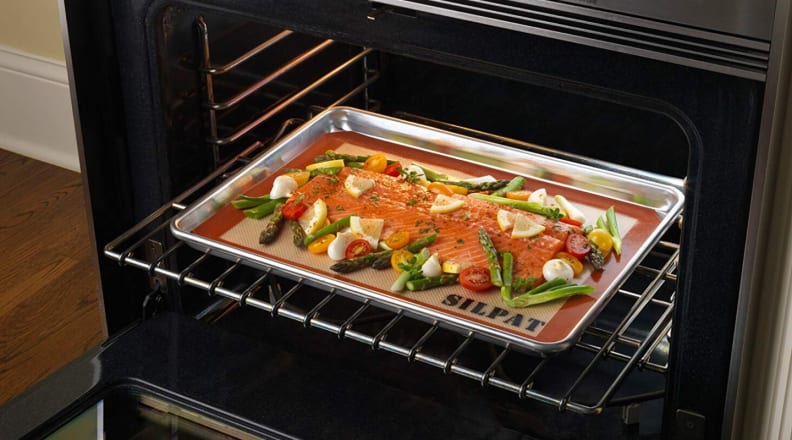 If you bake with any regularity, then investing in the Silpat Baking Mat is a wise idea. I purchased my half-sheet Silpat Baking Mat in May 2015 and have used it frequently ever since. But I still keep a roll of parchment paper in my kitchen pantry for those times when the Silpat is dirty or I need a certain size non-stock option for the bottom of a pan. Mostly, though, I use my Silpat instead of parchment paper because it's easy to use—and clean.
Why? Well, one roll of Reynolds Kitchens Parchment Paper (60-square feet) will run you $4.51. Over time, you'll likely wind up paying more for additional parchment paper when you could buy the Silpat half-sheet size for $24.99 on Amazon. And, it comes with a storage band, so you don't have to worry about where you'll keep this item in your kitchen.
However, if you're looking for a more affordable alternative, check out this two-pack of AmazonBasics Silicone Baking Mat Sheets for $12.93. That's half the cost of the Silpat and double the product. Although the Amazon version has 4.5 stars out of 4,596 reviews, I haven't tried it myself and can't speak to the quality and longevity of the product. However, my Silpat has survived more than four years of baking in two different ovens and a variety of baked goods and other foods.
The product experts at Reviewed have all your shopping needs covered. Follow Reviewed on Facebook, Twitter, and Instagram for the latest deals, product reviews, and more.
Prices were accurate at the time this article was published but may change over time.